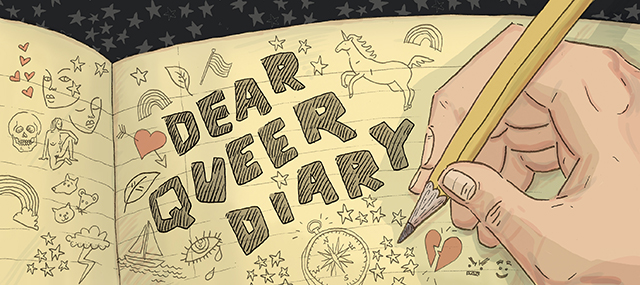 Quit it. I can see you there, rolling your eyes and taking a swig from your personal flask of too cool for school juice. Three-dollar pieces of paper, cutesy stickers, and snapshots from Ricky's third birthday party? Scrapbooking is so stay-at-home mom-circa-2008.
Well, stop right there, my skeptical scrapbook-hater! Because contrary to popular belief, scrapbooking can be just as hip and as queer as that kale smoothie you had for breakfast this morning.
Now we know that queer people can have beautiful weddings, adorable children, and freakishly picturesque suburban lives. But the good news is that, even if you don't have a spouse, a minivan, or a labradoodle, you still have everything that you need to make an amazing scrapbook.
It should be obvious after the last five billion installments of this column that I love to write in my journal. However, I also really really really like to make things — delicious cakes, book-page themed crafts, and even throw pillows.
Just one of the many reasons scrapbooking is so fantastic is because it is the perfect union of journaling and thing-making: you are documenting your life and writing down your thoughts and feelings, just like you do in your dearest queerest diary — you're just doing it with the fun addition of photos, receipts, magazine clippings, old buttons, and whatever else you have lying around your apartment/dorm room/real live mortgage-bearing house.
You need more convincing as to the greatness of the scrapbook? Read this Lamda Literary interview with Ellen Gruber Garvey, who has written on scrapbooks in history, and talks about them revealing "secret histories" whose contents constitute a covert reflection of queer identities. In addition, please note that, according to a somewhat questionable Urban Dictionary entry, "scrapbooking" is an alternative term for scissoring. So there's that.
It may be true that when you search Pinterest for "lesbian scrapbooking," not a lot comes up, but I consider it to be my sacred duty to change that. Zine culture is all about cutting and pasting (right?) and way back in the early days of Autostraddle, Laneia was crafting collaged mix CD sleeves I would be proud to include in my scrapbook.
"But capitalism!" you exclaim, still holding desperately to the last vestiges of your scrapbook-related prejudice. Do I truly want to give my hard-earned dollar bills to ginormous Utah-based craft conglomerates that actively promote "family" values? No, I suppose you might not.
The good news is that although there are a lot of scrapbook-related products out there in the world—and yes, I could spend hours in the aisles of Michaels admiring printed papers and washi tape — those three-dimensional stickers and special star-shaped brads are not necessary for a successful scrapbooking experience. The best parts of a scrapbook are the things you already have—the note she slipped you across the library table, the receipt from your first date, or your best friend's new business card. Scrapbooking thrives on the artifacts of your life that would otherwise get tossed in an envelope or a drawer or the recycling bin.
When I was in high school, I spent hours crafting layouts in 18 x 24 inch portfolio books that I filled with clippings from my school newspaper, programs from the winter musical, and notes passed in A.P. U.S. History class. Although the binders now dwell in my parents' house, about 2,000 miles away, when I last went home, I paged through them with my girlfriend, giving her a multimedia tour of the halls of my high school psyche.
Speaking of girlfriends, for the last two Valentine's Days, I have made mine a scrapbook to document the last twelve months of our romantic board-game-playing and road-tripping, using old receipts, printed-out Instagram photos, and a bizarre collection of craft supplies that I keep in a plastic tub full of manila envelopes. I love making the scrapbook because it allows me to relive our bookstore dates (sigh!), compile wacky lists ("Teas We Drank That We Loved") and get glue all over my coffee table (it is still sticky).
If I have failed to convince you that "scrapbooker" is a title to be proud of, my dear queer diarists, you can always call yourself something else instead! I am an artistic documenter of queer narratives—a glue-stick genius—a fearless journaling, photo-taking, memory-collecting machine! What are you?
---
Dear Queer Diary is a column about the joys (and occasionally, the pains) of journaling. We crack open our tiny notebooks and break out the rainbow-colored pens on the regular, so get ready to limber up your writing hands and document all your beautiful feelings! Header by Rory Midhani