When you woke up this morning you were probs thinking, "This day seems hella promising and all, but you know what's missing? Marshmallows that look like cats peering out from my hot chocolate." And then I bet your face fell a little and your girlfriend boo bear babydoll was like, "Bay-abe, whatsamatter?" You wanted to spare her any unnecessary despair so you just plastered on that brave face and pretended you were ok, which was so thoughtful of you and really, you're nothing if not thoughtful.
But you weren't ok.
You weren't and you aren't, because you still — even now in this very moment and even though this has been going on for well over three years — exist in a space without marshmallows that look like cats peering out from your hot chocolate, and you'll continue to live in that space because you can't move to Japan, where those lucky bastards have THIS: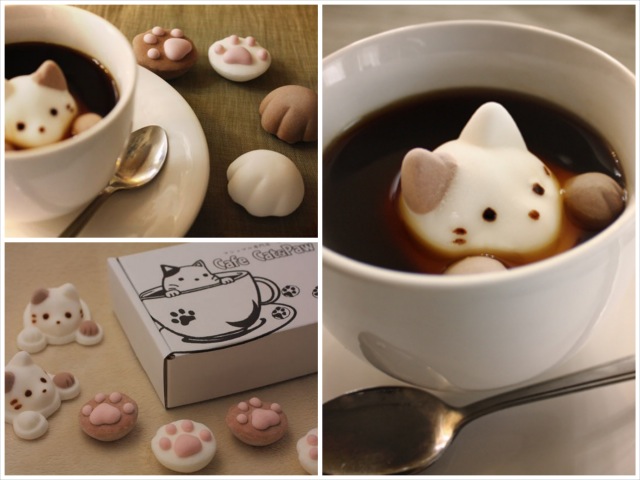 Sweet lord have mercy. Cafe Cat Marshmallows.
Now I know you're trying to stop yourself from falling into the old trap of What Did I Ever Do To Deserve Such a Shitting Upon??!, but I say go ahead and fall. Go ahead and let yourself feel pity for yourself, because this is a harsh fucking reality, and you have indeed been shat upon. You can't have these marshmallows. Not today and not tomorrow. They're only barely available in Japan and based on reader surveys and my innate ability to generalize, you don't live in Japan. Yes what did you ever do to deserve such a shitting upon, friend?
Perhaps one day, when your heart is at its purest and your intentions at their most worthy, you'll find yourself face to face with a marshmallow that looks like a cat peering out from your hot chocolate. Not today, but maybe someday. Until then you should probably just figure out how to make your own because these things have been floating around (HA) for a few years now and still aren't available in this sad, pathetic, Not Japan place.
While you're sitting around feeling sorry for your pathetic marshmallow-cat-less soul, you might as well know that you also can't have any Bacon Mustard Doritos today. Or any day.
I'm so sorry. We'll find a way to get through this together. Maybe you could try to make your own kitty paw marshmallows?
SIGH.
P.S. No, now isn't the time to bring up Kinder Eggs. You know how you get when you think about Kinder Eggs.
P.S.S. Wait, maybe you can. You should probably send Britta an edible arrangement.