Welcome to Underwear Week, a whole week dedicated to your favorite bum-hugging clothesthings. As we said many moons ago, we feel a lady is at her best when she's not wearing pants. And while our last adventure around this neck of the woods took us only as far as boyshorts, this time around we're exploring the vast and many-flavored land of underwear. From edible panties to hoopskirts and history, we've got you covered. Just like your underwear. 


It's underwear week! Isn't that fun? Why buy new underwear when you can make it, am I right? I'm actually incapable of calling my underwear anything other than "undapants," hence, the title of this tutorial.
Undapants
Supplies Needed:
– fabric with some stretch (repurposing an old t-shirt would be perfect for this project)
– a small piece of 100% cotton fabric if your fabric is not cotton
– elastic thread
– fold-over elastic for the waistband (Important!: Regular knit elastic is scratchy, fold-over is soft and perfect for clothing)
– a paper bag or a piece of paper for pattern
– a pair of your favorite underwear
– sewing machine
Level of Difficulty: Beginner sewing knowledge would help you out for this, but it's a very basic pattern, so let's not get our undies in a bunch (oh you see what I did there?)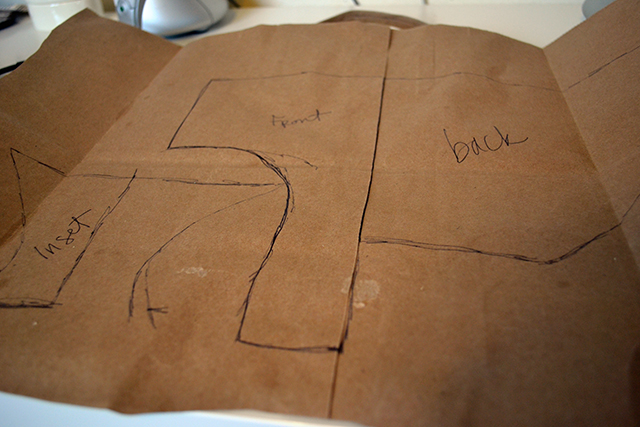 1. First, we're going to make a pattern from our favorite pair of undies.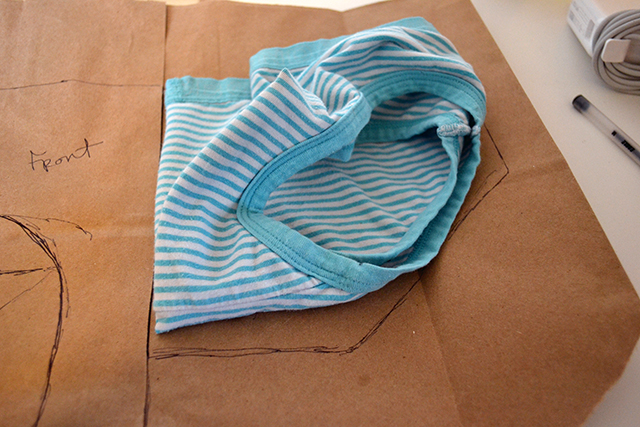 2. Lay down your underwear and trace around them. Yes, it's really that simple. Fold them in half for the front and back to create a half-section to cut out. We'll cut it on doubled-over fabric so we have a better chance of ending up with a symmetrical garment.
3. For the front, don't make my first mistake and remember to curve out the bottom part of the sides so it meets with the side from the back.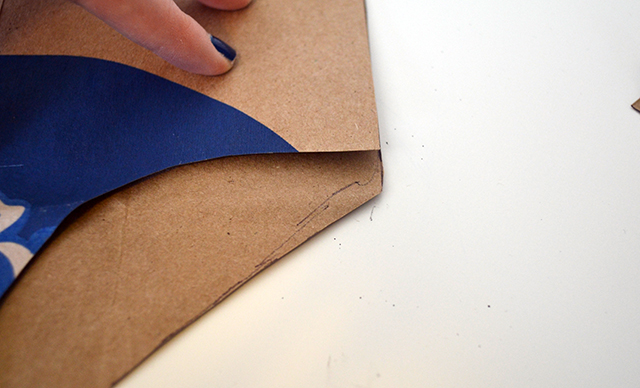 4. Make sure your pattern edges line up properly. Pictured above is how mine ended up at first. That's the beauty of making a pattern: you are allowed to entirely fuck it up because your fabric won't be wasted yet.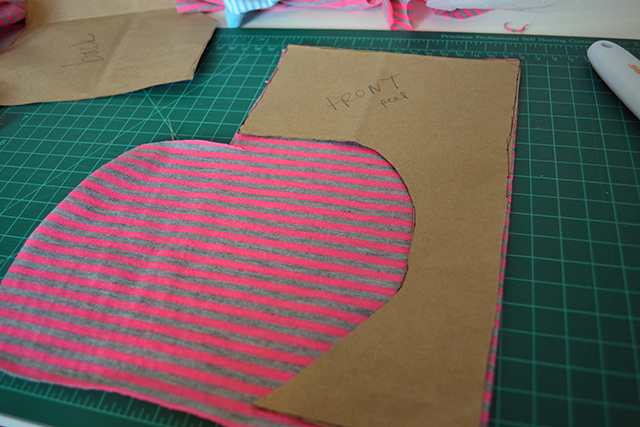 5. Line up your pattern piece with a doubled edge of fabric so you only have to cut half as much. I'm all for shortcuts.
6. Alright, we're going to start sewing. I used a loose zig-zag stitch because I wasn't sure how the elastic thread would go, but this seemed to be the best way. Line up your sides and the crotch-seam of your underwear, but don't worry about the liner yet. Use the smallest seam-allowance you can execute.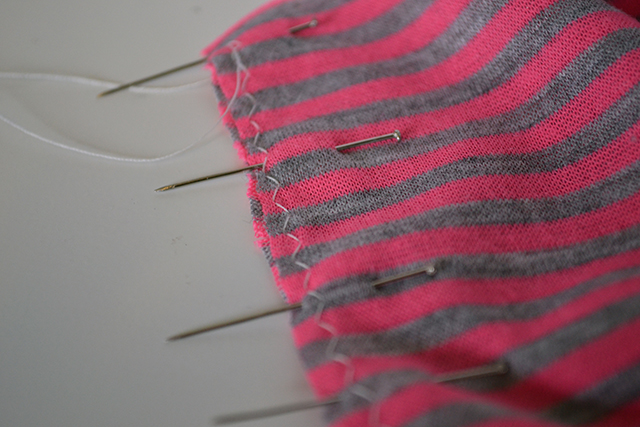 Tips: Be gentle! Don't stretch your fabric or it will end up weird and wrinkled when it is done. Use five million pins. You won't regret it.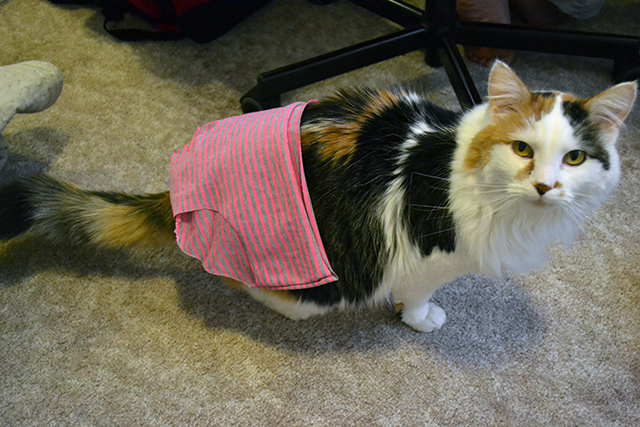 7. Try on your underwear. My cat is really excited to be modelling for you. Keep in mind that if your fabric edges roll, they'll seem a bit small until you sew the leg holes and the top seam to keep it from rolling. You want to be comfortable in them. If they're too big, take in the sides slightly, and if they're too small, well, you might have to add a bit of fabric at the sides or start over.
8. To sew the leg holes, I skipped adding a strip of elastic and just used the elastic thread. Pin pin pin pin. Use a very small seam allowance.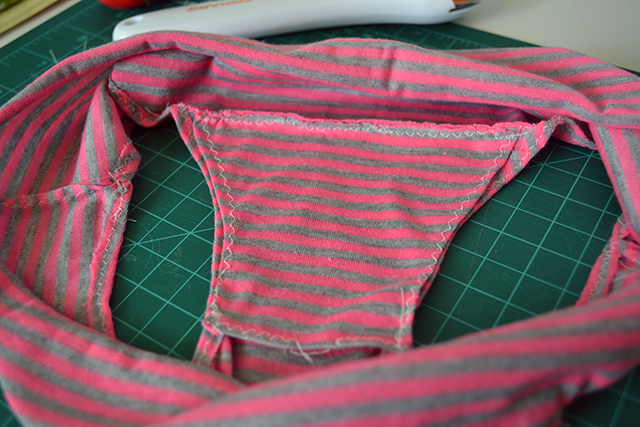 9. Sew the liner in. I hemmed it, then sewed it to the back and sewed a half-inch at the top of either side to tack it on.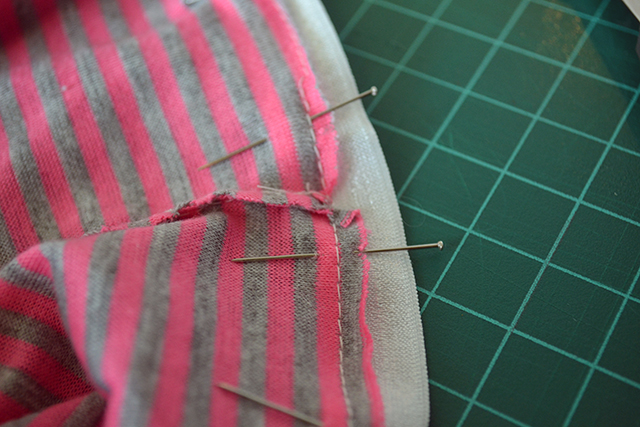 10. We're almost done! I pinned the fold-over elastic to the front of the underwear with the plush, soft side out. I used a loose running stitch to sew it on, purely for ease.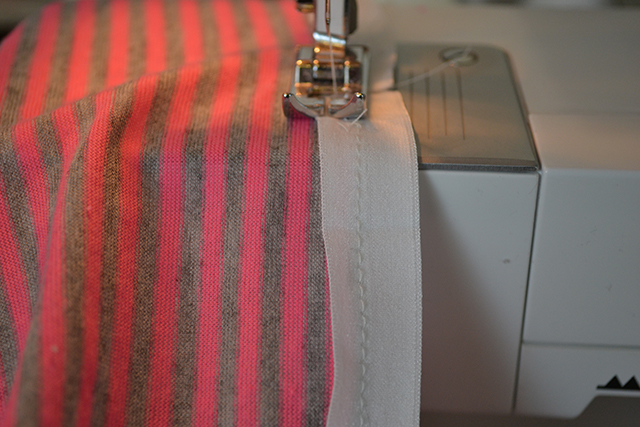 11. Sew two rows of stitches; the middle and then the bottom of your elastic. Finally, all done!