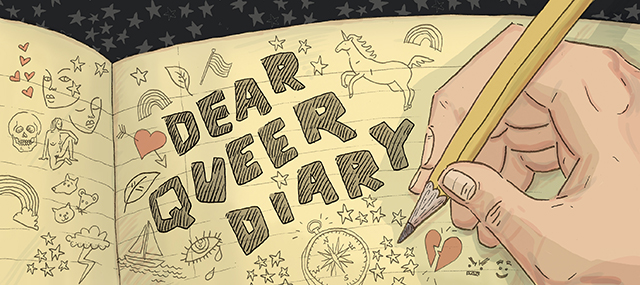 As a bibliophile of the first order, I love nothing more than the idea that everything in my life could be touched by words. The home of my dreams contains end tables covered in book pages, lampshades constructed from old hardcovers, and amazing book artworks on the walls.
Yet, my dear queer diarists, I am simultaneously horrified by the dismemberment of my truest loves in the name of Pinterest projects and decoupage. How could I rip Pride and Prejudice limb from limb just so that I can decorate a tea tray?
Somehow, my journaling geniuses, I have convinced myself that such things are excusable—and even to be desired. After all, think of all of the ancient and abandoned hardcovers being sold for a dollar at library book sales. Think of all the deeply boring books on entomology (my apologies to the insect-lovers in the crowd!) that I could enjoy so much more if there were to become attractive bookshelves. And think of all the dead white men I could spite by turning their long-celebrated works into beautiful instruments of the queer agenda!
In fact, I am becoming a regular book artist. Since the turn of the new year, I have happily mod podged my girlfriend's dresser drawers with the pages of an ancient piece of literary criticism—and made myself the journal described herein.
At the very least, there is something encouraging about doing my journaling between covers emblazoned with a great literary work. Mayhaps, my dear diarists, you would like to do something similar? Onwards!
Supplies needed:
+ Paperback notebook
+ Book pages
+ Scissors
+ Pencil
+ Ruler
+ Glue stick
+ Clear contact paper
+ Button(s)
+ Needle
+ Twine/ribbon of your choice
Level of Difficulty: Much, much easier than getting a book by a queer woman of color into the Western canon.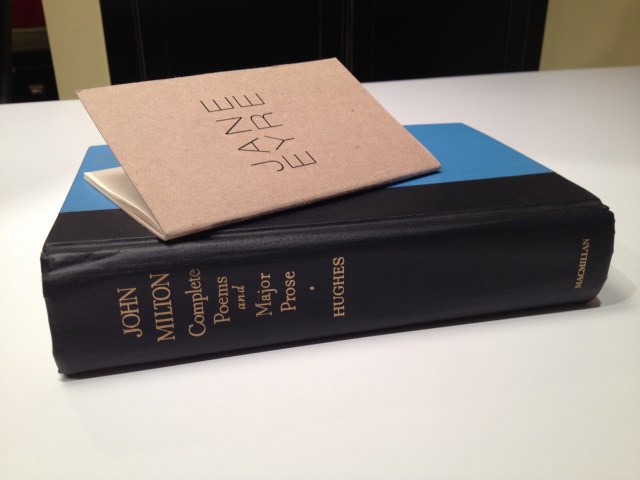 1. Obtain yourself a notebook. If you are feeling exceptionally ambitious, you are free to make your own notebook, perhaps using this tutorial. You may pick up your gold-embossed overachiever card on the way out.
2. Select a book that you love enough to immortalize it on the outside of your journal, but not so much that you will be beside yourself at the thought of ripping its pages from its spine. I used the Paradise Lost section of a copy of The Complete Works of John Milton that my mother acquired at a library book sale for the express purpose of creating book-page-related crafts. I love my mother.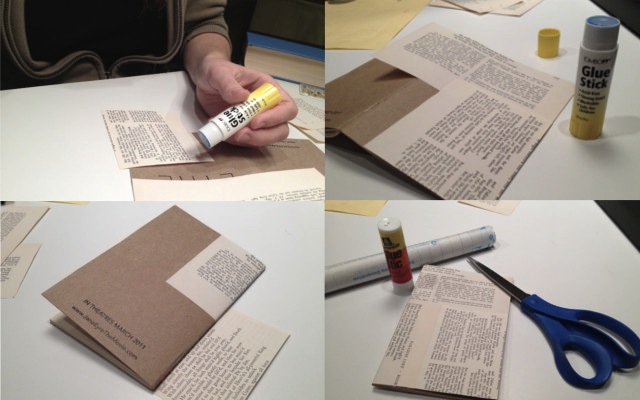 3. Once you've figured out how to arrange your book pages in an aesthetically appealing manner, cut them to the size of your journal cover and glue-stick them with gusto. I would recommend gluing one side first, and then wrapping the excess paper around the spine of the closed journal to avoid gapping.
4. The contact paper is technically optional, but unless you are planning to keep your journal in a climate-controlled case and handle it only with satin gloves, I would recommend this step. Follow the cryptic instructions on the contact paper packaging or just pretend you are wrapping a present. The key is to fold the contact paper over the edges of your journal to keep them looking as fresh as your crush's new alternative lifestyle haircut.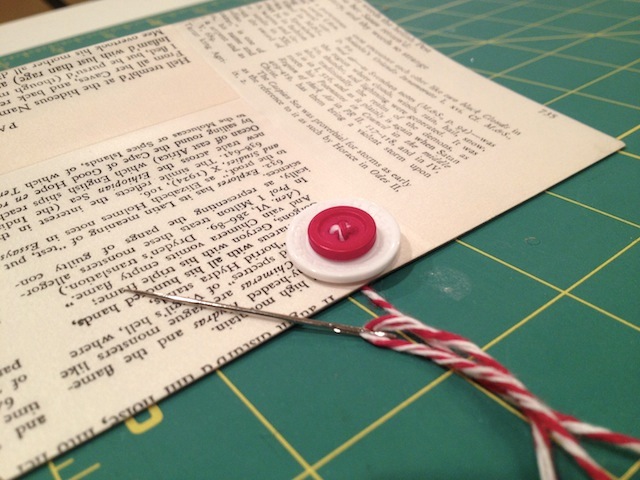 5. Poke some holes in the edge of your journal's front cover. Depending on the thickness of said cover, you might be able to use your needle. For more beefy models, go ahead and try this pushpin technique.
6. Then, sew on your button(s). Excuse me? You don't know how? I am simultaneously appalled at your helplessness in the face of needle and impressed by your ability to withstand the patriarchy's pressure for female-type persons to learn domestic skills. For now, you're in luck: Hansen just covered button-sewing.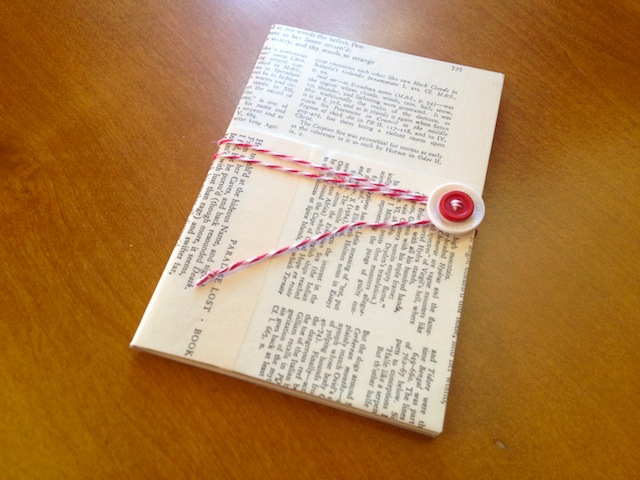 7. Reward yourself with a pat on the back/quick make-out session/piece of dark chocolate. Then, make the first entry in your new journal!
What say you, Straddlers? Are you shocked at the ease with which I desecrated Paradise Lost in the name of journaling? Or are you already picking out the book you'll use for your own project?
---
Dear Queer Diary is a column about the joys (and occasionally, the pains) of journaling. We crack open our tiny notebooks and break out the rainbow-colored pens on the regular, so get ready to limber up your writing hands and document all your beautiful feelings!
Header by Rory Midhani