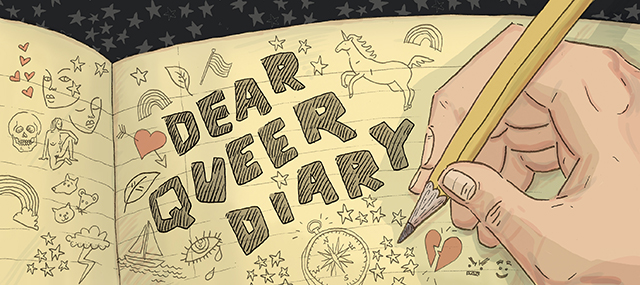 If there's one thing I love more than journaling, it's reading. And if journaling is a warm and crusty baguette, it seems like reading should be a nice wedge of Trader Joe's brie — these are clearly a) two great tastes that taste great together and/or b) the ingredients for a night of extremely classy romance.
In any event, it should go without saying that when I am not journaling about my unrequited loves or questionable graduate school prospects, my pen has often turned to the books I have read, the books I am reading, and/or the books I hope to read next. I am sure you will not be surprised to learn that, if I wanted, I could even get a specially themed Moleskine for these ruminations—but for my purposes, my regular old notebook seems to work just fine.
Flipping through the pages of my past diaries, I find dozens of underlined titles scattered across the pages: everything from school assignments (Wuthering Heights, Wide Sargasso Sea, and A History of Women in America) to children's classics (The View from Saturday and Cloudy With A Chance of Meatballs). Perhaps you were wondering what I thought of Forever In Blue, the final installment in the Sisterhood of the Traveling Pants series? Don't worry! I recorded my impressions in my journal back when I first read the book in March of 2007.
Pamela Paul, one of the editors of the New York Times Book Review, describes her longstanding relationship with "Bob," her "book of books" that she has been keeping since 1988: "With 24 years of data, Bob reveals as much about my literary foibles, passing curiosities and guilty pleasures as any other diary." It's not hard to understand why. Those bibliophiles in our midst must agree that the books we read have an awful lot to say about how we are feeling and what we are doing—even if we don't necessarily have a special journal to record our literary conquests.
If I had started keeping track of my own reading adventures back in kindergarten, I wouldn't be at Pamela Paul's level for another few years still. Even at the ripe old age of twenty-something, I have trouble keeping a consistent record of the books I'm reading — I will make lists and then abandon them, begin elaborate rating systems and forget to continue using them, and start Goodreads accounts and then lose my password. Rather than offering complete archives that stretch across decades, my journals contain lots of lists like this one, from July 31st:
"Books I Have Read This Summer, in no particular order and with little regard for prestige and/or quality and/or importance: that picture book by Audrey Niffenger (sp?) about the suicidal librarian woman; Longbourn (so good!); Otherwise Engaged (a downright CSI-like Amanda Quick); Can't & Won't; This Is How You Lose Her, Junot Diaz; Never Let Me Go; The Rehearsal, by Eleanor Catton and I think that's it. Is that it? I feel like I must have read more than that."
It's not just the (inevitably incomplete) lists that make my diary bookish. In fact, I am far more fascinated by the way what I am reading intersects with what I am doing in any particular phase of my life. On March 13th, 2008, in the throes of my high school's A.P. English class, I wrote that, "During A period, I read To The Lighthouse aloud to Anna as we sat on the library balcony"; a little more than three years later, I wrote from a hostel in the Cotswolds about being "DEEPLY UPSET" upon discovering that "my copy of Fellowship of the Ring suddenly and unexpectedly skipped from page 128 to 225!"
Earlier that same semester, I contemplated the danger of checking out too many romance novels: "I am conflicted about whether I should go to the library and get more "fun" books out… I think it has an adverse effect on my study habits and lowers the stakes in my attempts at socialization — because such an attractive alternative is always available." (You will, dear reader, be glad to know that I did eventually find a way to read books, make friends, and finish all my classwork.)
Are the pages of your journals festooned with book titles, my dear queer diarists? Or do you keep a separate list of every piece of literature you love? What at the habits of a great reader-journaler? Tell me your ways!
---
Dear Queer Diary is a column about the joys (and occasionally, the pains) of journaling. We crack open our tiny notebooks and break out the rainbow-colored pens on the regular, so get ready to limber up your writing hands and document all your beautiful feelings!
Header by Rory Midhani