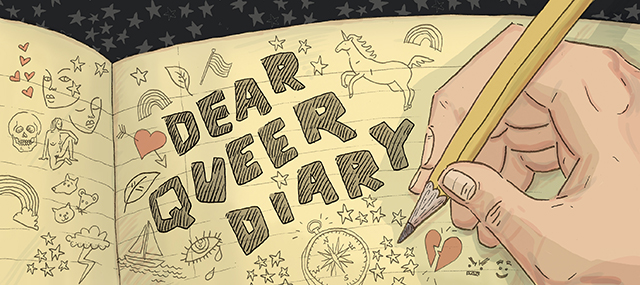 There's something strange about ending a journal. For weeks, months, maybe even years, you're writing — making lists and sketching kittens and recording quotations and keeping track of school and work and friendships and loves and then suddenly, you turn a page and there's only a few lines left.
And depending on how big you write or how many words you use, you can finish your thought or your entry. But then you close your journal and put it on the bookshelf, and you know that the next time you look at it, things will have changed.
Those of us who have a bookshelf stacked with filled journals know that each notebook is a volume in a bigger archive — a chapter in the longer story of what came before and what comes after. There's continuity because journals are about our days, and each day is followed by another and then another and then another, all the way through years and decades and maybe a century, if we're very lucky.
I strategically manipulated my high school diary to end with graduation: the final lines describe walking down the hallway with my best friend crying after we said goodbye to our favorite English teacher. It isn't truly the final page of that red, soft-cover notebook. During the time I used that journal, I created multiple appendices centered on books I had read, movies I had watched, and a pro-con chart about whether or not I should take a gap year after high school (cons: "I'll be 24 when I finish college!"; pros: "I'd have some time to reflect & define myself w/o some institutional molding.").
In spite of these extraneous topics covered on the pages just inside the back cover of my notebook, the final page in the journal proper seemed to have a certain importance, and I can remember carefully measuring the space I had left and deciding how much detail to include in order to fit the most important bits. Even though I knew my life was far from over, I wanted that sense of an ending. The final words I wrote on June 3rd, 2008 were "Good night!"
Several years later, a journal from my semester abroad ends much more abruptly. There's a list of expenses that includes 3 pounds 95 pence spent on mulled wine followed by these two lines, squished at the very bottom of the last page: "Oh my notebook! I have filled you up, I think, faster than any notebook before, and I have enjoyed our time together, both at home and in the great world abroad.wp_posts(Yes, I am aware my journal-writing voice is slightly out of the ordinary.)
The subsequent notebook ends, somewhat fittingly, it seems, in the form of directions from the New Haven line of the Metro North to Laguardia airport. I was flying home after my final semester of college, moving on from dorm rooms and dining hall meals into the simultaneously frightening and hopeful expanses of real life. At the end of this notebook, there are three empty pages. I can't remember why I didn't fill them in.
A few months ago, I messaged about this very topic with a lovely Straddler by the name of Liz. For her, too, the ending of a journal is something significant: something that feels like it must coincide with major life events like break-ups and school years. Yet at the same time, she also feels the need to fill a notebook completely, leaving no page untouched. I sympathize with both of these inclinations.
In writing our lives, we look for meaning, giving our days, our passing fancies, our thoughts and desires the shape of a story, parsed out in sentences, pages, and entries. Whether we know it or we don't, by writing, we give ourselves permanency, declaring with every mark on the page: "This is me! Here I am! Read! Listen!wp_postsIn that sense, the larger project of a diary is never over. There will always be more notebooks waiting for the next entry, the next volume, the next cry of "Here I am!"
It's not a coincidence that we're talking about endings, my journaling geniuses: this is the fiftieth and final installment of Dear Queer Diary. But before we write off into our respective journaling sunsets, let us make a solemn vow. No matter how many journals we finish — or how many journals we don't quite finish, but instead abandon for pretty girlfriends or new jobs or trips around the world — let us never stop beginning new notebooks, writing things down, and giving shape to queer lives in ink and on paper and on screens.
If you're with me, put your hands on your hearts, link your pinkies, and uncap your pens. I have about four pages left in my current journal, and I promise to fill them with my all my dearest, queerest feelings.
---
Dear Queer Diary is a column about the joys (and occasionally, the pains) of journaling. We crack open our tiny notebooks and break out the rainbow-colored pens on the regular, so get ready to limber up your writing hands and document all your beautiful feelings!
Header by Rory Midhani