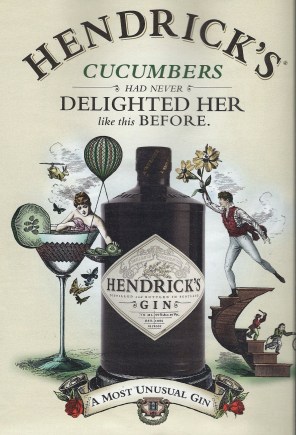 Gin: some people like it, but a lot of people really don't like it. According to our annual Autostraddle Reader survey, only 3% of you folks cited gin as your primary alcoholic beverage of choice, making it second-to-last amongst preferred alcohols (Tequila came in with 2%). Somehow, the topic of gin came up in our Office E-Mail Reply-All the other day, and it turns out that people have VERY strong opinions about gin. Maybe you do too! Here's ours:
Lydia: Why does everyone other than me and great aunts hate gin? GIN IS MY HOMIE.
Kate: Lydia, I openly invite you to my social group where EVERYONE LOVES GIN EXCEPT ME. There is a gin palace that's supposed to be a recreation of a victorian gin palace in Dublin and aesthetically, I want to be there but tastewise I don't want to be that asshole who is like no, no, a whiskey sour for me please, thank you.
Maddie: I like gin.
Stef: Gin is so gross i'm sorry but you guys are wrong.
Mari: It tastes like Pine-Sol.
Kate: I want to like gin because of Hendricks Gin because in my mind it is made by Christina Hendricks, but I just can't.
Laneia: HENDRICK'S GIN. It's the only gin worth ginning. Gin it with tonic water and a cucumber slice and then feel really really goddamned fancy and clean because water and cucumbers. ALSO if you want to make people feel kinda weird or sad for you, just pour some gin in a glass or bowl and dip watermelon chunks in it and eat it while you watch home improvement shows on a saturday afternoon.​
Riese: When I was 15 and had never been drunk, Lauren Merrell gave me gin and Mountain Dew in her parents basement and I drank a bunch of it and felt SUPER WEIRD and then I spent the entire night throwing up in her bathroom which had a mirror next to the toilet so I could witness my own downfall and ever since that fine day in 1996 I've been unable to consume gin or lemon-lime flavored sodas without feeling nauseous. Seriously it threw me off Sprite for life.
Stef: In college, a roommate's friend left a bottle of Bombay Sapphire in our fridge so this boy I liked drank it, mixing it with everything in our fridge including ketchup (because we were like 19 and idiots), and obviously ended up vomiting into my toilet and crying for hours while I rubbed his back and he deliriously screamed I JUST WANT TO BE STRAIGHT AGAIN and tried to kiss me. it traumatized me so much i can't touch the stuff. Also yes, Pine-Sol.
Carolyn: I am extremely for yellow northern Quebec gin and neutral on all other gins, except that sometimes you just need a fucking gin and tonic and maybe to talk grimly about towels. But also yes to what Laneia said about cucumbers.
Gabby: My first-ever girlfriend, the one who got lost on a mountain during a hippie lesbian silent retreat, loved gin and tonics. She drank them all the time while smoking cloves, wearing all black, and listening to her RENT soundtrack cd. I don't drink that shit because memories.
Stef: Gabby, was this your first girlfriend?

Gabby: Stef, you just killed me and then I was born again. Also, yes. That's her. We still talk. She's sober now. Still wears all black.
Hannah: Okay so full disclosure, when I was a stupid high schooler my friend brought a bottle of gin in a Poland spring bottle to first period computers and I took a solid chug (or ten). I thought it was vodka, and I don't know why vodka might have been better, but I always feel it's important to note that I thought it was vodka. I took a French test, which I really thought I had nailed (I mean, I am significantly better at speaking French when I'm drunk), and then promptly puked in front of my whole science class upon arrival but for whatever reason nobody noticed but the TA who let me take an entire chem test before suggesting I go home. The smell of gin was like kryptonite to me until college when somebody introduced me to the GINgerale, and gin and I have been having a love affair ever since. One that is rife with hangovers because who knew either gin or tonic had so much sugar???
Those are my feelings about gin.
Kaitlyn: One time I drank too much gin before going on a dorm bonding trip to IHOP (I packed a water bottle of straight gin for the road, obvs) where I was really happy and pumped until the second my chocolate chip pancakes arrived, at which point I ran into the men's room and fell onto the toilet so I could vomit. I say "fell" because I literally dropped to the ground and hit the toilet so hard I bruised my chest. I also puked so violently that I burst a bunch of blood vessels in my face. Then my sober friend arrived and I begged him to drive me home. I slept on the couch with a plastic grocery bag that I would wake up and vomit into periodically. And that's why I didn't drink gin for several years until my last job literally paid me to drink fancy cocktails.
July: One time in college, my best friend Lane & I drank an entire bottle of gin, tried to bake a cake in the shape of Abraham Lincoln, & somehow got a hold of a box of oil pastels & drew all over the wall. I woke up the next morning with chocolate all over my face and stick-figure dogs all over my bedroom, with the words "I LOVE DOGZZZZZ YES YES" written on the walls.
Lizz: I love gin.
Rachel: In the summer of 2010 I was going through a breakup and drank a significant portion of a bottle of gin as well as, I believe, a tumblr full of tequila before going to a Pride party. I was blacked out before I even got to the bar, and managed to throw up about half my body weight yet also try to make a pass at a girl in front of her girlfriend as Lizz was dragging me out of the bar. I woke up on Lizz's couch to find she had kindly put my disgusting clothes in a plastic bag and dressed me in her ultimate frisbee jersey from college and sweatpants, and then had to spend the rest of the day in her bed until about 4 pm because i was so hungover I couldn't move. I was supposed to go to my ex's girlfriend's birthday that day, which involved HORSEBACK RIDING, and so called them and made up an elaborate lie instead. I am certain there is more that happened that evening but I hope Lizz never tells me or anyone else. In retrospect this could be why i don't like gin very much.
Lizz: One time Rachel drank a TON of gin and gay pride when she was going through this breakup and then drank like an entire tumbler of tequila and I think blacked out because when we got to the bar she made a million passes at me and every other girl in the bar including one who was with her girlfriend and then while our friend was finding a bathroom she started to puke and then puked a million times into a planter and then out the window of a car and then in my apartment so I put her to bed on the couch. In the AM I had to leave but I think she ended up staying at my place until like dinner or something and skipped some horseback riding thing with her ex-gf.
Lydia: This conversation makes me want a delicious gin based beverage. Also, I can almost understand the Pine-sol comparison. Still gonna drink it.
---
Okay readers, now it's your turn: is gin the worst, the best, or something in between? Any horrifying gin stories to share with the group? It's okay, we're all friends here.