by carolyn & riese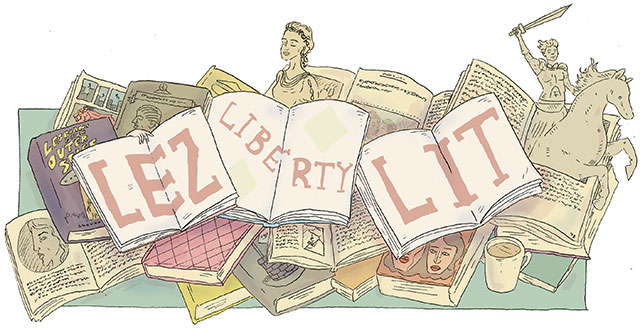 Lit Links
At the Rumpus, Kima Jones interviewed Edwidge Danticat, author of Claire of the Sea Light, about resistance and learning and reading and more:
"If you are writing about same-gender-loving people in an environment that is hostile to their relationship, I think the dilemma is, do you reflect that reality? For those two characters, their class issue would actually trump their homosexuality within their community. Class is the first strike and the issue of their love is second. To portray their situation honestly, the overwhelming odds against them has to be written in. I tried very hard to validate them, and I imagined them as everyday love relationships. In reality, they would be Romeo and Juliet times two."
As mentioned in our Lesbian Couples That Time Forgot, Alice Walker and Tracy Chapman dated in the 90s and everything is beautiful.
Roxane Gay wrote about unlikable female protagonists, and how critics talking about whether or not they like characters are completely missing the point: "That the question of likability even exists in literary conversations is odd. It implies we are engaging in a courtship. When characters are unlikable, they don't meet our mutable, varying standards. Certainly, we can find kinship in fiction, but literary merit shouldn't be dictated by whether or not we want to be friends or lovers with those about whom we read."
British doctors are now prescribing books to treat depression.
Your brain function is higher for days after you read a novel, which is why you should read more novels.
This year's Tournament of Books, by the Morning News, is underway. Finalists include The Luminaries, The Signature of All Things, How To Get Filthy Rich in Rising Asia, Eleanor & Park, The Goldfinch and more.
Lovereading.co.uk compared books to films and books win (obviously).
Wikipedia Brown: Encyclopedia Brown for the modern era.
Lol My Thesis is the hot new tumblr for making fun of your progress in academia.
Journalism is dead again.
The argument over books as things you look at with your mind versus books as things you look at with your eyeballs continues, and Daniel D'Addario writes about how physical books are getting prettier.
Commas are so important.
Some publishers have been shifting away from Amazon.
Grown-up dudes should stop commenting on teenage girls' taste. (This is admittedly only tangentially related to books, in that the header image contains pages of what could, at a stretch, be considered books even though they are probably article clippings, but you should read it anyway.)
There is nothing as intriguing as a good caper, which is why capers involving rare books (along with forgery, theft and murder) are absolutely fascinating.
Casey the Canadian Lesbrarian recommends some post-lesbian-break-up reading, including Dykes to Watch Out For, With a Rough Tongue: Femmes Write Porn and more.
At Lambda Literary, Anna Furtado reviewed Turning on the Tide by Jenna Rae. Adrian Brooks reviewed Pee-Shy, a memoir by Frank Spinelli. Victoria Brownworth interviewed Katherine V. Forrest, author of Curious Wine. TT Jax wrote about transgender poetics. Cathy Campter reviewed Anything that Loves, a collection edited by Charles "Zan" Christensen.
At the Lesbrary, Danika reviewed The Big Bang Symphony by Jane Bledsoe. TB reviewed Tighter, Tighter by Lynn Kear. Casey reviewed Nevada, by Imogen Binnie.
At the Toast, Abigail Welhouse interviewed Francesca Lia Block, author of Weetzie Bat, about stereotypes and fairy tales and more:
"We feel so much pain and darkness, and I've experienced that in my own life, certainly. At the same time, there's so much love and magic and beauty. I really want to honor both of these. That's why I like magical realism, because it shows both. I like dark and light, mixed. What you're saying is interesting because it's another layer — you show both, but you show it through a certain lens that as you said, sort of makes it okay. Language, poetry and creativity can take you through even the dark stuff."
Recently, on Autostraddle: Mey wrote about "The Strumpet." She also wrote about Elisha Lim's Favourite Dating Tales. Carolyn ordered you to read these ten best queer and feminist books of 2013. Cara wrote about the best words of 2013. Carmen reviewed Denice Bourbon's Cheers. Also Lumberjanes, a comic about girls at camp fighting monsters, is going to be very relevant to your interests.
This month, the Autostraddle Book Club read Blue is the Warmest Color.
Events To Watch Out For:
January 11, Los Angeles: You Are Here: The WriteGirl Journey launches this Saturday at the Taper Auditorium at the Richard J. Riordan Central Library (630 W. 5th St.), 3 p.m.
January 24, Philadelphia: The Slam Up Tour will be at Giovanni's Room (345 South 12th St.), 6:30 p.m.
Know of a queer event with literary merit? Send it to us!
What We've Been Reading:
Rachel: I have been leafing through The Artist's Way because I believe firmly that all of January is a grace period when it comes to reading cheesy self-help/self-improvement stuff. I'm super excited to hopefully make time to read EJ Levy's Love, in Theory: Ten Stories soon!
Carolyn: I have been reading nothing (or rather, I have been reading a ton, but all for work). However, if I had read things, they would have been The Girl Who Couldn't Come, a book of dirty stories that are not necessarily erotica by Joey Comeau, and The Partly Cloudy Patriot, for purposes of understanding 'Merica and why you guys are so weird about some things, by Sarah Vowell. I'm also pretty excited to see what Rachel thinks of Love, in Theory because it's been on my (admittedly super long) list for ages.
---
Books! They are really great. You just won't believe how great they are. You may think that the Internet's great, but that's just peanuts compared to books. In Lez Liberty Lit, we talk about literary shit that's happening that you should probably care about.
The name "Liberty Lit" was inspired by the short-lived literary journal produced by Angela Chase at Liberty High School in 1994.