The Strumpet is a collection of short comics made by lady comics creators from the US and Europe. Edited by Ellen Lindner and Kripa Joshi, it's currently on it's third volume. Where the first issue was "The Dress-Up Issue" and the second focused on travel, this third is titled, "The Tasty Issue." Lindner and Joshi gathered together 22 immensely talented ladies from the US and Europe who make comics(including Drawn to Comics favorite Hazel Newlevant) and asked them to make comics based on whatever tastiness means to them. While there were a couple comics that weren't exactly my style, this collection really is a treat. Gathering so many women who make comics together into one place makes sure that just about everyone will find some of these comics to be right up their alley, and if you're like, almost all of them will fit that description.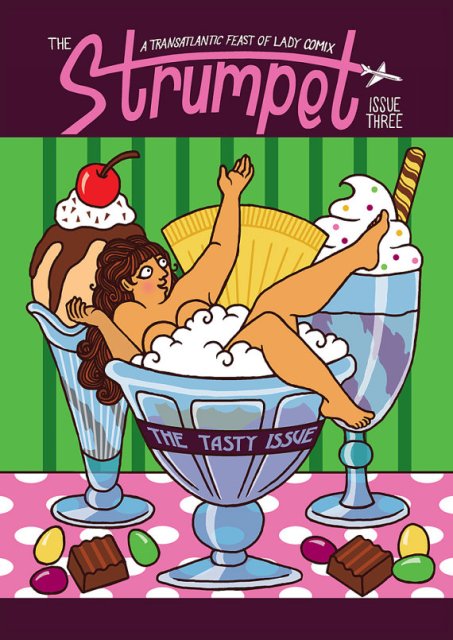 Some of the comics take a fairly literal approach to the prompt and tell stories about eating food or are even recipes for the writer's favorite foods. These include some really terrific comics, including Newlevant's, which tells you how to make some really amazing sounding vegan cookies and trail mix. Others base their stories on different meanings of the word. Some talk about taste in pop culture or the way taste is tied into memories or relationships. Because of this, the book never gets stuck in a rut. You might see two comics in a row that are about how to make a certain food, but then you'll be blindsided by a comic about one woman's opinions on a very popular vampire movie. With so many different styles of art and storytelling, everyone will find something that they like. If you don't like the story about cannibalism, perhaps you'll want to learn how to make clam chowder. If you don't like the story about a dog's birthday, you might like the one about a misbehaving cat. If one comic doesn't have art that you like, the next three will.
Some of my personal favorites from the collection include Lisa Rosalie Eisenberg's simple but touching Stir Fry: A Reluctant Ode, which talks about the author's lack of cooking skills. In the end, however, she realizes that maybe her cooking failures aren't that bad and that, therefore, her life isn't as much of a failure as she thought. Another favorite is The Birth of Tasty by Ellen Lindner. This comic tells the story of an overweight opera-singer-in-training who moved to New York expecting her boyfriend to come with her. It's been six years and he's still dragging his feet, so she sends him an email about what's been going on in her life, her newfound love and fame, and she ends it with a break-up message. Other spectacular comics include stories about seeing Twilight in the movie theater; coming up with a new recipe for cookies; becoming a vegetarian, giving it up only to become one again, only to give it up again; and a comic about body image, thinking about dieting, and learning to love your body. The collection ends with a truly delightful and painfully relatable one-page comic titled Dinner at Eight and written by Kristyna Baczynski. Anyone who has anxiety issues will immediately recognize the feelings the protagonist is going through as she prepares for a dinner party while trying to prevent her anxiety from consuming her.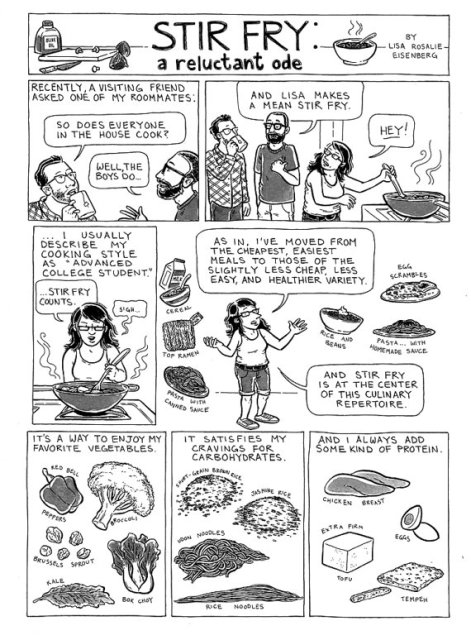 I really enjoy a lot about this collection. Not only are the comics themselves great, but the entire book is remarkable. The front and back covers are done in color, while the over sixty pages inside are black and white, and the art ranges from simple line drawings to a dream-like comic that looks like a painting, to more traditional comic art. Additionally, the book doesn't only contain comics. It has an interview with webcomic maker Sarah Becan about her food comics and section called "On the Strumpet's Shelf" where they review and recommend a bunch of other comics that the reader might enjoy. I'm really a fan of what The Strumpet is accomplishing. In a time when DC and Marvel comics each have less than 15% of their artist and writer positions filled by women, it's extremely refreshing and necessary for a collection of comics like this to exist. Not only does it give readers a place where we can find creative and talented ladies who make comics, but it also gives those ladies a chance to be published and get their names out there.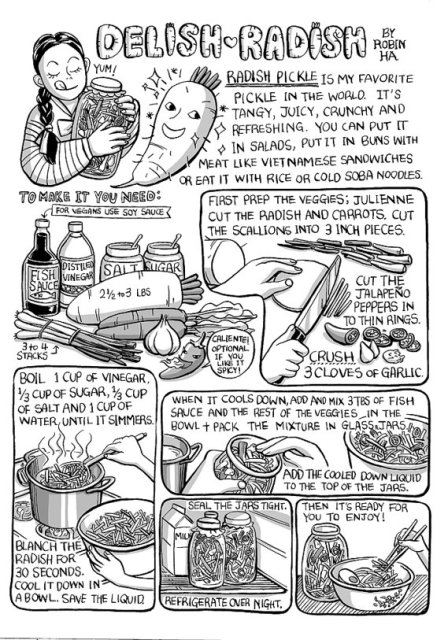 This book isn't just great if you want a comic collection done entirely by women, it's also great if you're looking for a few new recipes to add to your collection. Copies of The Strumpet's Tasty Issue are available for sale on etsy, where you can also buy previous volumes. This is really an excellent collection, and I'm looking forward to purchasing and reading the previous volumes and any future ones that they put out. If you're looking for news and info about The Strumpet, you can check out their website or follow their blog.
---
Welcome to Drawn to Comics! From diary comics to superheroes, from webcomics to graphic novels – this is where we'll be taking a look at comics by, featuring and for queer ladies. So whether you love to look at detailed personal accounts of other people's lives, explore new and creative worlds, or you just love to see hot ladies in spandex, we've got something for you.
If you have a comic that you'd like to see me review, you can email me at mey [at] autostraddle [dot] com.
Header by Rory Midhani