A #HeroCrush has nothing to do with romantic or sexual attraction. You don't even have to want to be friends with the person. Instead, it's all about people you admire and look to for inspiration and influence. It's that special feeling you get when you look at someone and you think, "dang girl, I want to smash the patriarchy with you!" You can see yourself holding hands with them marching in a parade or creating a human blockade. You fantasize about a future spent together dismantling systems of oppression side by side. You want to follow them on twitter and you make sure to tune in when you hear that they're going to be on MSNBC or NPR. For me, a lot of my #herocrushes in 2013 happened to be trans women. Some of these people are heroes because they faced serious oppression or obstacles, others are heroes because they're thriving in their fields, but all of these trans women deserve to be recognized and remembered this year.
1. Janet Mock
Every time she puts out another blog post or appears on Melissa Harris Perry or HuffPost Live I have to stop and pay attention. She is consistantly bringing up issues that others who have audiences her size simply don't talk about. Whether it's talking about Islan Nettles being misgendered at her own vigil, the fact that trans women of color's indiegogo campaigns don't seem to raise a lot of money or talking about Kerry Washington on Scandal, she always brings important points and a unique perspective to the issue. She has a book called Redefining Realness coming out in February and she's poised to have a great 2014. She's a great leader not just for trans women, not just for women of color, but for all women.
---
2. Laverne Cox
I know we seem to talk about how much we love her a lot, but that's only because she deserves it. She's the only trans woman of color who is a regular on a TV show, and on top of that, she's playing a trans woman character who is one of the most fascinating and enthralling characters on TV this year. Outside of TV, she's an outspoken advocate for the rights of trans women of color everywhere. She's producing a documentary on CeCe McDonald, appears on TV and the internet to talk about being a black trans woman in America and is just an all-around awesome person. Cox is radically changing the way television and television viewers see trans women for the better and I can't wait for the next season of Orange is the New Black.
---
3. CeCe McDonald
Thrown in a men's prison for defending herself from racist and transphobic attackers, she has been able to smile and inspire all of us. McDonald has brought to light a huge issue that most in America did not know about- the horrible and unfair treatment that trans women face in the prison system. McDonald continues to speak out about trans issues from inside prison and you can support her by writing to her.
---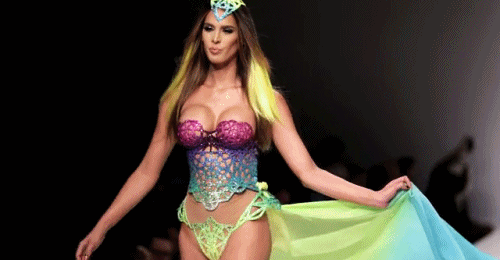 4. Carmen Carrera
Not only does she continue to wow me every time she comes out with a new photoshoot or video showing off her impeccable style and amazing looks, but she also knows how to speak up about important issues. A change.org petition was started by her fans and supporters asking Victoria's Secret to make her the first transgender model to walk in their show and got over 45,000 signatures. Plus, she's not afraid to call out her friend (who is in the room) when she says she doesn't want Carmen to go out clubbing with her because it's "straight night" at the club.
---
5. Miss Major
Miss Major is one of the true legends of the American queer rights movement. (She was actually at Stonewall!) This year we saw a documentary about her illustrious life being made called Major!. The documentary won Project of the Month at IndieWire and has been covered by GLAAD, Colorlines, and Huffington Post.
---
6. Coy Mathis
Only six years old and already winning life changing battles for the rights of her peers. When her school in Colorado was trying to force her to use the boy's bathroom, her parent's sued and won a landmark court case saying that trans students are allowed to use the correct facilities for their gender. Coy is just trying to live her life, and in doing so is making life better for transgender students all around her state.
---
7. Fallon Fox
She seems to face almost as many verbal punches from transphobes outside the ring as she does actual punches from opponents in the ring, and she manages to bounce back from all of them. Even though she's faced bullying and incorrect allegations that she has an unfair advantage, she hasn't backed down and continues to fight in the sport she loves. She currently has a record of 3-1-0.
---
8. Eli Erlick
The founder and director of the Trans Student Equality Resources, national advisory council member for the Gay, Lesbian and Straight Education Network and an activist who fights for trans students' rights in California and across the country. One of the things she worked toward was to bring about California's sweeping new student's rights bill. She was named to both the Trans 100 and Refinery29's 30 Under 30 lists.
---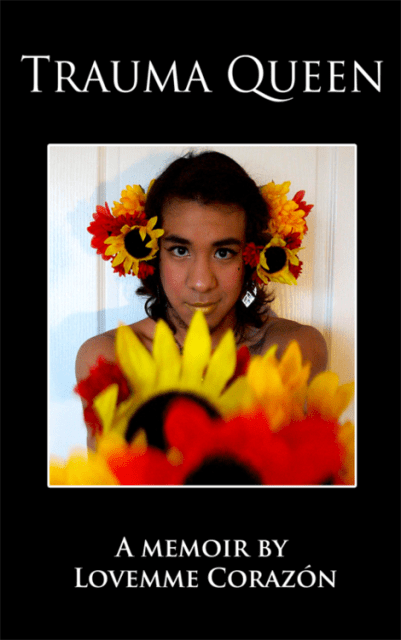 9. Lovemme Corazón
Their memoir Trauma Queen was released this year and is one of the most moving and powerful pieces of writing I've read in a long time. In it, they talk about gender, abuse, depression, activism and racism. By publishing their memoirs and writing such an open book, they are telling a story that a lot of trans women experience but few get to tell about. Plus, their blogging, videos and self-created media posted on tumblr and elsewhere continues to change my life.
---
10. All the ladies who are in the Angels of Change calendar
This calendar raises money for the Children's Hospital Los Angeles Division of Adolescent Medicine Center for TransYouth Health and Development and gives young trans people the opportunity to get all dressed up and show off. Proceeds from all all of the calendars purchased go directly to the center. It is coordinated by Bamby Salcedo and according to the website, "Although they are always an attractive bunch, they're not chosen not based on their looks, but on their willingness to create change, within themselves, and within their community."
---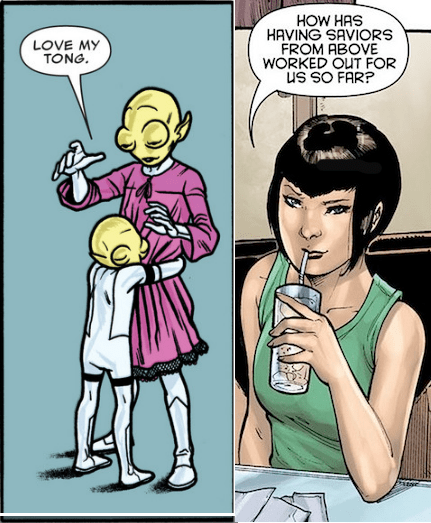 11. Alysia Yeoh and Tong, comic book characters
The first realistic and positive portrayal of a trans woman in the mainstream DC comics universe, Alysia was created and introduced by Gail Simone in Batgirl and came out as trans in issue #19. She's the most prominent and mainstream trans woman to ever appear in comics and is also one of the few whose transness isn't tied into fantasy or sci fi elements. Another comic book character who came out as a trans girl this year, Tong is one of the Moloid (a race of underground humanoids) children who are members of the Future Foundation, a sort-of spin off of Marvel Comic's Fantastic Four. Her interactions with her siblings, friends and teachers in FF are some of the cutest depictions of trans youth in fiction that I've ever seen.
---
12. Sarah McBride
Former student body president at American University and current trans activist in her home state of Deleware, she was influential in passing the state's transgender non-discrimination law this year. She spoke at the 17th Annual HRC dinner, talking about her experiences coming out as transgender and fighting for trans rights in Delaware. We talked with Sarah back in 2012, and she's only gone on to do bigger and better things since then.
---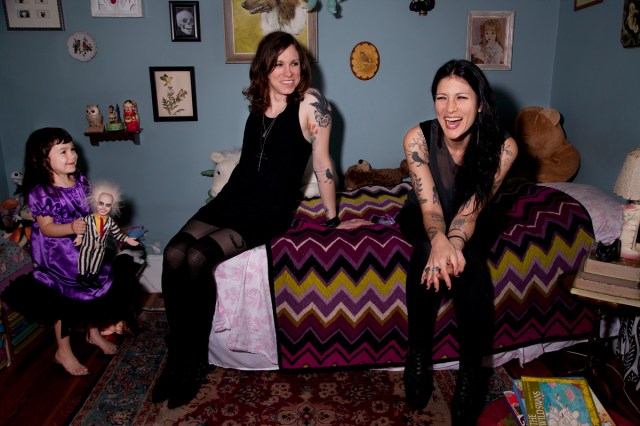 13. Laura Jane Grace
The lead singer and guitarist for the band Against Me! came out as trans last year and has just gotten more and more rock and roll as time goes on. She released the kickass True Trans EP this year and continues to have one of the cutest families around. Against Me! is releasing a new CD, Transgender Dysphoria Blues in January and is touring right now.
---
14. Paris Lees
Lees keeps on getting named one of the most influential LGBTQ people in the UK, and the more I read her articles and watch her TV appearances the more I can see why. She was a part of the BBC's "100 Women" event, appeared on BBC's Question Time and continues to advocate for trans rights in her native country.
---
15. Andy Marra
Marra's article on her experiences being a Korean adoptee, going back to that country to find her Korean mother and coming out to her as transgender makes me cry every single time I read it. I wish that more coming out stories were as touching as this one. If you haven't checked it out, please, go do so now.
---
16. Bamby Salcedo
She's not only the president of the Trans-Latin@ Coalition, which advocates for the needs of transgender Latin@s in the US, she also works with the HIV positive community (of which she is a member) and trans and Latin@ youth. She's the person behind the Angels of Change Calendar.
---
17. Kokumo
Kokumo is an African-American transgender advocate, performer, artist, writer, organizer and singer. In addition to all of her activism, she also released an EP, There Will Come A Day, in February and released a video for the title track in September. She dedicated the video to the countless trans women of color who have lost their lives due to violence.
---
18. Audrey Mbugua
She's a transgender woman from Kenya who is suing the Kenya National Examinations Council and the Attorney General in order to have them recognize her status as a woman. While the government argues that since she "was born male" and "hasn't completed her transition," she is having a hard time finding employment and is trying to change her national ID card and passport so that she can travel, continue her education and start a career.
---
19. Cecilia Chung
Chung was the first openly trans woman and first openly HIV positive person to serve on the San Francisco Human Rights Commission. One of the founding producers of Trans March, this immigrant from Hong Kong also works tirelessly to educate the medical community on trans* health issues.
---
20. Sadie
An eleven-year-old trans girl who decided to write an essay to President Obama after he mentioned gay rights in his inaugural speech but left out trans* people. Her essay was earnest, touching and brave.
---
21. All the trans women who have written for Autostraddle
Not only was the trans*scribe series filled with amazing and diverse stories about trans women's experiences and attitudes, but trans women like Morgan M., Morgan Collado, Vivian, Maryam and Savannah have continued to contribute great pieces to Autostraddle.
---
22. Ari South
South had previously competed on Project Runway before coming out as trans, and returned this year to the show's All-Star edition. Despite being misgendered on the show and being the first person to leave, she managed to show that she's talented and one to watch in the fashion world.
---
23. Cassidy Lynn Campbell
Only sixteen years old, Campbell was the first openly transgender girl elected homecoming queen in California. After winning, she was unfortunately bombarded with transphobic and transmisogynistic attacks. Even after facing that, she says she is moving on to "amazing opportunities" and "bigger and better things."
---
24. All the trans women who were murdered or violently attacked for being trans
I'm certainly not including these women on this list to celebrate the "accomplishment" of being murdered. They're on here for a different reason than everyone else. A hero doesn't just have to be someone who you want to work alongside, it can also be someone who's memory you want to honor in your actions and daily life. These are women who are our sisters, friends and loved ones and who I want to do right by. These are women who really deserve to be honored and revered. They are the kind of heroes who we should never forget, who we should make sure to memorialize. This year, like many years before, we saw far, far too many trans women being attacked because of their trans status. This is especially true of trans women of color, and especially black trans women in the United States and Latina trans women in South and Central America. We need to remember these names and honor their memories.
---
27. Calliope Wong
Wong applied to Smith College (a women's college) in 2012, but was denied admission because her FAFSA form was marked "male." She brought to light the issues with many women's colleges admittance policies and became the face for the fight to make sure that women's colleges are safe spaces for trans women.
---
28. Naomi Fontanos
A transgender woman from the Philippines, she is the co-founder of Gender and Development Advocates and has spoken in front of the Philippine House of Representatives to advocate for trans women's rights. One of the many goals she is working toward is to pass anti-discrimination bills that would protect trans workers.
---
29. Ines Rau, Kylan Wenzel, Jenna Talackova and Arisce Wanzer, models and beauty queens
While some might think that there's nothing revolutionary about trans women modeling or entering beauty pageants, I would have to disagree. Holding up trans women (and especially trans women of color) as fashion and beauty icons who society is supposed to look up to and follow goes against everything trans women and women of color are taught about beauty standards.
---
30. Jazz
Another star of the bright future of trans advocates, this twelve year old has been the subject of a documentary, I Am Jazz, has appeared multiple times on TV, has won several youth advocate awards, and was honored at the GLAAD Media Awards for her work.
---
31. Brandi Ahzionae
Ahzionae is a hair stylist and community builder in Washington, DC who was featured in JET Magazine this year. She is the creator of the DMV Trans Circulator, which "is directly responsible for spreading information within the trans community" and building connections between trans people in and out of prison. By standing up and being a notable voice for African-American trans women, she is helping to change the way media and society views trans women of color.
---
32. Jen Richards and Angelica Ross, roommates
Richards is a writer, organizer and master of the internet. She's the creator of We Happy Trans and one of the directors of The Trans 100, (which was founded by Toni D'orsay, another #herocrush worthy trans woman) both of which highlight positive stories within the transgender community. Ross is a speaker, singer/songwriter and activist. She is the coordinator of the TransWorks program, which is an "employment initiative geared towards the economic empowerment of transgender and gender non-conforming people."
---
33. Mia Tu Mutch
A program assistant at LYRIC (Lavender Youth Recreation and Information Center) in San Francisco, Mutch works hard to make things better for queer youth in the Bay Area. She has also fought for "racial justice, LGBTQ equality, affordable housing, street safety, and much more" in her community. She also works as the Chair of the Housing LGBTQ and TAY Committee of the San Francisco Youth Commission.
---
34. Danielle Castro, Maria Roman and Arianna Inurritegui-Lint, Latina Activists
Three of the honorees on the Honor41 list, which looks at 41 Latin@s who are role models in the LGBTQ community. Inurritegui-Lint is East Chair for TransLatin@ Coalition and works with the Florida Health Department in the HIV/AIDS community. Roman is an actress, beauty queen and Risk Reduction Counselor in Los Angeles who works toward HIV prevention and transgender rights. Castro is the Community Mobilization Specialist at The Center of Excellence for Transgender Health in San Francisco and works as an HIV test counselor and transgender cultural sensitivity training educator.
---
35. Reina Gossett
Gossett is the Director of Membership at the Sylvia Rivera Law Project, working to build community there. She speaks out and writes out for the rights of trans and gender non-conforming people to be in charge of their own genders and advocates for the remembrance and celebration of trans history. She is a powerful advocate for trans people of color and a strong voice for trans victims of prison and police brutality.
I'm sure I left off a ton of awesome, amazing and world-changing trans women, so if I left you off, please forgive me. Who do you think should be added to this list?