Comic books have long served to inspire people. Young (and not so young) girls and women who read about Wonder Woman or Lois Lane have been inspired to reach for heights they previously thought unreachable and set goals that once seemed impossible. But too often, if you weren't conventionally attractive, white, straight and cisgender, there weren't too many characters who looked like you. That's slowly changing, and in Batgirl #19 (out Wednesday), written by Gail Simone, DC comics showed us a woman,  who is not only a strong and interesting character, but is also bisexual, Asian-American, and as of now, openly transgender.
In the fall of 2011, DC Comics announced that it would be canceling all of its titles and relaunching them, with a new continuity, as the "New 52." While the reboot has been great for sales, it has alienated a lot of longtime readers and fans, especially fans who are women and/or queer. With the New 52, the percentage of women writers at DC shrunk from the already problematic 12% to an abysmal 1%. Many extremely popular characters where "benched," meaning that they seemingly no longer existed in the DC universe. Among these characters were some of the most prominent queer women in all of comics. Renee Montoya, once a Gotham City Police Officer and now the new Question, known from both Batman comics and Batman the Animated Series was benched. The queer superhero couple Grace Choi and Thunder (both also women of color) no longer existed. Secret Six, a fan favorite title that featured one of the most diverse casts in comics was gone. This meant that we no longer had Scandal Savage, yet another queer woman of color, who wasn't only a lesbian, but also polyamorous and ended her run in the comics with a marriage to the two women she loved (who are also nonexistent in the New 52). While Batwoman still has her own title, is featured prominently, and even proposed to her girlfriend in the comics, queer women have been hugely lacking in the New 52.
With Batgirl #19, Gail Simone is working to change that. One change in the rebooted DC universe is that Barbara Gordon is no longer paralyzed or going by the alias Oracle, but is instead back as Batgirl. In issue #1, Barbara Gordon is moving in with a new roommate, Alysia Yeoh, who immediately leaves a strong impression. She's painted "Fight the Power!" in giant red letters on the living room wall and hugs Barbara on their first meeting. As we see more of Alysia, we learn that she's a fiercely loyal friend who takes good care of Barbara and watches over her after she's been injured while fighting a supervillain. She's shown to have her own life, working as a bartender and being interested in cooking and activism. She gets arrested for protesting with Occupy Gotham. She even trash talks Bruce Wayne's attempts at urban renewal and gentrification straight to Barbara's face. This is no token trans character. She is opinionated, caring, compelling and three dimensional. Gail Simone even wrote her from the very beginning as trans. Early on she tries to tell Barbara that she has something she wants to share with her, but Barbara has to run off and be Batgirl.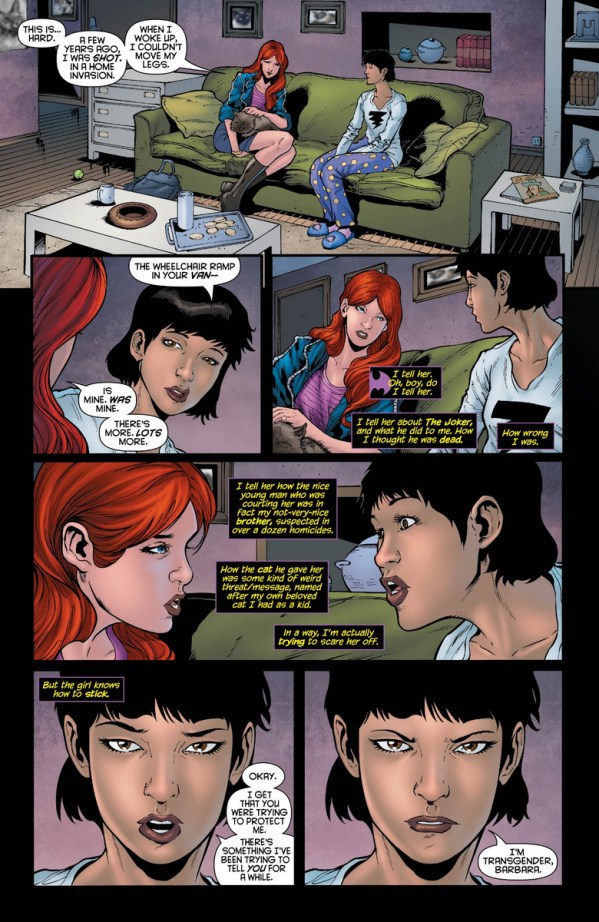 *SPOILER ALERT* The "coming out" moment happened when Barbara was revealing some secrets to her roommate. She was telling her about her past with The Joker, about being paralyzed and about her serial killer brother (who Alysia had been dating). Alysia sees this as a chance to be open and vulnerable herself and simply says, "I'm transgender Barbara." Instead of freaking out or asking a bunch of questions or accusing Alysia of lying to her or tricking her, Barbara Gordon replies with a hug and a roundabout "I love you." This is treated as a simple, human moment between friends. While Barbara looks surprised at first, it isn't treated as a shocking twist like in Ace Ventura: Pet Detective or The Crying Game. It's refreshing to see this as a moment where these two friends are showing that they trust each other and care about each other rather than something weird, bad or disgusting. Instead of driving Barbara away, Alysia's coming out brings the two of them closer.
It's important not just to have characters that challenge ideas about gender and sex, but to also have them in realistic settings.
This is big news. While Alysia isn't the first transgender character in comics, she is perhaps the most prominent one. On her tumblr, Gail Simone calls Alysia the "first non-fantasy-based, non-mature title trans character in a mainstream superhero book that we were aware of." These might seem like a lot of qualifiers, but they are important. It's one thing to see a character from the future use advanced science or a character use magic or super powers to change gender and sex, but it's a totally different thing to see someone undergoing the same process as a trans woman like me. While it's nice to imagine a magic potion or spell that could change my body, that's not what my life is actually like. I can't relate to that. It's important not just to have characters that challenge ideas about gender and sex, but to also have them in realistic settings (or as realistic a setting you can have in the Batman universe). And to see her portrayed as Batgirl's best friend and roommate is just as important. Batgirl headlines the 17th most popular DC title. She's been featured in tv shows and movies, she's a popular Halloween costume. People see her as a hero. And that hero's best friend is like me.
DC Comics does have some history with characters who could be considered transgender, although not all of them have been called that in the actual comics, and most have not been written with as much respect as Alysia Yeoh. One of the earliest trans characters in comic books, and one of the only superheroes, was Coagula (Kate Godwin), a member of the oddball superhero team Doom Patrol. There were also Shvaughn Erin, from the Legion of Super Heroes who used futuristic medicine to transition from male to female and back again, and Wanda from Neil Gaiman's Sandman comics. In the early 2000s, there was a Flash Animated series called Gotham Girls that featured the trans woman Detective Selma Reesedale, who helped Batgirl. Currently there is also the character Sir Ystin from the fantasy based DC title Demon Knights, who in issue #1 said, "I'm not a man or a woman. I'm both." When asked if that meant he was transgender or intersex on twitter, Demon Knights writer Paul Cornell replied "I've always left those terms alone so anyone in any similar situation can empathise."
This has been a long time coming. DC slowly started introducing more and more queer characters. They gave Batwoman, an out lesbian, her own title. They made the original Green Lantern gay. It was time for them to introduce a well-rounded trans character. Gail Simone has long been hinting that one of the characters she is writing would be coming out as trans on her tumblr. She said that she talked with trans women before writing Alysia to make sure that she was representing her as well as she could. She also has been telling people who ask about wanting queer characters in comic books to be looking out for her new title, The Movement, coming out in May. In a recent interview with Wired.com, Simone says there will be another trans character in a different comic she's writing. "It's time for a trans hero in a mainstream comic… And it's going to happen." After the benching of so many great queer women of color, coupled with DC's hiring of noted homophobe Orson Scott Card to write a Superman title, all of this is extremely refreshing news.
Comic books are full of heroes. Some, like Batgirl are heroes for saving lives and fighting crime. Others, like Alysia Yeoh are heroes for having the courage to be themselves in a world that will judge them and try to put them down. Alysia is important because she's an extremely visible trans woman who exists in a medium that's full of inspiration. When we read comic books, we see characters we want to be like, and seeing women like us helps to inspire us. Alysia Yeoh can be that character for trans women everywhere. She stands up for herself and she lives her own life, and according to Gail Simone, her character's role in the comics will only grow. Hopefully this will open the doors to plenty more queer women in comics, so we can all have heroes who are like us.