Hi, Autostraddle! Would you like to get wet? Cool. Wanna do it while partying, and all for a good cause? Better.
From May 15 to 19, Aqua Girl is coming back to Miami. The festivities support the Aqua Foundation for Women, a non-profit organization "whose primary mission is to serve as a funding catalyst for lesbian, bisexual and transgender wellness and equality in South Florida through grants, scholarships and initiatives," and are meant to be a safe space for women who love women to get down. Last year, Aqua gave out 15 scholarships and over $50,ooo in grants; this year, their priorities are "LBT women's physical, mental, and emotional health," ending LGBT youth homelessness, and creating a conference for LBT women that imparts upon them leadership, finance, health, and business skills.
The easiest and most fun way to support that big bundle of awesome is an equally amazing series of margaritas poolside.
This year, Aqua Girl events start at 9 pm May 15 – with a live music event at Churchill's – and go on until May 19 when you can catch the last good vibes at Afterglow 'til 3 in the morning. With activities ranging from concerts to wine-and-cheese tastings with happy hours, pool parties, and a ton of dancing to be had in-between, it's a jam-packed babe pool waiting for you to take the dive.
Do you remember when AquaGirl happened last year? I heard it was really great.
I know there are girls here and I know that because I've made out with a lot of them, but there's something extra-special about that one weekend in South Beach when girls so clearly run the world. When Aqua Girl® happens, we're everywhere. We're packing the clubs, we're dressed in our Friday night best and we're making our community better and stronger; dollar by well-intentioned dollar.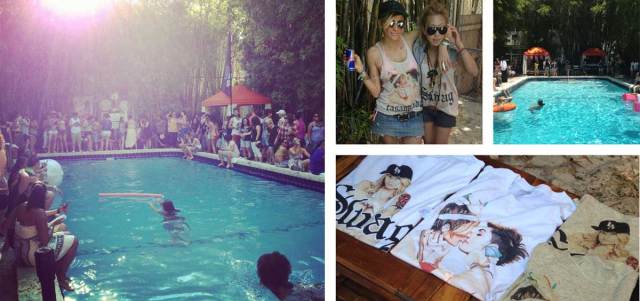 Passes for Aqua Girl weekend at a variety of price points and individual entry into every event can be purchased online or at the door of any Aqua Girl event, although you'll save if you buy ahead of time.
For only $369 and up, anybody can get herself a ticket to an unforgettable weekend! (And for even less, admission to individual events throughout said unforgettable weekend, as well as some down time and less sunburn.) What I'm saying is, you should probably spring for any queer women's charity event that will eat up a whole weekend of your life and then spit you out with nothing but sun-stained memories.
Might as well start at the pool.