I've been to Miami once before. But it wasn't like this.
I'm on this guided trip with other journalists, which is funny because I'm not a journalist. It's the week of Aqua Girl®, a charity party week (not just any — the biggest) that we've covered here many times but I had never personally been to. I was excited to experience it, particularly because I'm a five-time Dinah Shore veteran and wanted to compare the two.
These other journalists are from other various queer publications and are here, like myself, to be shown the "new" Miami and how much better-than-before it is for us gays. There was Edgar from Colombia, Walter from Argentina (where gay marriage is legal, his partner and him have been together for 20 years, two years married now), Dana from Germany, and Lucy from England who was writing this piece for Diva Magazine.
We all had about 4 or 5 glorious days together. This is the breakdown of our trip:
Hotel Accommodations
The Lord's Hotel, South Beach
A bright, welcoming, cozy hotel that caters specifically to LGBT market — the Lord's Hotel is the only "gay" hotel in Miami! Though they welcome everyone obviously. This was my room: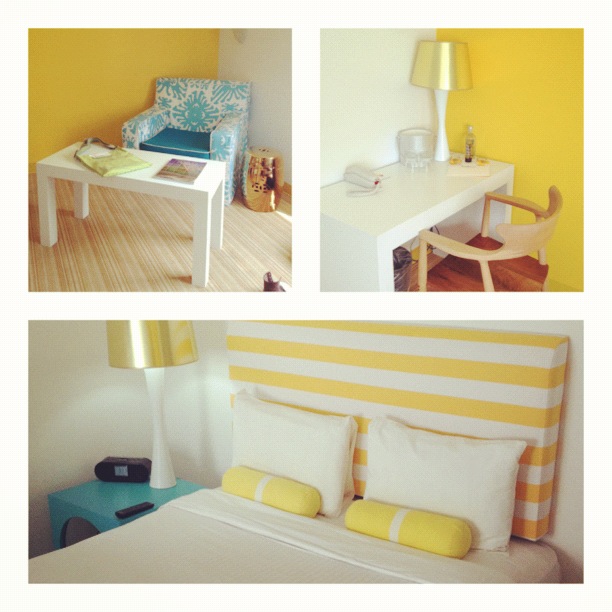 I seriously loved this hotel so much. It's colorful rooms, quaint size, awesome decor, intimate pool area, these room keys.


An added note: The Lord's Hotel has "charity rooms" (which happens to be one of the rooms I'm staying in) where a percentage of the cost, when rented, goes back to the community. We're here, we're queer, and that's how we fucking roll.
Surfcomber Hotel, Miami
A more central and better location situation than Lord's, and much bigger. The Surfcomber Hotel has a beach area and a huge pool too, which is why it was the host hotel to the Aqua Girl pool parties.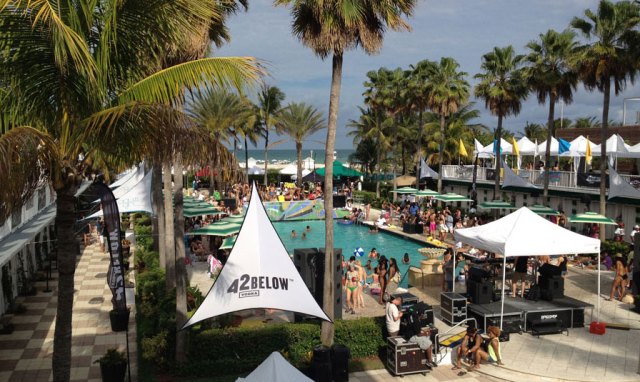 Restaurants
The Dutch, at the W Hotel
The Dutch is a restaurant inspired by local cafes, country inns, corner taverns, neighborhood bistros, seaside shacks, roadside joints and the same mix of cultural influences that make Miami Beach great. We split a selection of appetizers around the table, all were awesome. And I had an Old Fashioned Blossom cocktail because I'm a gentleman like that. Dana and I bonded over this shared whiskey experience. They had a great selection here. She loved it so much she ended her meal with a fancy whiskey straight-up which was delicious and made me ashamed to have ever had whiskey with ice before. (New rule: don't do that.)
Wynwood Kitchen & Bar
Killer. Located in a former warehouse, Wynwood Kitchen & Bar right in the heart of the up-and-coming Wynwood Art District which boasts crazy awesome amounts of street art in the area. When you eat here, you're right in the middle of an art park surrounded by murals created by some of the coolest and most notorious street artists in the world. Even Wynwood's 12 original drinks are named after the artists that contributed to its walls. The food is a variety of tasty small plates.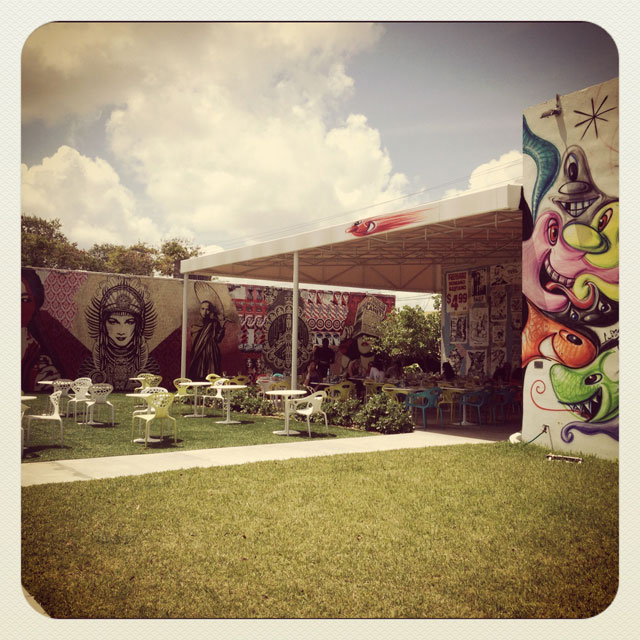 We got here by taking a vespa street art tour of the Wynwood area (details below), which I would highly recommend to anyone who plans to be in the greater Miami area. I was so happy to have seen a non-touristy cultural up-and-coming arts district — this other side of Miami I didn't know existed.
Lantao Kitchen + Cocktails at The Surfcomber
Lantao's menu is based on Southeast Asian street food, served family-style so the idea is to share stuff among the table. Which is my favorite thing because I get to taste ALL the things. Specifically, the blue crab spring roll is probably the best spring roll I've ever had. I'd definitely come back to eat at Lantao, it's a great dinner spot. Not too expensive (all dishes are shareable and most are under $20) and the cocktails are good.
BLT Steak, at the Betsy
The. Best. Tuna Tartare. Ever. I know we came here for steak, and of course it was like the best steak ever. But when you're at a steak place you don't assume they'll have the best tuna tartare. I swear I would go to this place just for that. Do you know what tuna tartare is? Cause you really should! Also, BLT Steak automatically gives you cheese popovers to start your meal and this is important.
Here is a collage of all the various drinks (and one sandwich) I ingested at these restaurants and more in Miami:
Between Eating & Drinking
Miami's LGBT Visitor Center
Miami's LGBT Visitor Center is doing great things. The center exists inside the historic Old City Hall building and is a one-stop destination for information, publications, wireless internet access, LGBT events and they can give you attraction/accommodation recommendations for your stay.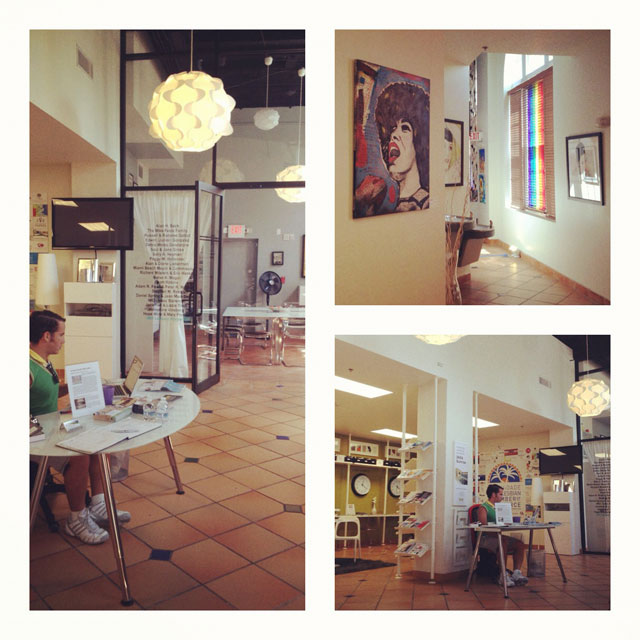 We were brought here for a tour of the Miami LGBT Center space and met Cindy Brown, the center's Executive Director who is also involved in most of the major gay events and activities in Miami. She is a longtime AIDS and arts activist, a member of Aqua Foundation for Women and for several years has co-chaired the National Gay and Lesbian Task Force's Miami Recognition Dinner.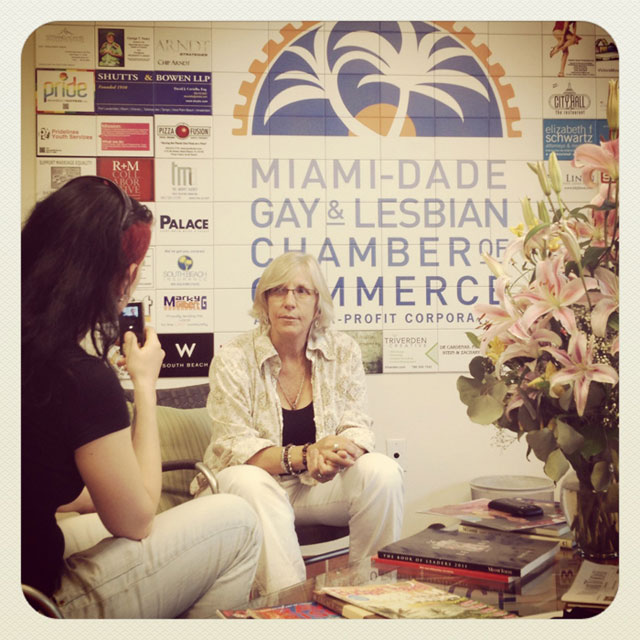 Wynwood Vespa Art Tour
By far my favorite thing we did on our trip was the Graffiti Vespa Tour of the Wynwood Arts District. Here the wall murals are legal and commissioned works of art. I've seriously never seen so much street art concentrated in one neighborhood. You get to ride a vespa for two hours and learn about the artists behind the work; famous artists like Space Invader, Shepard Fairey and others. The tour ends with lunch at Wynwood Kitchen & Bar (mentioned above).
Tour of Miami
This was such a great way to see the whole entire greater Miami area and learn some of its history. I love the History Channel so this was my jam. We went to Coral Gables, The Biltmore Hotel, Coconut Grove, Little Havana, Downtown Miami and walked along Miami Beach which is the best way to get a look at all the art deco-style architecture.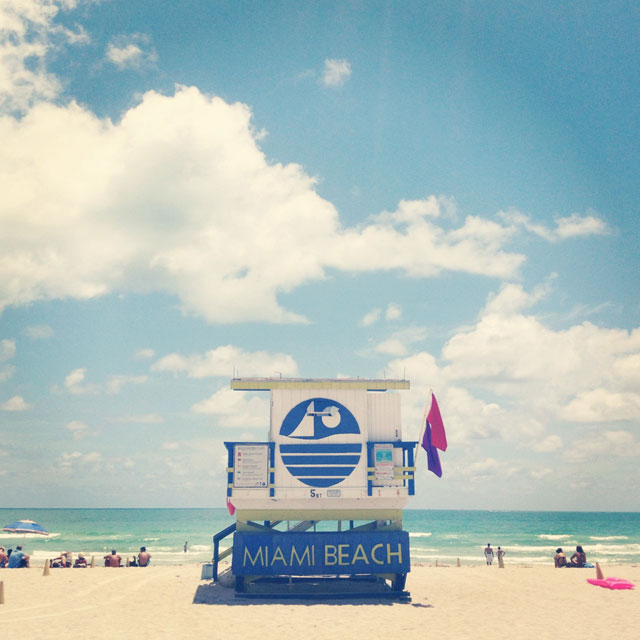 Aqua Girl Parties
There are two things about Aqua Girl® that sets it apart from other weekend girl parties you may or may not have been to:
1) Aqua Girl® is a 100% charity weekend, the biggest of it's kind, which goes to benefit the Aqua Foundation for Women. Literally every dollar you spend here at any party or show or activity goes right back into the community. We've written about it in depth before, so for a complete break-down of the week's terrific activities, check out: Miami is Nice for Aqua Girl®.
2) It happens in the heart of South Beach, Miami. Which is great because if you're like myself and your threshold for partying maxes out at more than one party within 24 hours, then it's cool cause you're in Miami and can chill on the beach or go do the millions of other things that you can do in Miami. Drop in for a night or pool party, or go see the comedy show and you support a great cause at the same time, and you get to explore an amazing city the rest of the time.
I had an amazing time and I don't even like party weekends. This one had a great vibe, the women so friendly and welcoming. I hear most of the ladies at this party come from the northeast (New York, New Jersey, etc.) down to Miami for the week to attend Aqua Girl® and get their vaycay on. I mean, in a city as great as Miami, I don't see how you can't have a good time. If you need to get away from the party scene, the beach is literally steps away. I'm not sure if Miami is the new gay mecca destination, but I'm excited to see what it becomes in the future. A lot has changed there and as the city grows (and grows outward) it will naturally become increasingly more gay-friendly and it's definitely a fantastic gay-friendly vacation destination that I would totally put on my "getaway" list.