this post has been sponsored by the beautiful ladies of Aqua Girl ® 2012
April in South Beach is the sweet spot between hoodie-weather and the steamy sub-tropical temperatures we're best known for — those balmy days that inspire Floridians to quickly remove their clothing and jump into the nearest body of water. Thus, the first weekend in May becomes a kind of farewell to pleasant air and the jump-start of our speedy descent into the stickiness that'll require me to spend the next three months with the air conditioning on blast. And this year, the first weekend in May is also Aqua Girl® weekend. This is very exciting news.
The lesbian community in South Beach often plays second fiddle to the more visible gay male scene — it's usually men packing the rooms and the outdoor dance spaces at the annual Winter Party and all the gay boys flock here in November for the infamous White Party (which actually has women's events now, I promise!), as featured in a fantastic episode of Queer As Folk.
I know there are girls here and I know that because I've made out with a lot of them, but there's something extra-special about that one weekend in South Beach when girls so clearly run the world. When Aqua Girl® happens, we're everywhere. We're packing the clubs, we're dressed in our Friday night best and we're making our community better and stronger; dollar by well-intentioned dollar.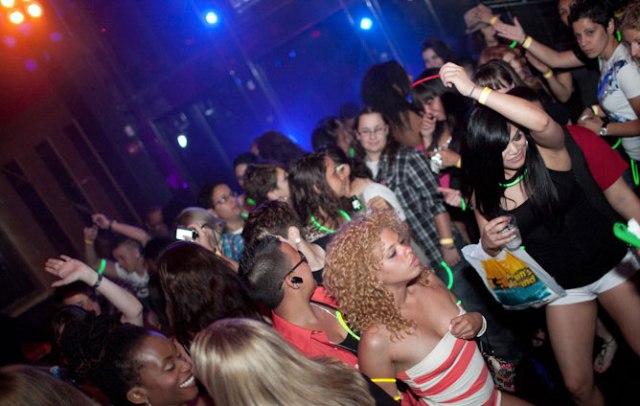 What is Aqua Girl®? Well, Aqua Girl® got born in 1999, when the legendary lesbian event doyen Alison Burgos teamed up with Shescape and other South Florida ladies-in-the-know to throw together a one-night breast cancer benefit called Sweet Charity. Over 800 women came and over $15,000 was raised for Cancer Link and Gilda's Club. Inspired by their success; in 2000, Sweet Charity became "Aqua Girl®" with a full weekend of events from which every single solitary penny goes towards causes that impact women.
Now Aqua Girl® is the largest charity women's week in the country. All proceeds go towards the Aqua Foundation for Women, "a not-for-profit foundation whose primary mission is to serve as a funding catalyst for lesbian, bisexual and transgender wellness and equality in South Florida through grants, scholarships and initiatives."
Basically, Aqua Girl® is the absolute most honorable way
to be drunk on margaritas at three in the afternoon at a pool
sufficiently packed with girl-on-girl culture.
The Aqua Foundation is a huge force in South Florida. In 2011, the Aqua Foundation helped fund the Pride Center's initiative to connect the community with LBT-friendly health care professionals, Safe School's South Florida "Women in Training" program which fosters leadership skills and provides employment help for LBT women, the University of Miami's study of health risks of transgender women in South Florida and PFLAG of Fort Lauderdale's awareness campaign.
Basically, Aqua Girl® is the absolute most honorable way to be drunk on margaritas at three in the afternoon at a pool sufficiently packed with girl-on-girl culture. Also, it's hands-down the most ethnically diverse lesbian party I've ever been to AND in addition to being heavily populated by locals, it attracts women from all over the world — last year I made new friends from London, Austin, New York City and Atlanta… and my best friend met someone who got her a job a few months later, so!
Don't get me wrong — these things aren't typically my scene, and I was a bit skeptical when my then-girlfriend dragged me to my first Aqua Girl® in 2010 (I was lured in by the promise of Elvira Kurt, a hilarious lesbian comedian from Canada who performed at Aqua Girl® that year), but I almost instantly found Aqua Girl® really refreshing. The aforementioned diversity is a huge bonus, of course, but it was more than that — it lacked the cliquiness, pretension and celesbian hierarchy that makes me feel like an alien at many other lesbian events. It's just pure fun, and it's pure philanthropic fun at that.
This year, Aqua Girl® will be jamming 14 events into its wet weekend, with amazing hosts like The Real L Word girls, Tracy Young and Jessica Kirson (more on her in a bit!). I will tell you about those events now.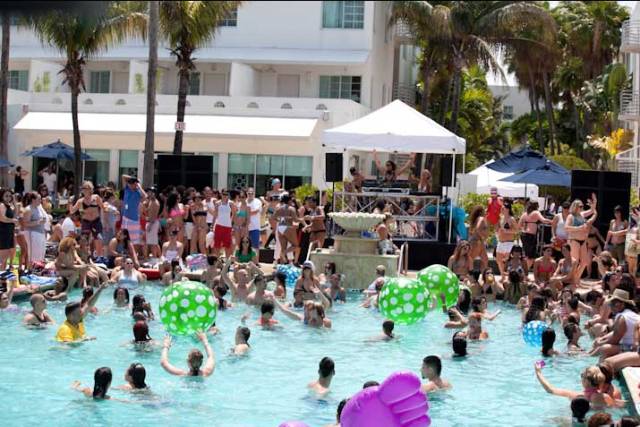 Wednesday May 2nd
MGLFF Centerpiece Women's Film & Afterparty
The Miami Gay & Lesbian Film Festival will be premiering Girltrash: All Night Long — yes, it's finally happening! — and hosting a fancy after-party promising "celebrity appearances." The cast of Girltrash, if you're not already familiar, includes Tasha, Molly and Nikki from The L Word AND Spencer & Ashley from South of Nowhere. Angela Robinson is in charge. Movies! Fun!
Thursday May 3rd
Traffic Jam
It's the first big dance party of the weekend, with equal numbers of sexy go-go dancers (not my thing, really, but it's everybody else's) and drag kings (totally my thing). You can play the dating game by sporting glow-necklaces announcing your availability — green for single, yellow for approach-with-caution, and red for totally taken.
Friday May 4th
Rachel Rachel Rachel
You love Rachel Robinson, right? Once upon a time when I was young, she was that sexy gay girl from Road Rules and now she's that sexy gay girl who hosted Autostraddle's 2010 Rodeo Disco and will be teaching "BODYTONING" at 10:30 AM at the Surfcomber Resort (more about that place later). I was too hungover last year but am holding out hope that this year will be the year that I make it.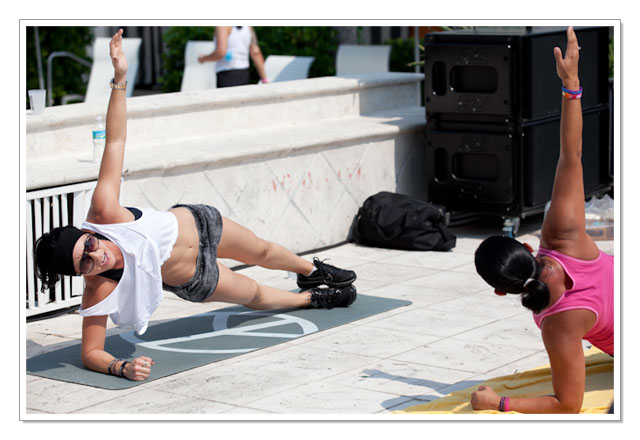 Splash Pool Party
The theme is "sporty" and there will be "poolside games" and "eye candy." Also, beer. Beer is a thing.
Happy Hour at The Palace
The Palace, Ocean Drive's only gay restaurant and bar, is probably best known for its Sunday Brunch drag races. You go here for the experience moreso than for the food (however if you've ever been to New York's Lucky Chengs Drag Queen Cabaret Restaurant, I can tell you with confidence that The Palace is way more reasonably priced and has much better food!), but Aqua Girl® promises "yummy drinks and great drink specials" at The Palace from 4 to 7 on Friday.
A Night of Comedy with Jessica Kirson
I've seen Jessica Kirson live once and she's pretty effing funny — you should check out her videos (like this one, in which she ostensibly is shopping for an Aqua Girl® outfit) You've probably seen her on Comedy Central, HBO, Nickelodeon, Noggin, VH1, Showtime, LOGO and/or Oxygen. Also I have endless wells of respect for anyone who dated Susan Powter.
Havana Nights
This party plays tribute to "Latin flavors that have made Miami famous." I think by that they mean "Hot Latin Girls." This is always my favorite party.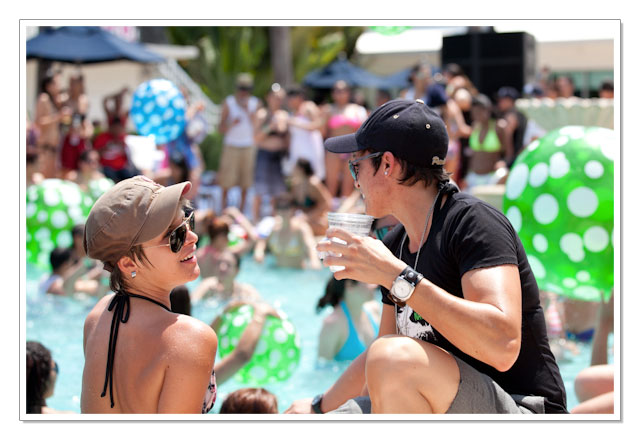 Saturday May 5th
Aqua Beach House Pool Party
Pretty self-explanatory. DJs, music, Tracy Young, Miami Heat dancers (!!!), and "3,000 hot scantily-clad women." That's a lot of scantily clad women!
Sip & Savor Wine & Cheese Reception
Wine and cheese! Two of my favorite things! Followed by dinner at BLT Steak!
Catalina Hotel & Beach Club Happy Hour
Drinking on the waterfront at a super-cute hotel with Romi and Rose from The Real L Word. No debs allowed.
Space Odyssey
Saturday night is definitely when the energy is at its peak. The website says "get ready to go on a musical journey of house, hip hop & dance music with live performances and sexy shows," which sounds like Space Mountain, except better and with more scantily clad women. Oh and everybody's favorite party favors, The Real L Word cast!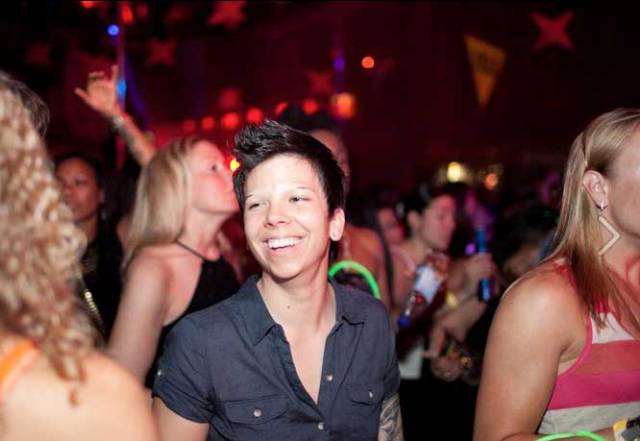 Sunday March 6th
Brunch Serenade
Free Bloody Marys!
Aqualicious Tea Dance
This is the one you can bring your gayboy friends to. Ladies are still healthily in the majority, and its' a good time for everyone.
Afterglow
Your last chance to dance for charity to the "ultimate blend of dance, electro, freestyle and Miami Bass." It's like a three-layer dip of music.
Most out-of-towners shack up at the official host hotels, but so do a lot of in-towners too because it makes it easier to walk everywhere and sometimes you can get into pool parties for free — this year's official host hotels are The Surfcomber Oceanfront Resort and Lord's. Both are really trendy and fun places to stay.
Accommodations
The Surfcomber just had a big makeover, it's right on the ocean and the pool is amazing. It had a big renovation last year and is a Kimpton hotel now (The Hotel Palomar Los Angeles is another Kimpton hotel I've heard great things about).
Lord's South Beach is a gay hotel. Like a lot of things in Miami, I imagine Aqua Girl® will populate the place with more ladies than usual. I've never stayed there, but it has a really cute lobby and pool with funky decor reflecting a distinctly gay sensibility. It's about a fifteen minute walk from The Surfcomber.
They both have special rates for Aqua Girl®ers, so be sure to tell them you're with Aqua Girl® Weekend when you book your room or enter the promo code: AQUA GIRL if you're booking at Lord's South Beach only.
You can buy tickets individually or buy a pass for the entire weekend (that's the best way to do it, in my opinion.) So come on down to South Beach this May and bring sunscreen!
We'll be there liveblogging! Don't miss it.

This post has been sponsored by: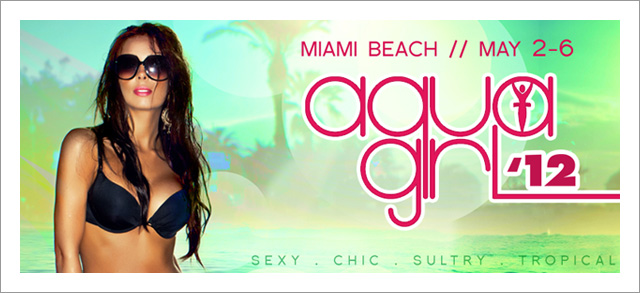 .