by carolyn & riese
Books! They are really great. You just won't believe how great they are. You may think that the Internet's great, but that's just peanuts compared to books. Welcome to the second edition of Lez Liberty Lit, our new column about literary shit that's happening that you should probably care about. We're aiming to put one of these together twice a month.
The name "Liberty Lit" was inspired by the short-lived literary journal produced by Angela Chase at Liberty High School in 1994.
Header by Rory Midhani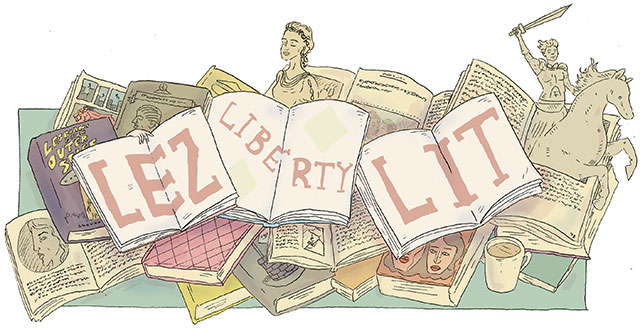 ---
Literary Internet Place of the Week
I'm Here. I'm Queer. What the Hell Do I Read? was created by Lee Wind and features reader reviews of queer YA, as well as poems, quotes, and gay history. It recently talked about navigating gender and sexuality diversity in pre-k-12 schools and Phyllis Lyon, and reviewed Tamora Pierce's Legend of Beka Cooper series and Leah Bobet's Above. You should read it for: finding great new and old things to read and feeling good about the future.
Lez Liberty Lit Links
Ali Liebegott, the lesbian author of former AS book club selection The IHOP Papers, is documenting her "epic train trip across America" on The Believer. Her ultimate destination is the Emily Dickinson House in Amherst, but along the way she'll be stopping to chat with female writers "about art and writing and life." Rumor has it Eileen Myles will be a part of this at some point.
Wanna listen to JD Samson and Eileen Myles talk about art, relationships and New York City? Of course you do! If you don't want to listen or can't listen, you can also read the transcript at RECAPS Magazine ("reclaim culture art politics sexuality"). Here's Eileen on her love for the city: "I keep feeling like it's my favorite place in the world. I am always falling in love with other places, but there is something entrenched about New York. That its so full of people and both beautiful and sort of hopeless."
Emily Books' pick this month is Mercury, by Ariana Reines, and Maggie Lange has a really cool Mercury-inspired essay called Not All Of Them Are Great on the Emily Books tumblr you should check out: "I wrote a lot of poetry between the ages of 16 and 21. At some point, I started noticing that writing as well as T.S. Eliot, Yeats, Plath and some of my peers was actually quite difficult and I stopped trying. Maybe my lack of persistence was a symptom of my generation's alleged laziness, or maybe it was a wise decision."
At Fempop, Kickpuncher writes about Guardians of the Galaxy and the problem of lesbian representation in comic books, including drawing the line between being exploitative and hiding female sexuality, the depiction of a gay relationship, and how weird lesbian plot turns are currently written: "So, I was willing to cut a little slack. I mean, after all, they are canonically lesbian characters, presented in a positive light and shown in a loving, healthy relationship. That's an incredible step forward for comics from even ten years ago. And hey, it's not like, say, one of them gets turned into a dragon and there are several panels dedicated to how they physically cannot have sex."
Our favorite male human, Ira Glass, was interviewed at The Sunday Book Review about his reading habits, and another man we like, Junot Díaz, was interviewed at  New York Magazine about his new short story collection, This Is How You Lose Her.
Lambda Literary reviewed Lady Business: A Celebration of Lesbian Poetry, edited by Bryan Borland, and The Obituary, an experimental novel that explores identity politics set in Montreal by Gail Scott.
The results of this year's Bulwer-Lytton Fiction Contest are in. The contest, a tribute to the line "It was a dark and stormy night," looks for a single sentence that is absolutely, painfully bad. This year's winner: "As he told her that he loved her she gazed into his eyes, wondering, as she noted the infestation of eyelash mites, the tiny deodicids burrowing into his follicles to eat the greasy sebum therein, each female laying up to 25 eggs in a single follicle, causing inflammation, whether the eyes are truly the windows of the soul; and, if so, his soul needed regrouting."
At the Awl, Jane Hu talks about Writer Food from A to Z (A is for apples, J is for java, O is for oysters, and Y is for yolks).
This week in "it's hard out here for a writer" we have Alexandra Kimball's How to succeed in journalism when you can't afford an internship, a super-real, potent missive on the problem with an industry that increasingly is only accessible to those who can afford to not make money, which is to say: rich people.
If you happen to  have a subscription to The New Yorker's digital archives, they've recently published a short story by Justin Taylor which is entitled, hilariously enough, "After Ellen," and is about a man leaving his girlfriend (named Ellen).
At Slate, Farhad Manjoo predicts that the Kindle wants to be free (with a Prime membership) because when it is, everyone will get Kindle books across their devices. In the meantime, people who own e-readers tend to read more. At the Millions, Allison K. Gibson discusses the place of technology in fiction. And at last week's 2012 Edinburgh World Writers' conference, China Miéville spoke about the future of the novel: "In fact what's becoming obvious – an intriguing counterpoint to the growth in experiment – is the tenacity of relatively traditional narrative-arc-shaped fiction. But you don't radically restructure how the novel's distributed and not have an impact on its form. Not only do we approach an era when absolutely no one who really doesn't want to pay for a book will have to, but one in which the digital availability of the text alters the relationship between reader, writer, and book. The text won't be closed."
Some cool tumblrs to check out: The Underground New York Public Library tumblr spies on people reading on subways in New York, which goes pretty far to fill the void not being on the subway myself has left in me. Famous meals from literature is another one and also it's fairly self-explanatory.
LeVar Burton, host of Reading Rainbow, the best show in the history of the universe, talked to Mediabistro about the importance of teaching children to love reading: "Look, we have spent so much money on the machinery of war in the last 10, 12 years, we are having to make really ridiculous choices. And we're sacrificing our kids, literally sacrificing our kids."
Canadian queer author Mariko Tamaki's new short story, "The Convicted," is about queer students and their literary magazine. It's free to read at Joyland.
To celebrate the paperback release of Miranda July's It Chooses You, an "off-kilter, surprisingly moving story of procrastination and inspiration, isolation and connection," McSweeney's has published a free excerpt from the book.
NPR has published an excerpt of Zadie Smith's NW, which looks at race and class issues in working-class north London.
Lastly, Galleycat's got a thing on Pussy Riot's favorite authors.
+
Books (and Events) to Watch Out For
Girls Who Score, an anthology of lesbian sports erotica, launches at Miami's Eleazar Delgado Studios (2703 NW Second Ave.) today at 8 p.m. RSVP by emailing ily.goyanes@ampersandeditions.com.
If you're in San Francisco on September 1st or 2nd, check out the San Francisco Zine Fest at the County Fair Building in Golden Gate Park. The event is free and will feature tons of panels and workshops on things like animation, marketing for artists, book construction, and graphic journalism. As well as lots and lots of zines.
The 35th International 3-Day Novel Contest is September 1 to 3. If you can write a book in three days, you could even get it published.
Holy crap, 'Sister Spit: Writing, Rants and Reminiscence from the Road' Hits Bookstores this September.
Queer Memoir, "NYC's community based LGBT storytelling event: documenting queer stories, celebrating queer lives" is hosting a salon in New York City on September 8th, with readers including Sarah Schulman, M.Tauret Davis, Jade Foster, Alison Grillo and host Kelli Dunham.
If you're in Portland, you should pick up tickets ASAP for Carrie Brownstein and David Byrne's October 19th "evening of conversation about music and Byrne's new book, How Music Works," put on by Powell Books.
On September 27th in Chicago, Open Bookstore is hosting Growing Up With Harry Potter to celebrate the release of J.K. Rowling's The Casual Vacancy. If you wanna enjoy refreshments, wizard readings, Harry Potter trivia and 20% off all used book purchases then you should RSVP before it fills up!+
What We're Reading:
Riese: I kept hearing Sarah Schulman's name a lot, I think because of the ACT UP documentary that just came out, because she was featured in That's Revolting! Queer Strategies for Resisting Assimilation (which I read in June) and because of my summertime obsession with LGBT history. So I got her novel, Girls, Visions and Everything, which's about a young dyke living in New York City in the East Village in 1986 who wants to be like the female version of Jack Kerouac. I always like reading things that give me glimpses into what lesbian life was like before now. I'm also one chapter away from finishing Gay L. A.: A History of Sexual Outlaws, Power Politics, And Lipstick Lesbians, by Lillian Faderman and Stuart Timmons and will have more to say about that next time! After I finish this I'm gonna read emily m. danforth's The Miseducation of Cameron Post, a YA novel we recommended last month.
Carolyn: I am currently reading what I would describe as delightful trash: Bone Crossed by Patricia Briggs, which is about a young shape-shifting mechanic's adventures. Along with werewolves and vampires and clothing removal, it has a surprisingly nuanced treatment of the after effects of surviving rape. I'm reading it until my brain gets enough sleep to finish John Steinbeg's Midlands, which is an investigation into post-apartheid racial conflict in rural South Africa. I also recently finished Malinda Lo's Adaptation, which is adorable and captivating and which I can't wait for the rest of the world to see.