Hello! Look at all of your bright and shining faces. I can see how beautiful they are, even over the Internet via my 2005 iMac computer. Did you know that even though we published a bunch of articles about news this week, there was other news that happened in the meantime? Here's the stories we missed this week.
If you're living on Earth, you've probably heard that the Republican National Convention is happening, AKA a circus of assorted egregious instances of -isms and half-truths. While you lay awake restless about the blatant racism Mittens Romney relies upon to win his sad self-serving title of President, you can comfort yourself with the knowledge that about zero black people will be voting for him in November, statistically speaking. Do you like Taylor Swift maybe? Probably not, but I think Ann Romney does so maybe if you did you'd have some sort of weird connection that made you despise her less. Plus, in the midst of the various fuckeries occuring in Tampa, there is a full-page ad from gay republicans and conservative youth happening in the local paper that supports logic and reason.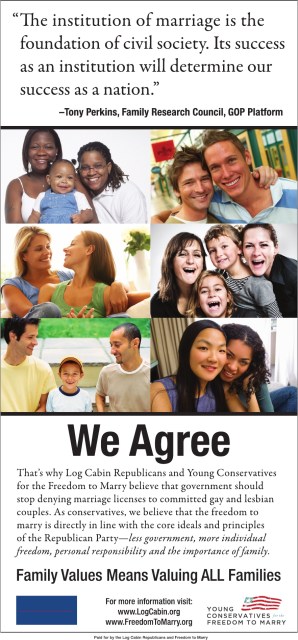 But outside of Tampa, some people on The Dark Side have officially started to support the way and the light with their money! Key GOP donors are now sharing the wealth with the movement for same-sex marriage:
Marc Solomon, national campaign director for Freedom to Marry, said the donations from prominent Republicans represent a key development in the marriage debate. "The strong support that we're getting from members of both parties indicates that this has become a mainstream American cause," Solomon said. "This is not the same wedge issue that it was eight years ago."
This isn't to say, though, that only the weirdo Republicans throwing peanuts at black people in Tampa are the problem — even though I really wish they were, because then we could just lock them inside and hope they never get back out. Yet in New York homophobia might stop two gay dads from providing their child with its rightful inheritance, in Salt Lake City nobody is allowed to watch "The New Normal" and in Los Angeles high school students still struggle with gay bullying:
As a sophomore, Mullenix said she skipped her second semester because she didn't feel safe at school. "I feel like a second-class citizen," Mullenix said. "It makes me feel less than human." More than 70,000 California students are harassed because they are gay or lesbian or perceived to be, a California Healthy Kids Survey reports.
If you'd like to stay enraged, you can also take the Planned Parenthood fundraising quiz about just how crazy Republicans are. 
OK. Breathe, and do some yoga. Now that we got through the bad stuff, we can discuss how Vice President Biden remarked lovingly that gay rights advocates are "freeing up the souls of the American people." (He left out, "and occupying their hands.") Maybe now that we feel warm inside we can thank President Obama for his cabinet's fervent desire to not hate us by talking to him on Reddit after his AMA yesterday.
In Indiana, high school students are being encouraged to stay true to themselves and create safe environments for everyone to do the same. And Stephen Bickford, a former soccer player for the US U-18 Men's Team, is speaking out about being in the closet during his various athletic tenures.
You could also get vengeance on the entire world by reading Tiger Beatdown's take on the FRC shooting and the labeling of hate crimes and hate groups in the United States. But if you're mostly just trying to feel academic, please feel free to put on your vintage men's eyewear and read this piece on lesbians in public space.
And no matter what, remember — you exist and you are special. Kind of like Hayley Wickenheiser, who exists and plays hockey and is now a character in EA Sports' NHL 13, making her the player to finally defeat the gender barrier in EA sports games overall. I hope this makes everything a little less difficult to process.