I f*cking love memoirs. They're really the only books I like: autobiographies, biographies, and memoirs. I like poetry because it feels like the human condition and I like memoirs because I like writing that is also storytelling, and I think the best stories we tell are about ourselves.
Cheers! is a great memoir.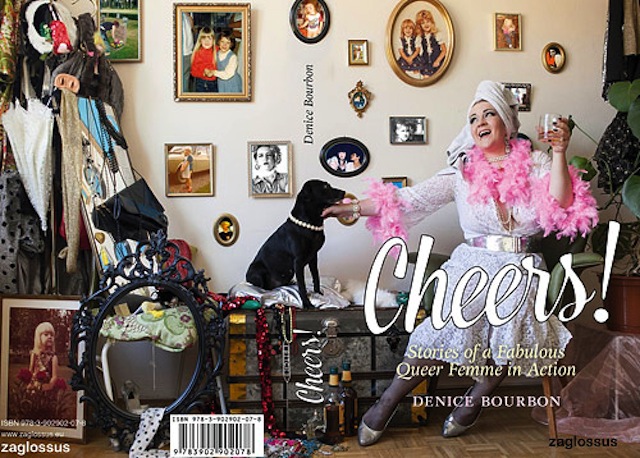 Denice Bourbon is described by zaglossus publishers as "No. 1 diva of Vienna's queer avant-garde and notoriously trash-mouth columnist," and it couldn't be more spot-on a definition for the spunky, badass femme who penned her memoirs at 37.
Longtime punk rocker and constantly evolving feminist, Bourbon tells her life in Cheers! through a series of short stories and anecdotes, including excerpts from her previously published columns as well as non-anonymous true accounts of her adventures. Her tales range in topic from a rundown of her former punk bands, the l0w-down on her best and worst lovers, and an insightful glimpse into the insecurities and vulnerabilities that are hidden beneath her boistrous burlesque exterior.
You may be wondering who the f*ck is Denice Bourbon? The short answer is that she's not a megastar – yet – but that you'll be glad when you read her book that you knew her before every other queermo on the block. I sat down with her to better make this review an introduction to her work for all the folks not located in Vienna.
---
Bourbon's stories are uncensored: all names are real ("because there are no innocent people") and no detail is left unexamined. For a story about coming out, falling in love, and becoming a feminist, that's a pretty brave feat. "As I point out in the beginning," she told me, "these stories also belong to me. And I emotionally paid for them already. A lot. It was never any question to whether I would change the names or not. Writing a Rita Mae Brown Sudden Death or Jenny Schecter 'Lez Girls' was never an option."
The book opens with stories of straight-girl punk-rock glamour, all failed bands and bad hygiene. But as that journey expands, Bourbon finds herself in love with a bandmate, sucked into queer life, and suddenly on top of it all – including on top of most straight ladies within a ten-foot radius of wherever she was an hour before. Now, she's a self-identified femme with "punk guilt" and some residual body image issues who isn't about to let the man f*ck with her self-worth or her will to have a good time. I identified with her candid humor and her willingness to disclose her less positive moments: she openly writes about her early run-ins with offensive feminisms, her broken relationship with her father, and her habit of sleeping around. Throughout is bravado and bravery, a queen wanting to burst out, a whiskey-swilling lady with high heels, a box of cigarettes, and a gritty past unafraid to make itself known. She might sleep with someone in your bed the night she moves into your house, but damned if she won't do it with a lovable humility and sense of honor throughout.
"In Sweden I used to be neighbors with the bass player from The Cardigans," Bourbon told me. "I went through his paper trash once to see what kind of life he had. I'm ashamed to say I'm proud of that."
What drew me into Bourbon's memoir was a resonance with myself that I felt in her first stories and then throughout; I think she'd probably find this funny since she mentions in her book multiple times that she tends to think incidentally exclusively about herself. She was a girl who didn't understand big dreams, and that's something I've always loved finding in other folks. She's also unafraid to live like herself, no matter who that is each day, and for that I both admire and relate to her.
"For a very long time I didn't get it," Bourbon tells me (right after picking herself up a new bottle of wine).  "I felt so much shame for my love of high heels, fake feathers, net stockings, bourbon and smokes. I thought it made me less of a 'good' feminist. Less of a political punk." Bourbon told me she sees her punk and femme identities as integral to one another: she's a drinker and a total lady, and that's what fits her. "Coming out as queer was second best thing I ever did," she said. "Coming out as a femme fatale wine glass clutching queer and OWNING it was the bomb!! I'm still not there yet, but I'm working hard on not letting the world shame me."
Part of that process is reclaiming the things she's ashamed of by hashing them out with the reader. Bourbon takes us to crowded protests, awkward nights at the bar, dinner with her girlfriend and her wife, and broken windshields on street corners to explain how she has grown into an activist and a more authentically unique queer; she admits her former shortcomings, explained what she's learned from them, and then reminds us to never ask the well-intentioned questions she had the luck of learning incidentally. In an Internet culture where the admission of one feminist misstep could kill your Twitter @Replies inbox, it seems like an awfully ballsy move. (Or, alternatively, like it took a lot of ovaries.)
"There are already tons of people out there working with feminism and queer theory in an academic way, and they are all doing a much better job than I could ever do," she explained to me. "I have found my niche in addressing issues that I find important in a very basic, 'everyday' language." Much of that is derived from her feminist journey, which began in the punk scene (where she was often found listening to Riot Grrl while refusing to identify as a Riot Grrl).
"People seem to be much more aware of the oppression they are facing than the privileges that they have," she continued. "I did too. Still do, since it is a never-ending process. I was, for example, seriously not fully aware of my white privilege until some years ago. I thought that being a poor chubby queer/lesbian child of (white) immigrants made me so aware… I've acted so badly in so many ways when I have thought that I was being super aware, fair and correct. And I have to take responsibility for that! We all do. We have to take fucking responsibility for our actions. That is the only start that we can have to make a change. In us. In our lives. Really. I fucked up. Several times. And I have to admit to it. How else can I learn and evolve? And it wasn't until I started taking a good  look at my own internalized racism that I somehow understood how 'all those nice guys' that I knew so often stepped into the sexism puddle. They just couldn't see it*… My current strategy is to be patient and tell people where they can educate themselves. And if I feel strong and safe enough I am more than happy to share the knowledge that I have, trying my best not to sound like an arrogant ass."
Another part of coming out for Bourbon was discovering new ways to express herself in a new identity. "When I discovered queer burlesque," she told me, "it was like coming home. It was/is my perfect setting. And since we in our group CLUB BURLESQUE BRUTAL work very differently than most other burlesque groups, with more freedom, more performance art, more diversity, I had and have all the space that I could ever wish for to do whatever the fuck I want. And it is very important to all of us that what we do is political. AND entertaining. We don't have any rules. And we are all queer feminists."
Bourbon's book is, ultimately, about finally seeing it: about realizing her own limitlessness, about coming to love who she is as a queer, as a person, as a slut, as a woman, as curvy, as punk, as a bitch, as a lover, as a child, as a- well, not as a mother.  Bourbon's storytelling style is casual, colloquial, and conversational. I found myself laughing at her stories, not most of all because they were f*cking unbelievable but also because I could imagine her sitting across from me saying them while we shared a six-pack on the couch. She writes in short, simple sentences and the action happens in quick spurts – and with lots of self-deprecation in the middle. Bourbon is an open work-in-progress, and often she pauses in the middle of a piece to reflect on the piece or just on life. It's like a real story: imperfect and in fragments, but complete nonetheless.
*she added: "I want to point out that I'm in no way defending sexist asshole comments. Totally not! But everything is coming from somewhere and we need to acknowledge that to some day start nipping all of that shit in the bud."
---
I asked Bourbon for a quote for y'all in our interview, seeing as she lurves Autostraddle (and even gives us a shout-out in Cheers!) Here's what she said.
To quote Ellen: Buy.The.Book. And check out my band. (Pretty please…)

No but really: share your stories. Don't be afraid to admit your mistakes. Dare. Don't fear being "uncool," you go create your own cool! Pathological self criticism is curable. DIY!! Don't linger too much in your past, turn your unfortunes into something creative – if you can that is. If you can't, don't put too much pressure on yourself. Self-pity is okay as long as it doesn't paralyze you. You can't have those years back, so try to make sure you make your future years so much better that you don't identify with all that old shit anymore. I don't want to sound like a nutty neoliberal motivational speaker, but I personally found it very liberating to just let go. You won't always get all those apologies you long for, so seek out a way to live without them. Bitterness sucks out energy. You don't need people who shame you. There is no global concept or rule for intelligence, wit, charm, beauty or talent. It is fucking individual. And you are all awesome in your own way. Live in the moment and embrace life. (Oh shit. I start sounding like a goddamn hippie. I blame the wine…) Try not to compare yourself to others if it is not productive. As a queer femme with punk roots pushing 40 (I'm gonna be 38 in April) I can tell you that ageism is bullshit!! It is NEVER too late for ANYTHING. Your language is your language, there are no universal rules. And famous last words: Capitalism is the root to all evil. Profit = Prophet and needs to be smashed. (Can you say that in America or will people think I'm a crazy raving communist? I'm not a communist. Just need to put that straight.)