When I was a young dessert-eating grasshopper, my mother made a delicious cake that went by the name of Blueberry Boy Bait. Now, I love alliteration as much as the next person, but even in those long ago days, my youthful feminist ideals objected to the title of this confection. Why couldn't girls be seduced with this tasty treat? Why was the implication that an apron-clad female baker had to lure an eligible male into her grasp with foodstuffs?
In spite of my intellectual objections, I cannot deny that this cake is, frankly, awesome. Like moist-buttery-cake-covered-with-tangy-berries-and-sugary-crust awesome. And in my older, more enlightened state, I am happy to report that the awesomeness of this cake has allowed me to effectively bait people of all gender identities — in spite of its original title.
Nevertheless, a few weeks ago I decided to try to improve on the awesome by making this cake a little more queer. In so doing, I took into account the following three facts:
ONE: Raspberries are delicious (and, in their frozen form, mysteriously cheaper than the blueberries at my local grocery store).
TWO: Everything is improved by coconut.
and
THREE: Lesbians like whole grains (except my girlfriend, who thought she only liked white bread until I made this cake).
Voila! Blueberry Boy Bait became Whole Wheat Raspberry Coconut Girl Bait. Namewise, it's a little less catchy than the original, but it's also whole grain! Which means you can totally eat it for breakfast.
---
Whole Wheat Raspberry Coconut Girl Bait
adapted from the delightful Smitten Kitchen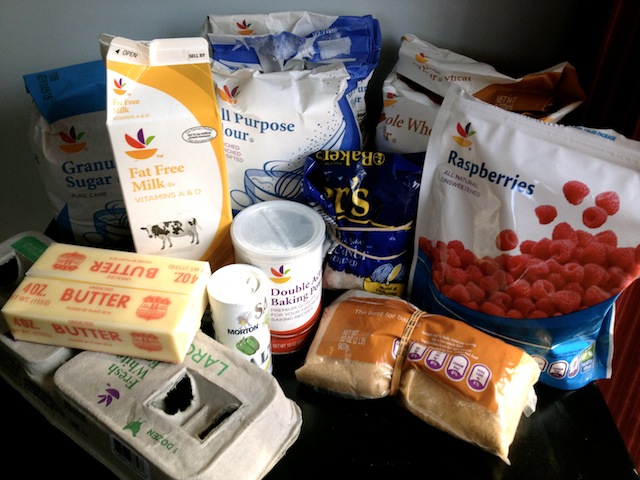 Ingredients:
Cake
1 cup of whole wheat flour plus 1 cup white flour plus 1 more teaspoon of either flour
1 tablespoon of baking powder
1 teaspoon of table salt
2 sticks of butter, softened
1/4 cup of brown sugar
1/4 cup of sugar
3 large eggs
1/2 cup of sweetened, shredded coconut
1 cup of milk
1/2 cup of raspberries (fresh or frozen, but let's be real, this is April)
Topping
1/2 cup of raspberries
1/4 cup of sugar
1/4 cup of sweetened, shredded coconut
Instructions:
1. Preheat the oven to 350 degrees. Grease and flour a 9×13 pan.
2. Mix two cups of flour, baking powder and salt together in medium bowl.
3. With your handy dandy electric mixer, beat the butter and both sugars on medium high speed until fluffy, about two minutes. (If you're like me until approximately six months ago and don't have an electric mixer, roll up your sleeves and squish everything around with your fingers until combined, then fluff with a fork. Sigh expressively, but comfort yourself with the knowledge you are getting good hand exercise. You know. For all the…typing you have to do.)
4. Add the eggs, one at a time, beating until just incorporated. Mix in the coconut.
5. Then, beat in the flour mixture in three stages, alternating with the milk until you've created a nice thick batter.
6. Toss your raspberries with that awkward teaspoon of flour that you were just beginning to wonder about and gently mix them into the batter. If you're using frozen raspberries, don't defrost them first because they will become an oozing, bloody mess and you will end up like Lady Macbeth, washing your hands repeatedly and dying a tragic offstage death. Don't say I didn't warn you.
7. Spread the batter into your prepared pan and move on to the topping. Mix together the sugar, coconut, and raspberries and sprinkle the whole shebang over the top of the cake. Although the perfectionist inside you may recoil, don't go crazy trying to make the world's most even layer here. One of the beauties of this cake is the sugary pockets that result from uneven topping distribution.
8. Bake for 45 to 50 minutes, stabbing it through the heart vampire-style with a toothpick periodically until your mini toothpick stake comes out free of crumbs.
9. Cool in the pan for as long as you can bear to wait, then free your delicious raspberry coconut cake creation and cut it into squares.
10. Get out there and bait some girls. While I cannot guarantee success, I can promise that, if things don't work out, you'll have something delicious to snack on.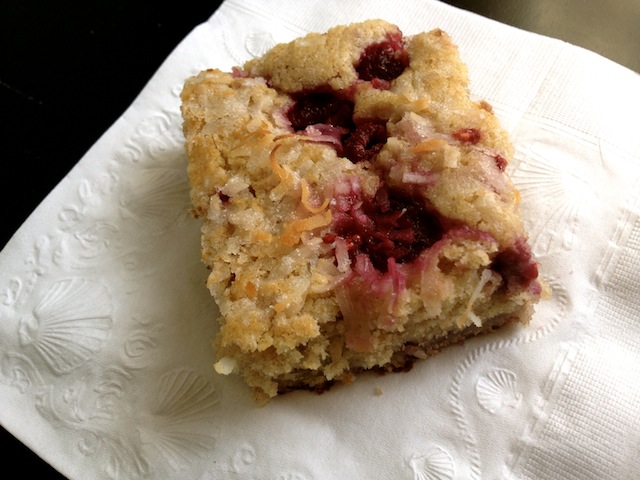 ---
About the author: Maggie is a queer twenty-something who considers herself a connoisseur of quick breads, wedding blogs, and epistolary novels. Her life ambition is to save the U.S. Postal Service.