Hi, my name is Brittani and I watched Spring Breakers. I give this movie zero out of infinite fucks. If you haven't seen it yet, the entire story is told in the trailer and synopsis. If you're watching it for any sort of plot or storyline, you can find it there.
https://www.youtube.com/watch?v=rVvn9T6bqls
Spring Breakers tells the story of four sexy college girls as they plan to fund their spring break getaway by burglarizing a fastfood shack. But that's only the beginning… At a motel room rager, fun reaches its legal limit and the girls are arrested and taken to jail. Hungover and clad only in bikinis, the girls appear before a judge but are bailed out unexpectedly by Alien (James Franco), an infamous local thug who takes them under his wing and leads them on the wildest Spring Break trip in history. Rough on the outside but with a soft spot inside, Alien wins over the hearts of the young Spring Breakers, and leads them on a Spring Break they never could have imagined.
This is the entire movie except for the last 15 minutes which includes the only part you might want to see which is Vanessa Hudgens (High School Musical) making out with Ashley Benson (Pretty Little Liars). But it's in the context of a threesome with James Franco so maybe not. There are lots of women in bikinis but if you are so desperate to see boobs that you'd pay twelve bucks, let me let you in on a little secret. They have them for free on the internet. Or better yet, go to a strip club. I'm sure you can find one with a cover charge that's cheaper than a movie ticket.
The film was directed by Harmony Korine who I thought was a lady and is one of the only reasons I even agreed to see this film. Apparently he wrote Kids which came out in 1995 and he's 40 now. Also, he's married to the one actress you probably don't recognize, Rachel Korine.
The movie begins with lots of stuff that you see in every movie party scene but never see in real life unless the people you hang out with are the absolute worst. Women have drinks poured down their chests, there are lots of crotch shots, dudes let cans leak beer as they hold them from where their junk is, women eat popsicles suggestively. It's barely been two minutes.
Ten minutes in and there's been roughly five lines of dialogue. Finally we start to get some sort of plot, all of which you know if you watched the trailer. The girls have their hearts set on going somewhere for Spring Break but they've only managed to save $325 dollars between the four of them. I guess they've never heard of work study. They need to escape from their college campus because everyone else is gone already and they're tired of doing and seeing the same things. If the monotony is their biggest problem, why don't they just go home? Maybe their parents can't afford it? We'll never know because that would make it seem like these girls were people with families or lives or anything tying them to human nature which is exactly what this movies tries not to do. The point is they're miserable and they want to leave. These isn't even white girl problems. It's white girl boredom.
Selena Gomez's character is the only one distinguishable from the other two because she goes to prayer circle or Bible study or something. I guess that's why they don't bother in including her in their robbery. They coax each other by saying. "Just pretend you're in a video game. Act like you're in a movie or something." I guess that's the only convincing you need to rob a fast food restaurant because no one raised a concern or cared about their safety or future. Did I mention they stole a car and then burned it? They did. No biggie.
Everything is fine and perfect because nothing has consequences so now the girls are on their way to St. Petersburg. They arrive and we know everything is perfect because there's a minute long voiceover about how life changing it all is while people in beachwear dance in slow motion. This movie is like one long stupid promo video for an even longer and stupider promo video. Music never stops playing. Music by Skrillex never. ever. stops. playing. Then James Franco is there as a rapper who seems like a really bad Dave Chappelle character.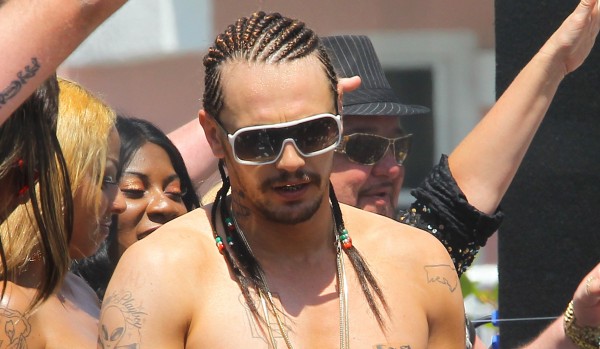 It's 30 minutes in and I don't know anything about any of the characters except one goes to church and gets told to pray hardcore by other hardcore praying people. In fact, I actively dislike all of them. Even the extras. Even the director. The grips, the gaffer, whoever did craft services, the workers who handed out tickets to this movie, anyone that's ever been on spring break, people that like the season known as spring, and humans who have taken a break from anything ever.
Along with boobs and beer, there is coke which they do plenty of. Then the cops walk in and they get arrested but not charged with anything serious because they don't have any on their person. They have to pay fines or they get two more days in jail and obviously they have absolutely NO money because they didn't just rob a restaurant, they didn't plan to feed themselves, shelter is stupid, and they had no plans to ever return home.
But praise Spring Break Jesus, the white rapper bails them out of jail! Thank you Mr. White Rapper. You didn't have to do that but you did. We are now free and can leave and you'd have no way of ever finding us again. Byyyye. Jk. They go with this man to a pool hall filled with black men and the oh so subtly named Faith (Gomez) is ready to GTFO because she doesn't know them and things are only now out of hand. Yeah, earlier we were surrounded by strangers and drugs and were arrested but those dudes were white. Who knew all you needed were some negroes playing pool and smoking weed to scare you straight.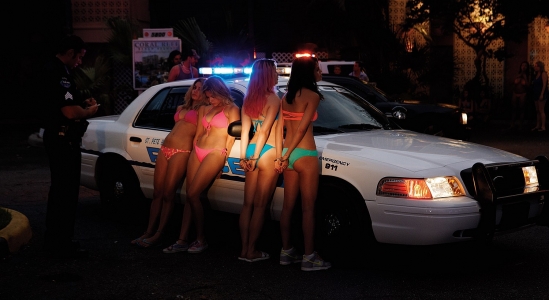 She cries and wants to go home and they stroke her hair and ignore her wishes and I don't get why they don't just fucking leave and then you say, "Well then there wouldn't be a movie." Yes, precisely. That's exactly what I want. For the movie to end. And you may be thinking, "Oh man, you would just leave your friends? Aren't you supposed to stick with them even though they do stupid shit?" Umm no. You're not. That's dumb. You should just leave. I don't understand why so many people pass off peer pressure as friendship when really it's stupidity solidarity. Someone else's idiocy is not nor will ever be my problem, concern, or issue unless they are my wife, sibling, or child and even then it depends. If that makes me a bad friend, so be it. It also makes me happy (not really), alive (mostly), and well (not at all) which is what you, as my non-shitty friend, should want for me. Faith is on my team and leaves.
Per the usual for this film, nothing happens but time progresses and two of the remaining girls turn the practice they had with the water guns into more jackassery when they pick up loaded real ones and point them at the drug dealer. Now some might see this as a sort of reclamation of power or the shifting of a dynamic that proves they're not just pretty girls following around a rapper. Those people are wrong. Giving a woman a gun isn't some shortcut to empowerment. This is just an extension of the disregard they have shown for anything and everything and is not new or novel. It's not cool to see these women with guns. They're not taking their power back from the patriarchy or asserting themselves. They're just being annoying, much like the movie they are in. Alien (Franco) gives the guns blow jobs and tells them he's fallen in love with them and they are his soulmates and this is all so trite that I don't even care enough to make a joke about this not being the first or last blowjob Franco will give.
In the piece of a plot they managed to put together in this drawn out unoriginal shoulda-been-short film, Franco's character has a rival named Big Arch, who I assume is called so because he eats a lot of McDonald's. For some reason or the other, Big Arch is mad. He executes a drive away shooting on the car with Franco and the girls in it. Not drive-by. Drive away. They sat and chatted and then Arch (Gucci Mane) drove away and the woman in the car with him fires just for the hell of it, it seems. The director's wife gets shot in the arm and she goes home. Her friends don't give a shit and proceed to have a threesome. Has this been spoiler-y? I don't care. Never see this movie. But if you do, then I won't tell you what happens in the last ten minutes. It's not exciting so don't get your hopes up.
This movie is the worst. Is it social commentary on today's young adult culture? I don't see how. Is it satire? I surely wish it was. Instead this was an earnest try at something…I don't know what. Even the biggest blockbusters made by the largest studios directed by the Michealest of Bays doesn't show that women are interchangeable and undeserving of even vapid dialogue like this film does. This movie tries to be so dark and explorative of the "free" lifestyle that it circles back around and becomes meaningless. The same artsy shots, repeating scenes, and haunting dialogue that make it indie/creative/experimental just make it boring/repetitive/annoying. It doesn't take stupidity to task, it glorifies it. These aren't poor life choices leading to unfortunate circumstances. These are conscious choices that lead to ruthlessness, illegal acts, and violence. No one will learn anything from this movie except that this movie is dumb.