The joke goes like this:
Q: How do you make a gin and tonic?
A: …
That's how easy it is to make a gin and tonic. It is, literally, gin… and tonic water. That's it. It's also a wonderful spring drink — it tastes like budding trees, blue skies and finally digging yourself out of what seemed like permanent snow (we see you winter — you were fucking cruel). The particular ease of this drink means it's a great jumping off point for getting a little bit fancy without leveling up the difficulty.
---
The Gin Selection: Farmer's Small Batch Organic Gin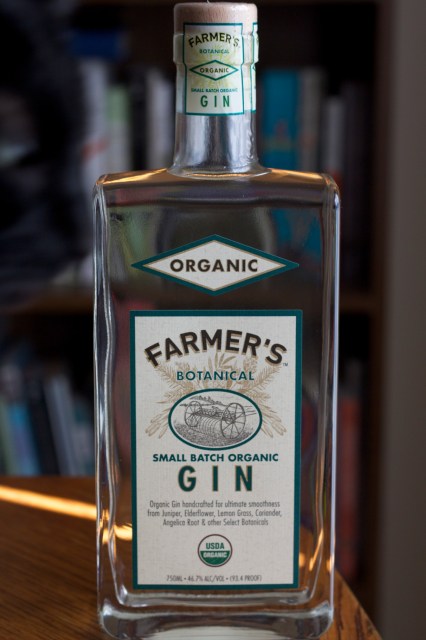 I'm using this particular gin because a) it's got hints of lemon grass and elderflower that really come through in an almost citrus finish — and you'll notice that my gin drinks are all citrus-y, kinda spring-y and b) because it's organic and the company sources its botanicals from farmers who have an eye to sustainability. Plus it was very easily accessible to me at the liquor store down the street from my apartment. That wound up really working out. Farmer's is delicious and I highly recommend it.
Onward.
---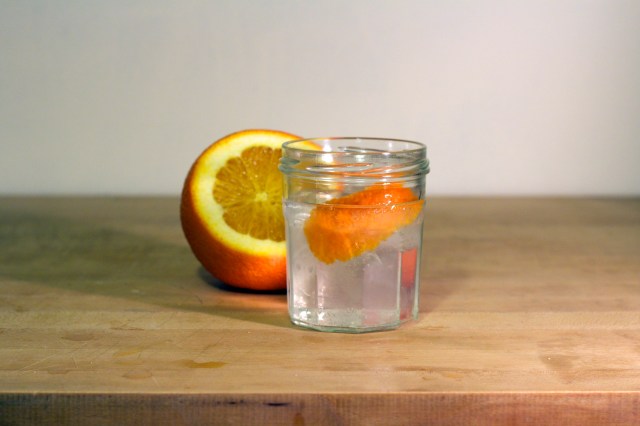 Bitter Orange Gin And Tonic
This is just one very, very short step up from a gin and tonic.
You will need: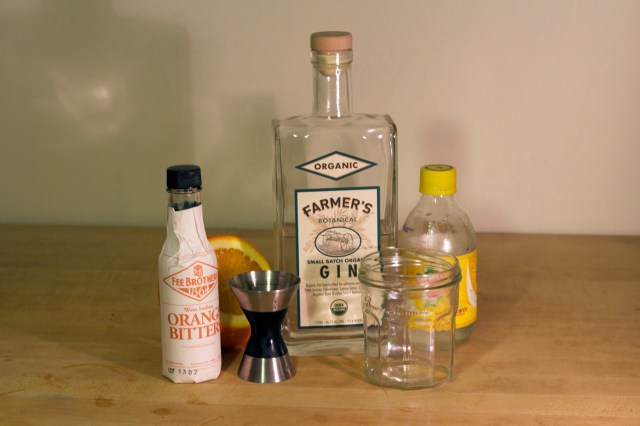 Gin and tonic is something you build in glass. Start by putting 2-3 tonic cubes in your jam jar.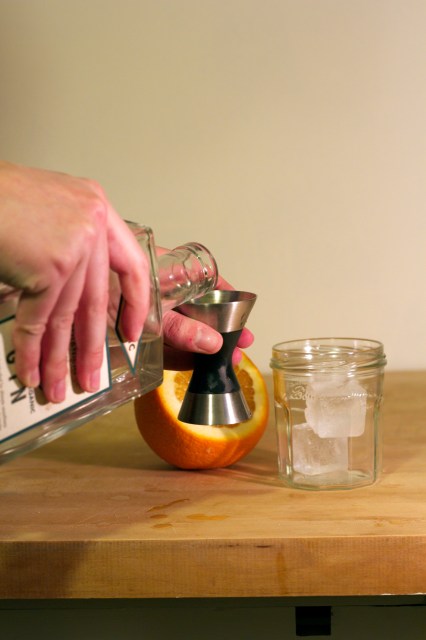 Add 1.5 oz of gin and two dashes of orange bitters. Give it a nice stir with a fun tall bar spoon. Try your best not to clank the hell out of the ice and spoon, but with jam jars it's a little tough—many jam jars have ridged sides and sound TERRIBLE when you stir. But since they look so cute, that's a sacrifice I'm willing to make.
Top it off with tonic water. Now notice that I'm using fairly short jam jars (Bonne Maman, if you're curious). If you're using tall jam jars, just know that I'm using 4.5 oz of tonic water. Yes, I calculated. That's exactly how many ounces I use when I say "top with tonic water."
Garnish with an orange twist. Celebrate the fact that you are not digging your car out of your driveway.
---
Saint Germain Gin And Tonic
This is one level of difficulty over the Bitter Orange Gin and Tonic — this time we're adding (you guessed it) Saint Germain. The cool part is that Farmer's gin has elderflower notes and Saint Germain is an elderflower liqueur, so they really do complement each other.
You will need:
Start by putting 2 to 3 tonic ice cubes in your glass (jam jar, ahem). Add 1.5 oz gin, followed by 1 oz Saint Germain.
Give it a nice stir and top with tonic water (4.5 oz if you're counting, but follow your heart).
Slice a lime and garnish it with a nice lime slice. I like to dump it right in the glass instead of perching it on the top because something about that says "I'm so damn laid back, I just don't even give a f*ck."
Always be fighting a kitten for control of your kitchen. You can really taste the difference.
---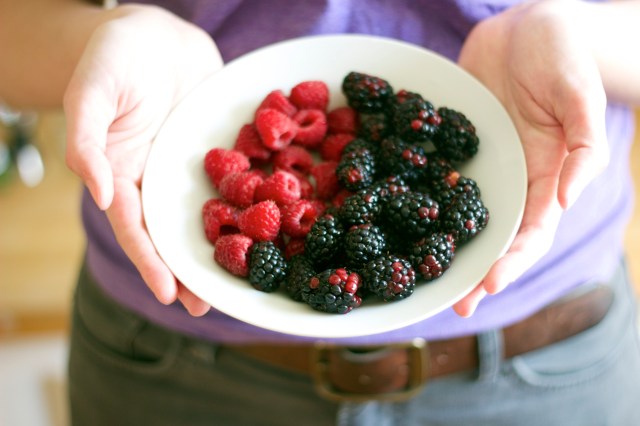 Berry Mint Gin and Tonic
You will need: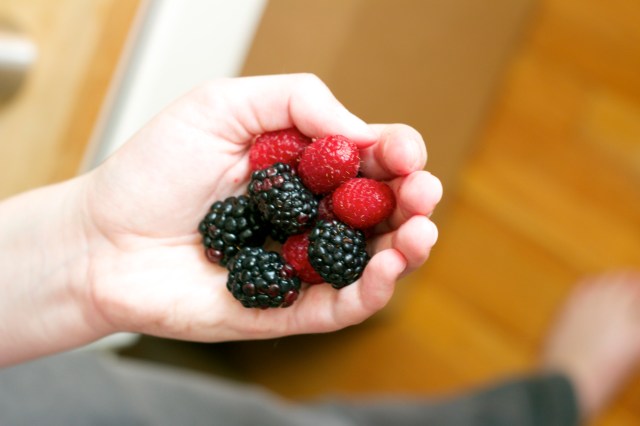 This one's a shaken drink! Put ten or so raspberries/blackberries (mix it up, follow your heart) and a couple mint leaves (all torn up to release all the flavor) in the bottom of your shaker and muddle the crap out of them until the juices are released.
It'll kinda look like jam. Then fill the shaker half with ice.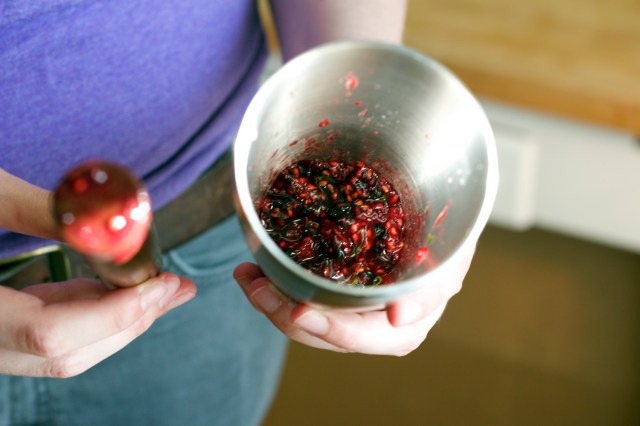 Add the 1.5 oz of gin and shake.
Use your Hawthorne strainer (I cannot recommend the OXO kind enough, it has this little rubber bit that keeps it from flying out of my hands) and pour over a finer strainer into your jam jar — that'll keep the big pieces out. Top with tonic water (again, about 4.5 oz).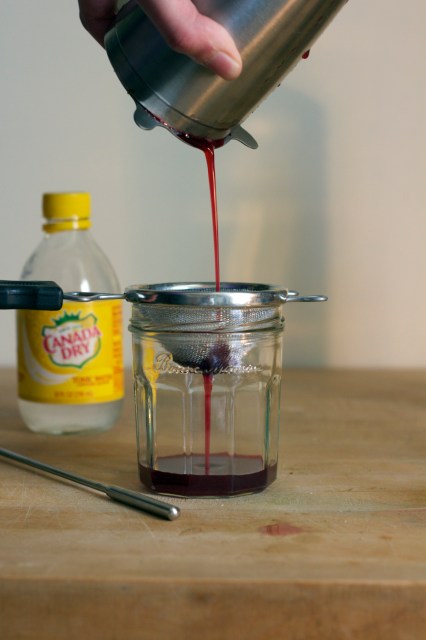 Grab a few whole berries (the very prettiest ones) and plop them right into your drink as garnish.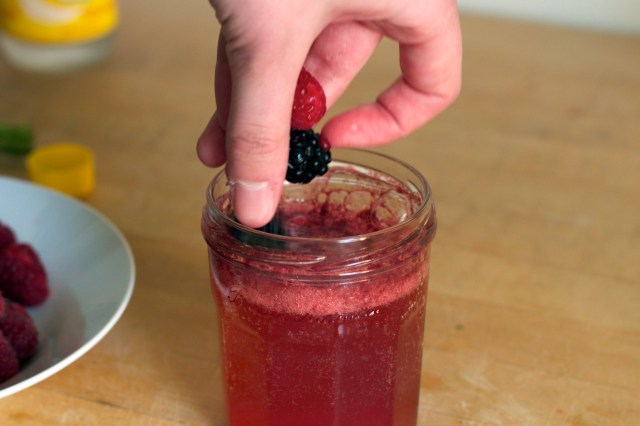 Float a mint leaf atop the whole creation.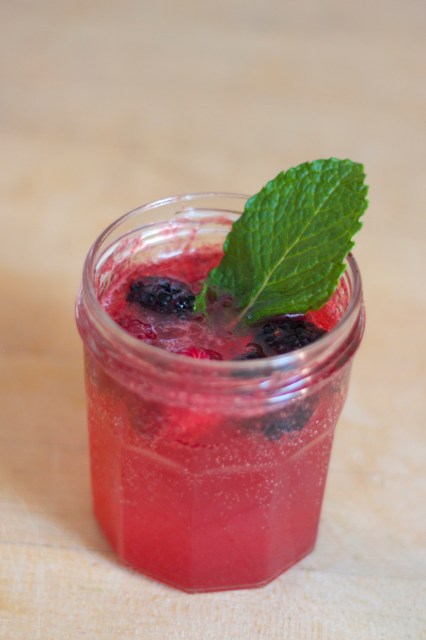 ---
Fizzing Whizzbee
The drink that is also a parody. This is way past the gin and tonic — it's, like, a real cocktail of my own invention, something that rose out of a desire for a new brunch drink that I wasn't bored of.
You will need: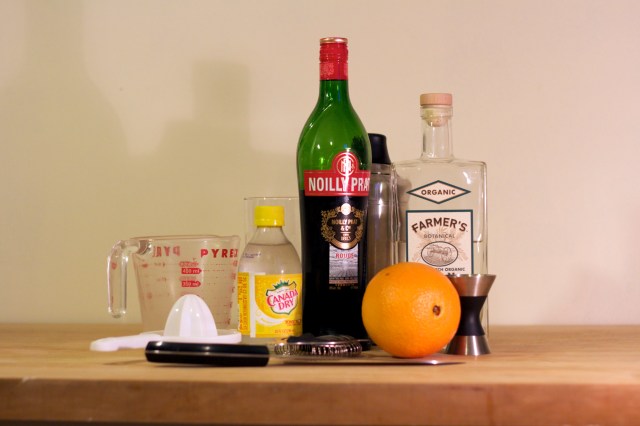 Squeeze up your orange juice—usually one orange provides me enough for two drinks. Always cut your citrus length-wise—you'll get more juice out of it.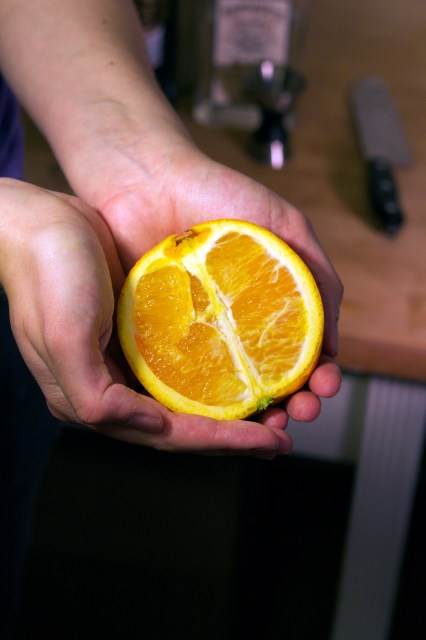 Fill your shaker half with ice (it can be normal ice cubes for this part). Dump in 1.5 oz gin, 1.5 oz sweet vermouth and 1.5 oz of orange juice. Shake it up!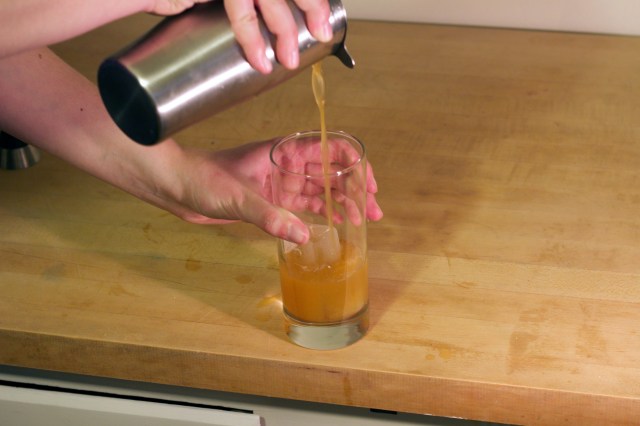 Fill your highball glass with tonic ice cubes and strain your drink into the glass. This time, when you top with tonic water you'll notice it's a bit more than the last few. That's because there's a full three ounces of liquor in this drink—it could stand to have a bit more tonic water in it. The exact measurement is (5 oz,but once again, I suggest you follow your heart where it leads you re: tonic water).
Garnish with an orange half moon.
And if you want other Harry Potter parody cocktails to accompany your Fizzing Whizzbee, check these out.
What are y'all drinking this spring? What are your gin and tonic twists and turns? What gin do y'all use? I just have so many questions, you guys.
---
In a semi-regular segment entitled Liquor In The ______, I'm going to write to you about all the different ways you can liquor. I recognize that it's weird, especially for those of you who have actually had a drink with me, because I am what the frat boys would call a "two-beer queer" (what I would call a "no-beer queer," as I'm gay all the live long day). But I get drunk very easily, is the point. Still, I really really like beer, wine and liquor and want to share that love for the artistry of alcohol with you all, my favorite queers. Let's lift a pint to alcohol and our Autostraddle community – they go together like wine and soft cheese.
Header by Rory Midhani