Artist: Yuna
Cliffnotes: Bubbly, uplifting, soothing, feel-good
Same Aisle As: Zee Avi, Anya Marina, Feist.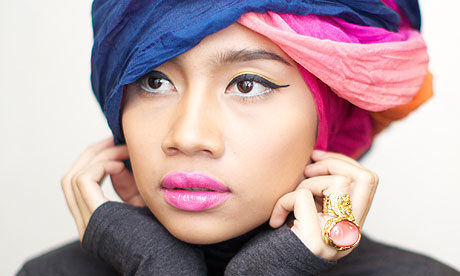 I first saw Yuna at Lollapalooza a couple years ago. She had just released her first EP and she had the teeniest tiniest stage and it was just her, her computer, and the sound guy. An occasional ukulele made an appearance now and then. Since then, Yuna has released 2 full-length albums and has only shown immense growth and flexibility as an artist.
Though I wouldn't classify her as "electronic" music right off the bat, Yuna (full name Yunalis Mat Zara'ai) uses a lot of synth instruments in her music to layer with a voice that is so sweet and delicate, but not overly saccharine. You really just can't help but smile and it doesn't hurt that she's super super adorable.
This song, "Someone Out of Town," is a perfect example of how Yuna got started. A simple synth loop, her acting as her own back-up vocalists, and her voice floating right on top. Like the perfect piece of cake, Yuna strikes a perfect balance between digital and analog sounds to create a comprehensive sound that is easy to pick out each and every delicious layer.
Off of her first album, "Yuna," she has a song "Lullabies" that shows growth in both songwriting and exploration in different textures of sounds. Still keeping with her style, but just showing a bit more of a mature sound. This song is just so bittersweet and lovely and I can't help it if everybody falls in love with her after a listen.
After her first album, Yuna sort of starts to become a badass. This song "Gold" that she recorded with Adventure Club is a HUGE departure from her style of music and she pulls it off so so so so well. Adventure Club is known for their dubstep sound, but still retains a nice melodic line and hints of progressive electronic music. At first listen, you wouldn't put the two together, but this song is a testament to how well Yuna's voice can carry her own amidst some fairly heavy-duty electronic background.
Yuna's most recent single, "Rescue," is just an anthem to Y'ALL ARE BADASSES AND DON'T NEED NOBODY TO HOLD YO HAND. I'm thinking this song is going to be used really soon for a cancer flashmob or something. Or like…week 3 of that terrible break up and you start thinking that you totally deserved better than that assbag. Or after a terrible week of work, school, or being at home.
"Yeah, she's got light in her face, she don't need no rescuing, she's okay.
Yeah, she's got life in her veins, she don't need no rescuing, she's okay."
Or maybe she's just talking about getting over a bad hangover, I dunno. The elements of this song only reinforce the idea that Yuna is growing at an unprecedented pace as an artist, but still delivers music that is consistent to her original style.
To pair with Yuna, we're going with another champagne drink this week because there's just no better counterpart to this bubbly and adventurous artist. One of my favorite drinks for one of my favorite artists: a French 75.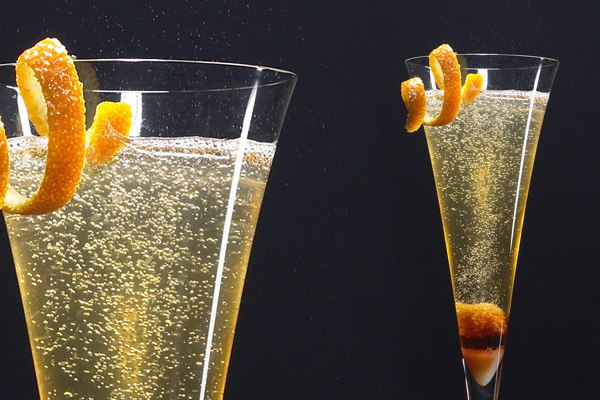 INGREDIENTS
2 oz gin
splash of simple syrup (or just fine sugar)
½ oz lemon juice
6 oz champagne
INSTRUCTIONS
Pour lemon juice, sugar/syrup, and gin into a shaker.
Shake well with ice cubes.
Strain and pour ingredients into a tall glass.
Fill glass with champagne.

Garnish with lemon if it please ye.
This is a really delicious drink that actually lays a great framework for branching out, similar to how Yuna has branched out and grown WOW MUCH PARALLELS. A French 75 is very easy to customize to make it your own. Triple sec would be great first choice, or if you're a super fancy-pants, I once tried it with this fig vanilla black pepper syrup that was amazeballs and super delicious.
Extra credit:
"Thinkin Bout You" (Frank Ocean cover) – Yuna covers Frank Ocean and does a really great job. Enough said.
"I Wanna Go" – I love the syncopation she has on this track. It drives the song along the relaxed beat underneath.
"Favourite Thing" – Cute gushy song about huge lesbian crushes and stuff. Bonus points for gender neutrality.
For Spotify users, here's an ongoing playlist that compiles all the listed tracks of this column into one playlist.
---
An installment of BPM: Booze Paired with Music. A brief exposé on artists, popular or obscure, to suit your need for beats. Along with it, a little treat to make for yourself while you bask in the sound of glory and a drink well done. As a former DJ, violinist, aca-bopper, and hip-hop dancer, I try to bring you as much variety in artists and commentary as I can. Listen on!