Hello and welcome to this new thing we're trying out where we help you figure out what you're gonna put in your mouth this week. Some of these are recipes we've tried, some of these are recipes we're looking forward to trying, all of them are fucking delicious. Tell us what you want to put in your piehole or suggest your own recipes, and next week we'll check in and talk about which things we made, which things we loved, and which things have changed us irreversibly as people. Last week, we ate eggplants.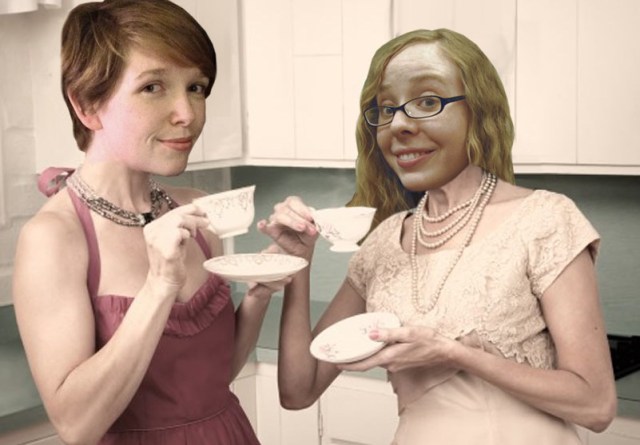 This time last week, you were imbibing green beer, green jello shots, green cupcakes, and that one totally tasteless dessert with kale in it that your vegan gluten-free friend made. Now that some green is starting to show itself in the outside world (and, in my case, the bottle of Seagram's that one of my neighbors apparently left inside a snowbank), it's time to get some greens into your gut. But it's still a little chilly out, and so there are no salads or smoothies here; this is all hearty food that will make a warm, filling lunch or dinner. Are you ready? You're not ready.
1. Spiced Lentil, Sweet Potato & Kale Whole Wheat Pockets
---
2. Braised Lentils with Winter Greens and a Fried Egg
---
3. One Pot Stovetop Creamy Kale Mac and Cheese
---
4. Miso-Creamed Kale and Mushrooms with Tofu
Rachel: This recipe contains virtually everything I want to eat in the world. I am concerned that this recipe is actually a trap set for me by an enemy. They'll launch their attack while I'm creaming the kale or something. I'm nervous but it looks too good not to try.
---
5. Kale Gratin with Italian Sausage
---
6. Persian Herb Quiche with Chard and Kale
---
7. Fennel, Mushroom, And Kale Sandwich
---
 8. Spinach and Kale Tortilla
---
9. Butternut Squash and Bacon Pizza
---
10. Chicken and Waffles with Greens
---
11. Sautéed Collard Greens with Bacon
---
12. Chicken and Greens with Wine and Bacon
---
13. Collard Greens Jiaozi (Chinese Dumplings)
---
14. Carrot Soup With Tangled Collard Greens and Dukkah
Rachel: I used to work at a Middle Eastern cafe that had lots of great house-made spices, and dukkah was one of my favorites. Now that I've moved to a totally different area I had given up on being able to eat dukkah-spiced things in my life, but with this recipe my optimism is renewed!
---
15. Creamed Collard Greens With Pimentón Dulce
---
16. Collard Greens and Sweet Corn Buttermilk Cakes With Sumac-Sour Cream
---
17. Red Curry Coconut Braised Collards
---
18. Spinach and Chickpeas
Rachel: I have loved this recipe for so long. It is the Jack to my Rose, the Ruth to my Idgie. Whenever I remember it exists I get mad at myself for not eating it at that exact moment. When I make this I usually skip a few of the fussier steps — I never have the patience to cook something in a pan, take it out of the pan, and then put it back in the pan later – but it's never turned out poorly. I want cherubs to lovingly spoon this recipe into my mouth while I recline on a divan.
---
19. Spicy Sausage, Mustard Greens and Cauliflower
---
20. Mustard Greens Galette
---
21. Garlicky Greens with Microwave Polenta
---
22. Steamed Wild Salmon with Mizuna, Mustard Greens, Soy Sauce and Ginger
---
23. Vegetable Soup with Mustard Greens and Black Lentils
---
24. Socca with Swiss Brown Mushrooms and Labneh
---
25. Palak Paneer
---
26. Polenta Crust Creamed Spinach Tart
---
27. Tarta Szpinakowa
---
28. Gnocchi Verde
---
29. Parmesan Broth with Kale and White Beans
30. Swiss Chard and Sweet Potato Gratin
---
31. Leek, Corn and Chard Flatbread with Goat Cheese
---
32. Chickpea & Rice Soup With A Little Kale
Rachel: This soup is the most comforting, creamy, filling thing, and it's perfect for the gross, rainy, cold days that often characterize March and April. You will not regret putting this in your mouth.
---
33. The Best Baked Spinach
---
34. Indonesian Kale and Tempe Curry
---
35. Sweet and Sour Swiss Chard with Crispy Prosciutto
---
36. Salmon, Swiss Chard and Egg Skillet
---
37. Sweet Potato Corn Chowder with Red Kale
---
38. Swiss Chard with Tahini Yogurt Sauce and Buttered Pine Nuts
---
39. Kale and Feta Egg Bake
Laneia: This recipe is perfect for when you have leftover pasta sauce and a handful of kale with no real purpose. It's essentially like a lasagna, but the noodles are replaced with sauteed kale. The egg on top is pretty much optional, if you're not into that sort of thing, but I'm really into that sort of thing, so. This recipe also freezes really well — without the egg of course. You can thaw it overnight in the fridge, or cook it from frozen at at 350, covered, for maybe 20 minutes, before adding the egg.
---
40. Braised Coconut Spinach with Chickpeas and Lemon
Laneia: I think I could eat this seven days a week. The sweet potato is optional, but so good. It's also ridiculous over brown rice. A tip though — if you plan on having leftovers, do not add spinach to the entire dish at once. Remove what you know you want to save and add spinach to that portion before you reheat it. Otherwise the spinach becomes a sad, slimy mess. This dish also works with kale!