"In the beginning, God created the heavens and the earth," Genesis 1:1 begins. It sounds like a pretty promising start to the world. But fast-forward two chapters, and God's vision of earthly paradise had descended into a primitive shitshow. The first woman, Eve, deigned to tempt the first man, Adam, into consuming the Tree of Life's forbidden fruit. Because of Eve's actions, God sentenced the pair and their offspring to a mortal life outside of the Garden of Eden, replete with scratchy animal skin loincloths.
As a kid, Eve's plight shaped my personal understanding of how this whole sin thing works. Not only is sin bad and something that (like staying outside after the streetlights came on or drinking Coca-Cola too close to bedtime) I should avoid at all costs. Sin is something bad that came into existence because of a girl. With Sunday school's assistance, I began mentally correlating that which is bad with that which is female. And in a certain way, Genesis served as prelude to reality. Because — like Eve — women are still continually blamed for the ill behavior of free-willed men. One need not look further than the Steubenville High School rape case, Anita Hill's dismissed allegations against Clarence Thomas, or Monica Lewinsky's sequestration.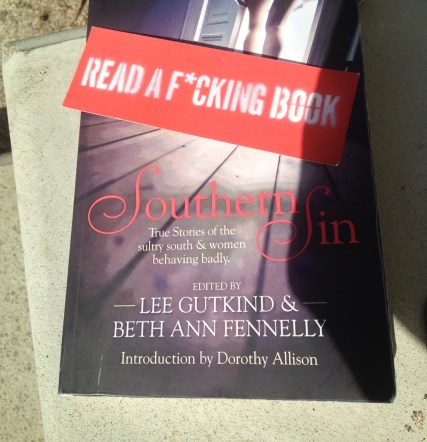 Lee Gutkind and Beth Ann Fennelly's essay collection Southern Sin: True Stories of The Sultry South and Women Behaving Badly cleverly plays with this connective tissue between the immoral and the feminine. Set in the land of deep-fried Christian morality, a natural tension is created in each one of the anthology's 23 stories, making for a mostly sexy, sometimes terrifying, but always exceptionally-crafted read.
Featuring stories by Louella Bryant (While in Darkness There is Light) , Sheryl St. Germain (Let It Be A Dark Roux), Kendra Hamilton (The Goddess of Gumbo), and an introduction by the queen of queer Southern literature, Dorothy Allison (Bastard Out of Carolina), many of Southern Sin's leading ladies face far better fates than Eve. In Elyse Moody's "Trouble," a 62 year-old Georgian woman gets away with the murder of her lover, and a Latina woman has a torrid but brief affair with another Spanish speaker without destroying her marriage in Adriana Paramo's "Tongues, Lust, and a Man from Indiana." That's the fun thing about sin. Unlike Genesis would have us believe, sin often comes without repercussion. The seven deadly sins sometimes… aren't. According to editor Beth Ann Fennelly, these "getting away with murder" narratives are compelling and deserving of room on the page:
One of the problems with American female coming-of-age stories is that we have no model in which […] a woman […] goes "bad" — whether that means leaving her culture, religion, husband, or all three — and isn't punished. Which is a pity, because such badness is good when it's necessary to maintain the integrity of the soul.
Southern Sin has plenty of lust, greed, sloth, wrath, envy, pride. As Allison mentions in her introduction, "for a Southern anthology, this one is a little light on gluttony." Sarah Einstein's "Fat" delves most in the the sin of overindulgence. Previously published in PANK Magazine in 2010, the essay explores a series of relationships in which food serves as mindjog, sex, and safety net ( "I am afraid that both hungry and sad, we would turn mean, or cold and drift away," writes Einstein). A lesbian relationship is included in the vignettes which compose "Fat", in which Einstein reminisces on the biophobia present at the 1991 First National Lesbian Conference:
There was an ongoing debate about whether or not the bisexual women in attendance should have to self-identify—perhaps, it was suggested, by wearing a ribbon or button of a specific color—and abstain from voting on any of the conference's referendums. The gap between who I was and who the lesbian community would accept as a member of the tribe widened into a chasm.
"Fat" is one of four essays in Southern Sin which touches upon queerness. In "Matinee," Mendy Knott tells the heartwarming story of watching The Kids Are All Right with her 80 year-old Arkansan parents ("Later in the film, Julianne Moore and Mark Ruffalo get it on and I felt some relief: at least this was straight sex, sort of"). In "Rehab's Thread", Katie Burgess pokes fun of a "khaki-clad chick" who spews homophobic and suspiciously hypocritical commentary. A personal favorite, Sonja Livingston's "Mad Love: The Ballad of Fred and Ally" intricately and speculatively traces the tragic historical account of two young lovers living in late 19th century Memphis:
All they did at first was look. Just look. Something moved in Alice while following the hair gathered at Fred's neck, the turns of it, the lone dark curl tucked behind the ear, and yes, the throat, as if made of marble. Memphis had not seen a finer child, and she knew it, Fred did, piling that hair and running a finger along her mouth as she swallowed, smiling all the while, smiling at her dearest friends, including Alice, who replied in kind.
Perhaps the best part of Southern Sin is its attention to youth, and the narratives of the awkward sexual mishaps and adventurous friendships that are givens during girlhood. If you happen to have hailed from a strong Christian background, Sarah Cheshire's "White Noise," Ellen Hagan's "In Training," and Sarah Gilbert's "No Other Gods" will evoke the sensation of your first experiences with bad behavior and Eve's misfortune breathing down your neck. "You have sinned too much. You have failed too badly. You have fallen too hard," Gilbert writes to her 19 year-old self.