Hello and welcome to this new thing we're trying out where we help you figure out what you're gonna put in your mouth this week. Some of these are recipes we've tried, some of these are recipes we're looking forward to trying, all of them are fucking delicious. Tell us what you want to put in your piehole or suggest your own recipes, and next week we'll check in and talk about which things we made, which things we loved, and which things have changed us irreversibly as people.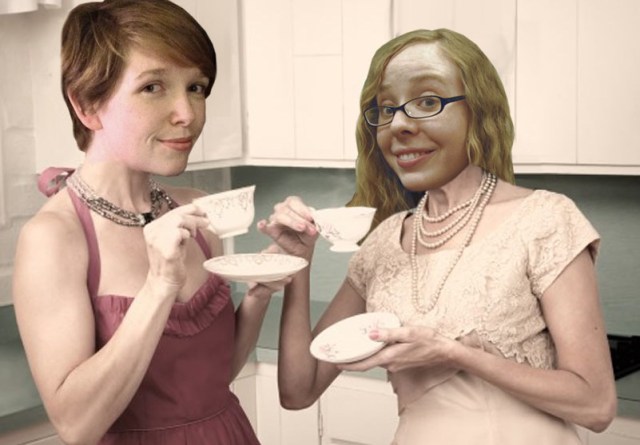 This winter has lasted literally forever. Remember the polar vortex? That was so long ago it feels like an entirely other winter but it's actually still this same winter. I know, I don't want to talk about it. Comfort food is a key element of making it through long winters like these, but at this point even cheezy tater tots don't sound good anymore because you've eaten them eighteen times. Do yourself a favor and go pick up some eggplant. Seriously, do it. It's earthy, hearty, takes on other flavors well, and fills out other recipes so they leave you feeling warm, full and loved instead of cold, peckish and forever alone. Also, you're probably about to get scurvy. So fix yourself one (or more!) of these recipes, let us know how it was, and we'll all munch while we stare out the window waiting for spring to get its shit together.
1. Sausage, Fennel, And Eggplant Rigatoni
---
2. Eggplant Caponatina Crostini
---
3. Mexican Fried Eggplant Sandwich
---
4. Sweet Corn Polenta with Eggplant Sauce
---
5. Ottolenghi's Burnt Eggplant w/ Pomegranate and Tahini
Rachel: This is truly one of my favorite and most-cooked recipes. I love it because while a lot of vegetable recipes require you to have a lot of fresh ingredients on hand, literally the only fresh vegetable you need is one eggplant (and maaaaybe some parsley but if you leave that out it won't be the end of the world). Everything else is nonperishable, so if it's 2 pm and you're starving and you want to have a delicious lunch in just like 15 minutes, congrats! All you need to have done is bought a single eggplant earlier in the week and you're good. Also the part where you roast it over the gas stove is really satisfying?
---
6. Roasted Eggplant with Lemon Garlic Sauce
---
7. Chickpea Stuffed Eggplant with Couscous and Tahini Sauce
---
8. Meat & Rice Stuffed Baby Eggplants
---
9. Roasted Eggplant Soup
---
10. Tunisian Spiced Roasted Eggplant & Pepper Salad
---
11. Greek Eggplant Dip (Melitzanosalata)
---
12. Vegan Eggplant Schnitzel and Coleslaw Burger
---
13. Baked Orzo with Eggplant and Mozzarella
---
14. Marinated Eggplant with Capers and Mint
---
15. Thai Eggplant Rounds
---
16. Miso Glazed Eggplant
Rachel: This is easy, simple and delicious. It's good for when you have an eggplant that you need to eat but aren't up to designing a whole three-course meal around it. How can you go wrong? You can't, is the thing.
---
17. Spicy Eggplant Pasta
---
18. Easy Awesome Eggplant Tian
---
19. Charles Phan's Roasted Eggplant and Leek Salad
---
20. Eggplant-Almond Enchiladas
---
21. Eggplant & Black Eyed Pea Curry
Rachel: This is something where it's really nice in the middle of winter to remember that last month you made a whole bunch of this and froze some and it's ready for you to defrost and get all up into. It's not the most eggplant-y dish, so if you're looking for that sweet eggplant flavor, you could be disappointed. But it's delicious and flavorful and filling and a great addition to your curry repertoire!
---
22. Spicy Peanut Eggplant And Shallot Stew
Let us know if you'll be trying out any of these recipes! And if you have some eggplant recipes of your own, share them! Instructions on how to upload images to your comments are below.