Hey, FlashForward! Long time no see! I've missed you!
Actually, that's a fib. I haven't really missed you, because in those last few episodes of 2009, you kinda lost me. I mean, that blue hand thing? You know, where the people saw nothing in their flashforwards and therefore decided "welp, we're all gonna die, so we might as well get way into pain and torture while we're here"? That made no damn sense. Don't get me wrong: I'm all for pain and extreme behavior and (especially) letting people do whatever they want to themselves, but what does that have to do with knowing you're gonna die? Didn't we all already know that was on the horizon at some point?
That's just one of many plot points that have turned out to be dull and confusing. To protect myself, I tend to watch FlashForward with one eye and half a brain. So I'm not exactly encyclopedic about the plot, but I have certainly enjoyed the gay stuff — especially the romantic dinner in Episode 5 (even though it was kind of a rip-off of Kim and Kerry). Christine Woods is a decent actress, and the Janis Hawk character is much more interesting than, say, Mark "Captain Constipation" Benford (Joseph Fiennes).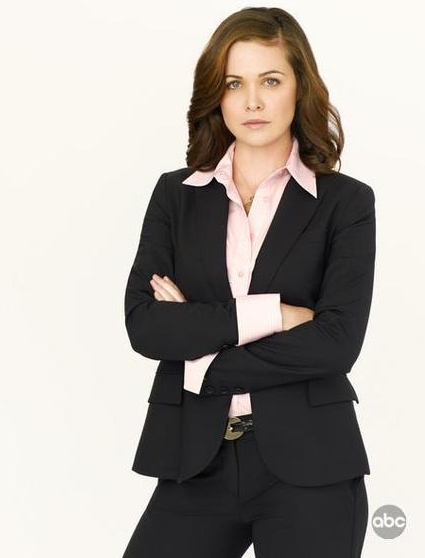 A brief recap of Janis thus far:
* In her flashforward, Janis saw herself getting a sonogram, much to her surprise. (But not to ours — where there's a lesbian on TV, there's a pregnancy!)
* At the end of Episode 5, she was shot by some baddies. We don't know who they are. At least, I don't think we do … see above re: being confused by this show and tuning out at key moments.
* Our heroine recovered from the GSW, thanks to the capable and lovely hands of Olivia (Sonya Walger, aka Penny on Lost). Except — TWIST! — it rendered her unable to have children. And the resulting unlikelihood of her flashforward coming true only made her want to take her passion and make it happen.
* Janis is super sharp and analytical and butch-in-an-FBI-way and yet cute and fragile and funny. And she can "break down a Sig Sauer in, like, 12 seconds." And she likes to hold a woman's head when she kisses her. Rrraawwwr!
+
And now to the present:
In Thursday's episode, Janis sparred (verbally, though you could tell she wanted to pummel him physically) with the annoying Simon (Dominic Monaghan). And she ended up face down in the kitchen when some scary dudes in masks jumped her and abducted Simon.
+
But she was barely in the episode after that. She did wear her glasses and work at her computer, which is not NOT sexy, exactly.
And then later she groaned at Simon a little more (no doubt wishing she could have been in another gay dinner scene instead). But I did like her rolled-up sleeves and swagger in the Simon scene.
And when Simon slipped away, she chased him to Canada and took him back into custody and accompanied him to his childhood home and lost him again and caught him again and quoted Shakespeare. In other words, her role in this episode was to tag along. Ho-hum. (That was pretty much Janis's attitude throughout; she seemed bored and a little depressed.)
The only slightly gay thing was Janis's amused "oh, if you only knew" expression when Simon's mother wondered why a "pretty girl" like her has no boyfriend and no kids. Hmmmmmmm.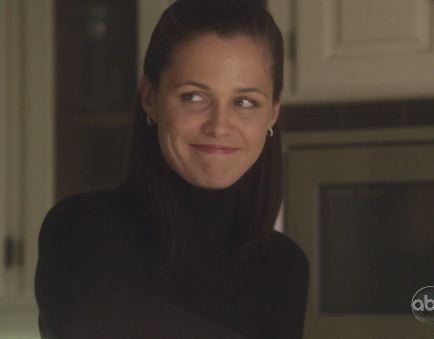 We waited months for that?! It's not enough. (If you want more, go watch Christine's interview on the Mediaweek video series Gay TV Now or spend some time on the FlashForward Wiki.) Here's hoping Janis has a bigger part in future episodes, because otherwise I'm going to have to take drastic action and start actually napping during this show. (Except when that David Lynchian uncle/kidnapper/whatever guy is on the screen — he'll scare me awake.)
Oh, wait! One more thing: Paula Newsome, as Mark's mandated therapist, Callie Langer, might turn out to be an excellent addition to the show (assuming she gets some decent screen time).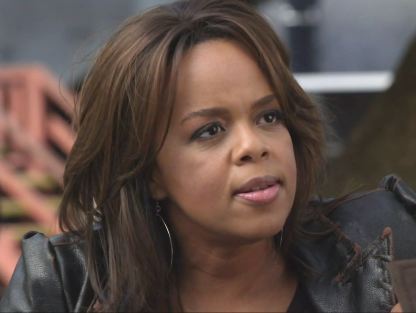 In a world of serious saps and gee-whiz gumshoes, a sarcastic yet caring cynic is just what the doctor ordered. I wish she were here right now to put this episode in perspective — I think she'd probably roll her eyes and go get a latte.
+
I'm off to comfort myself with visions of Janis consulting Dr. Langer and getting some sexual healing. Swoop down and get that girl, Agent Hawk!