We're celebrating Autostraddle's Fifth Birthday all month long by publishing a bunch of Top Fives. This is one of them!
---
5. The Eggplant
I've heard that some people (for example, the artist behind this "Drunk In Love" emoji music video) use The Eggplant euphemistically. I can see it coming in handy in this way. However, it's always been my go-to for describing people or things I don't like. Someone is being a jerk to your friend? That person is now Eggplant. Dreaded appointment with dentist/tax lawyer/landlord? Eggplant on Google calendar. Useful and relatively discreet.
---
4. SOON feat. Right Arrow
Stuck as it is in the strange and confusing "!?#" department, Soon feat. Right Arrow is critically underrated. It can be used to make plans, predict the future, and illustrate evolution (personal or scientific). Fridays around 4 pm I see it hovering over my work computer, pointing hopefully outdoors.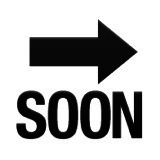 ---
3. Tropical Fish
Like a real tropical fish, Tropical Fish is a calming presence. Use him to cool down a heated conversation, or help remind a sad friend of a brighter world. He's also facing leftward so you can easily make him hold a magnifying glass, smoke a cigarette, or yell into a megaphone, all hilarious things that fishes can't actually do.
---
2. Smiley Cyrus
Emoji designers were far ahead of their time when they invented Face With Stuck-Out Tongue And Winking Eye, which I have personally rechristened for obvious reasons. I strive for a life in which this emoji is the only one I ever need.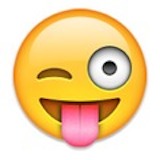 ---
1. Rocket Ship
Rocket Ship has slowly but surely edged out Flamenco Lady as my go-to conduit for expressing pure joy. Just look at it, pointing up and right — to fresh unknown planets, new spiral galaxies, expanding multiverses of adventure. I love the fire in its belly. I love its sharp nose and its little window eye. Go forth, Rocket Ship! Show us the way.
---
Header Image by Rory Midhani