In a semi-regular segment entitled Liquor In The ______ that can't be too regular because I'm probably drinking right now, I'm going to write to you about all the different ways you can liquor. I recognize that it's weird, especially for those of you who have actually had a drink with me, because I am what the frat boys would call a "two-beer queer" (what I would call a "no-beer queer," as I'm gay all the live long day). But I get drunk very easily, is the point. Still, I really really like beer, wine and liquor and want to share that love for the artistry of alcohol with you all, my favorite queers. Let's lift a pint to alcohol and our Autostraddle community – they go together like wine and soft cheese.
Header by Rosa Middleton
---
Wimbledon occurs from June 24th to July 7th, which you might already know if, like me, you grew up with a brother that played tennis and can still name his favorite players and the chances they have at Wimbledon. Wimbledon is a chance to dress in white and soak up the sun. It is a chance to swoon over Serena Williams. And in this case, it is the name of a cocktail recipe created by the folks at New Holland Artisan Spirits (not just a brewery, but also a distillery!). If you're a tennis fan, I wanted to give you ample time to dry run this cocktail before your Wimbledon Viewing Parties. If you're not a tennis fan, this cocktail is perfect for dinner parties, garden parties, parties where you'd like to have a go at being fancy as fuck.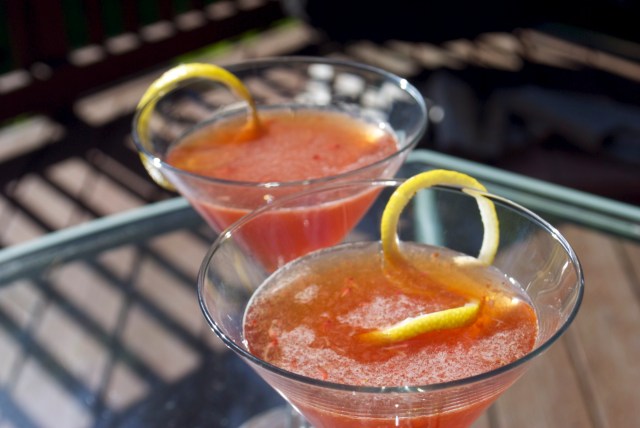 You will need: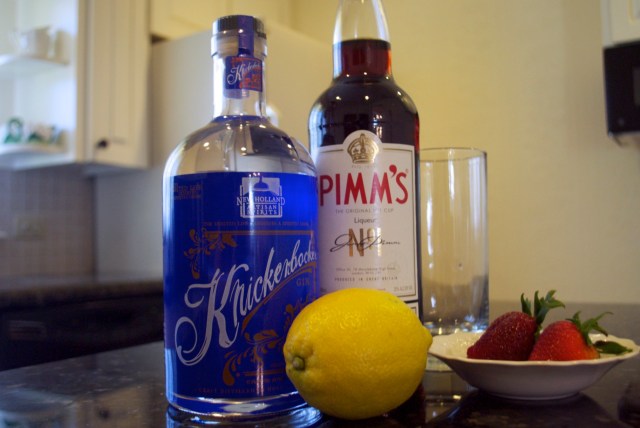 1 1/2 oz. gin. I'm using Knickerbocker Gin, because New Holland made the recipe and they also made this gin. And also this gin is delicious.
1 oz. Pimms No. 1. For more inspiration on what to do with Pimms, see Kristen.
3/4 oz simple syrup. Now you can buy this. Or you can make it for so much cheaper. We will go over this.
2 Strawberries. The recipe calls for 1-2 strawberries, but it's really warm out so go with two because I feel like it. Strawberries rule.
1 lemon for garnish
A shaker. You guys. I shattered the pint glass to my Boston Shaker right before making this drink. I have a sad and now I also have a Parisian Shaker.
A cutting board
A knife
A martini glass (or many more martini glasses if you're using this as a party recipe)
Ice
To make the simple syrup, you will need: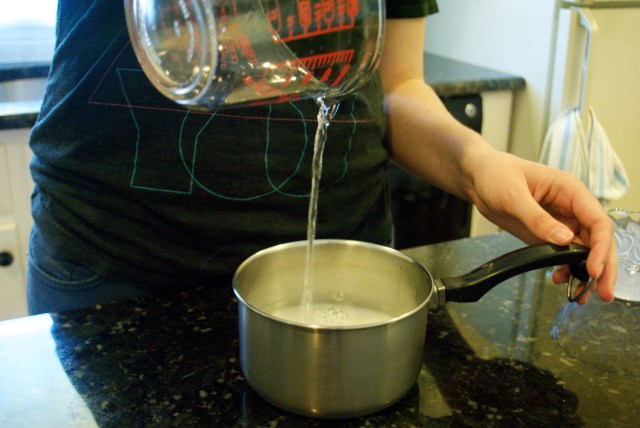 Equal parts sugar and water. Because I was making this drink for multiple people and I needed simple syrup for other drinks, I went with 1 cup sugar and 1 cup water. But you don't have to make that much simple syrup if you don't want to. Follow your heart.
A pot to heat this in
Something to heat it with
Put the sugar and water into a pot, bring the whole thing to a boil.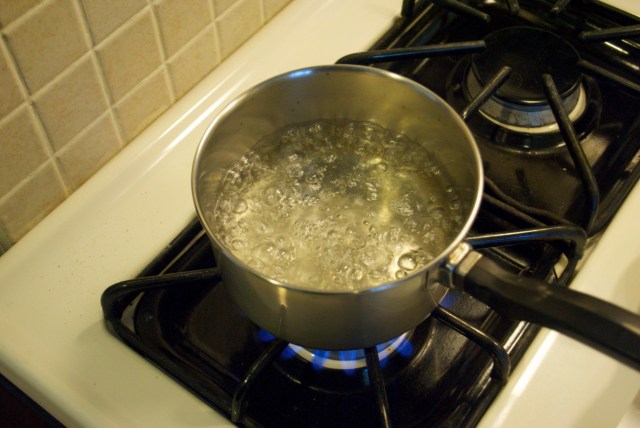 Once it's rolling, reduce the heat to simmer and stir until all the sugar is disolved. Store in a clean jar or a bottle with one of these fabulous doohickies for up to a month.
Now, to make the Wimbledon:
Chill your martini glass(es) by filling them with ice.
Roughly chop your strawberries into smaller strawberry pieces.
Dump them into the bottom of your shaker and take your muddler in hand! Muddle the crap out of those strawberries, but not too much.
It should kind of look like a strawberry pulp. Like this: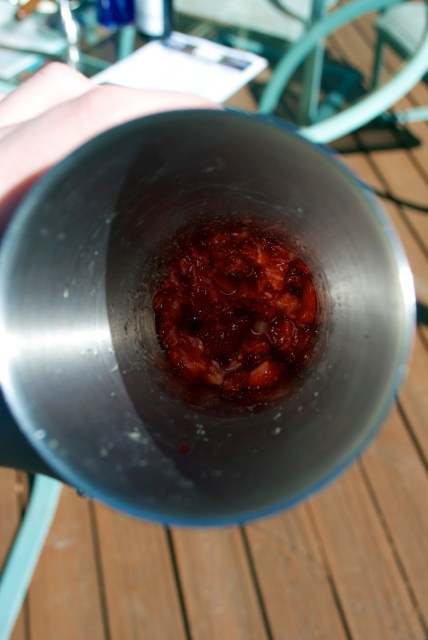 Muddling releases the strawberry juice so that when you shake your drink, you get the full flavor of those strawberries.
Now the recipe doesn't say shake with ice, but it's warm out and I feel like it. So after your strawberries are in the bottom of your shaker all muddled and delicious, fill your shaker about halfway with ice. Combine the 1 1/2 oz gin with the 1 oz Pimms and 3/4 oz simple syrup.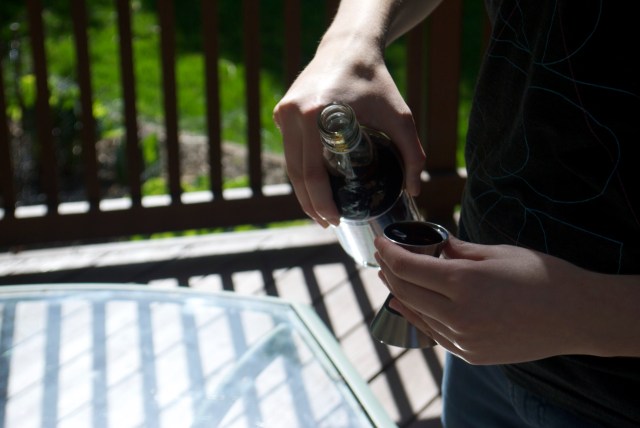 Shake vigorously. Always shake over your shoulder with your back to no one and nothing valuable, in case of accidents.
The recipe says to fine strain, which I usually accomplish by using my Hawthorne strainer (yes, I take the cap off my Parisian Shaker just to use my Hawthorne strainer because I like it better) and then also pouring the cocktail through a tea strainer into a glass. But dammit, this recipe has Pimms in it, and I am used to fruit in the bottom of my Pimms. So because it's warm and I feel like it, I didn't fine strain. I AM A REBEL. I want some damn strawberry pulp in the bottom of my fancy cocktail. I just dumped the ice out of my martini glass and regular strained into it.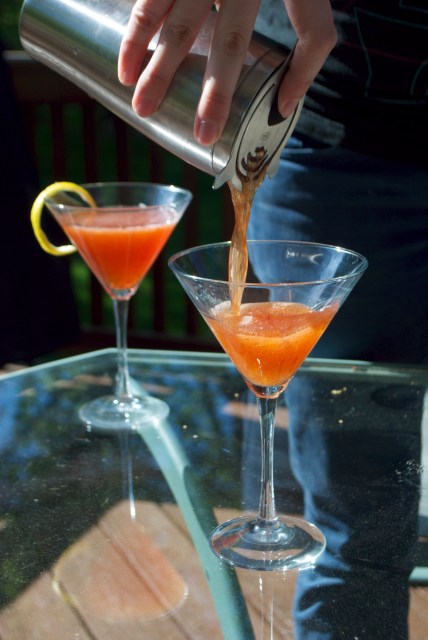 Lemon twist to garnish! Now if you're like me, you don't have the coordination to make a real lemon twist. So I will show you how to cheat on the lemon twist.
Cheater Lemon Twists:
Slice a round piece of the lemon. Cut the rind of the lemon slice.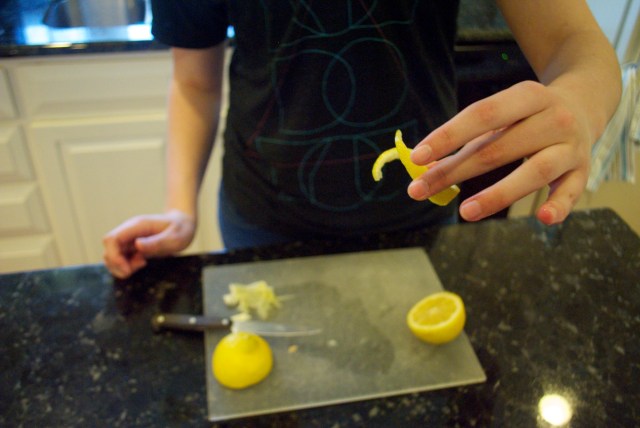 Optional: eat the lemon guts. Then wash your hands because gross, your fingers were in your mouth.
Wrap the lemon rind around your finger. It will hold its shape.
And there you have it! The Wimbledon! Thanks to the folks at New Holland for the killer recipe!
What I would do differently next time: muddle mint in with the strawberries.
What I wish we were eating with this drink: cucumber sandwiches, watermelon and feta salad, more cucumber sandwiches.
A word to the wise: This cocktail is sweet. It is sometimes not apparent that you have consumed a lot of alcohol. Stay safe, use moderation.