In a semi-regular segment entitled Liquor In The ______ that can't be too regular because I'm probably drinking right now, I'm going to write to you about all the different ways you can liquor. I recognize that it's weird, especially for those of you who have actually had a drink with me, because I am what the frat boys would call a "two-beer queer" (what I would call a "no-beer queer," as I'm gay all the live long day). But I get drunk very easily, is the point. Still, I really really like beer, wine and liquor and want to share that love for the artistry of alcohol with you all, my favorite queers. Let's lift a pint to alcohol and our Autostraddle community– they go together like wine and soft cheese.
Header by Rosa Middleton
---
The Holiday Season. It's a time for tradition. As a non-normative person, there are a lot of traditions I get shellacked on. I can't go to my church's live nativity ever since they hung posters and offered videos on how you teach your sons not to be gay. I can't eat the turkey on Thanksgiving because I'm a vegetarian. Mashed potato dinner for me! But one thing I can do is traditional alcohol. There's so much tradition behind alcohol of all sorts, so much history and artistry. And one thing that screams holidays to me is mulled wine.
I was first introduced to mulled wine shortly after moving to Paris. I was strolling in a snow-covered Tuileries with one of my best friends in the world and we stopped for some. So if you're mulling wine for Thanksgiving or at any other time during this cold season, I hope it conjures up the same frosted, warm feelings it does for me.
Despite mulled wine being a traditional holiday drink, there is by no means one traditional way to make it. There are as many ways to mull wine as there are people who drink mulled wine. Mulling, by the way, is the act of warming a drink while adding spices and sweets to it. Martha Stewart has a take on mulled wine. Jamie Oliver has one too. I'm doing a variation on this recipe. And Alton Brown likes to mull wine for a very long time in coffee percolators which is great because it serves, like, ten billion people.
For this recipe, you will need:
+ One bottle of Cabernet Sauvignon. You could really use any red, but Cab Sauv is my favorite red because I am spoiled and like French wine. However, when you mull wine you don't need to use the expensive stuff! Save expensive wine for enjoying by itself or paired with good food, always. In fact, as Alton Brown says, this is a great way to use up cheap reds you may have lying around the house. And this red? This red doesn't even have a cork.
+ A pot to mull this wine in.
+ One cinnamon stick to boil.
+ Two teaspoons whole allspice berries.
+ Two large oranges.
+ 1/4 cup of Brandy, or more generous. I use a generous 1/4 cup.
+ Honey to taste. I'm using 1/3 a cup, as you can see in the above picture. The reason I say "to taste" is because you may not need to use as much if you're using a very sweet red wine. But more if you're using a spicier one.
+ Cloves. Most people use 8-10 cloves, but I am a clove monster. Walk on the wild side with me. Use five healthy pinches of cloves.
+ A lid for your pot. This may not seem like a big deal, but the lid helps keep the flavor (and the alcohol) in the pot. Otherwise, the alcohol will boil off.
+ Heat-resistant glasses or mugs. I'm using Irish Coffee glasses because they look nice.
+ A ladle and a tea strainer.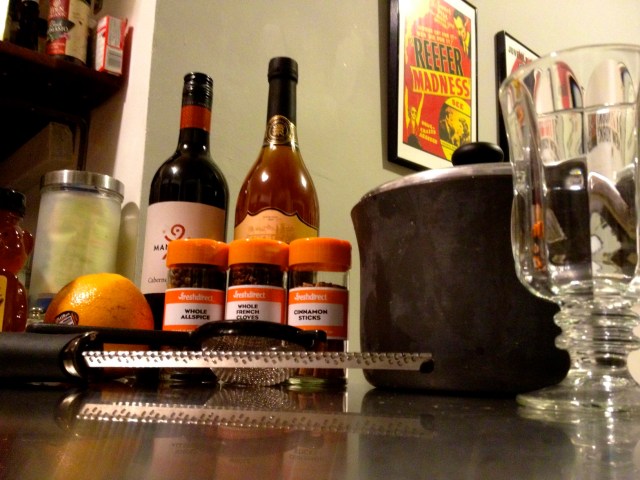 THROW ALL THAT SHIT INTO A POT. Zest the peel from the first orange into the pot. I use about a fourth of the orange peel. Then peel and break the orange into sections. Break the sections in half to let the juices flow and throw the whole thing in that pot.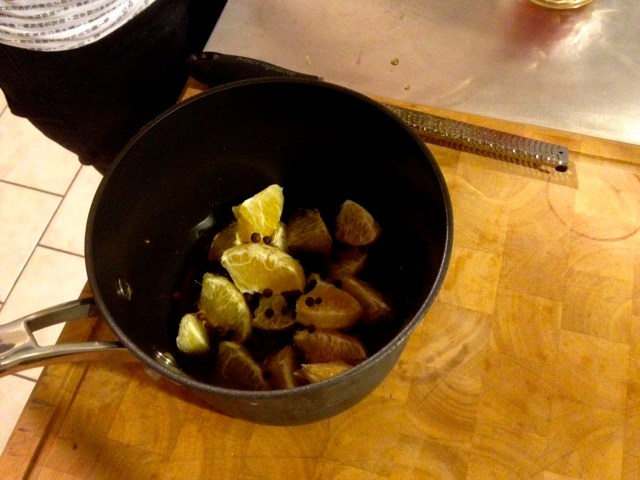 In fact, throw everything into that pot. All the things. You guys, I'm drunk on this wine I just made you.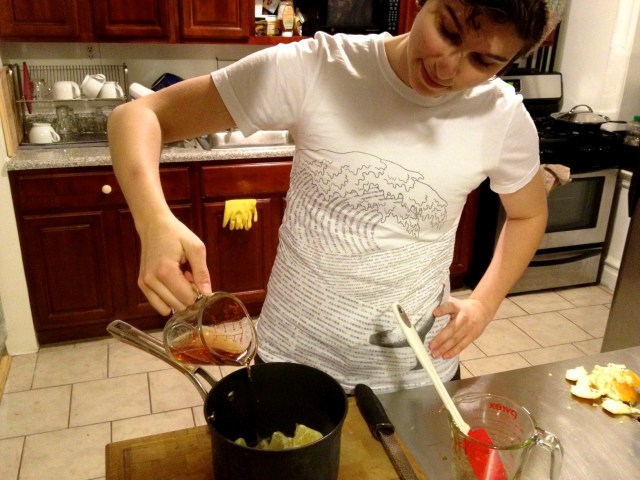 Put it on extremely low heat for 25 minutes, lid on. You don't want this concoction to boil. You also don't want to go in there to stir very often because you don't really want to lift the lid– that lets out the alcohol, which would normally evaporate. But you want to stir maybe twice through this whole adventure, just to make sure everything is mixed up.
While the wine is warming, make yourself a lovely cheese platter. Also warm up your glasses by filling them with warm water.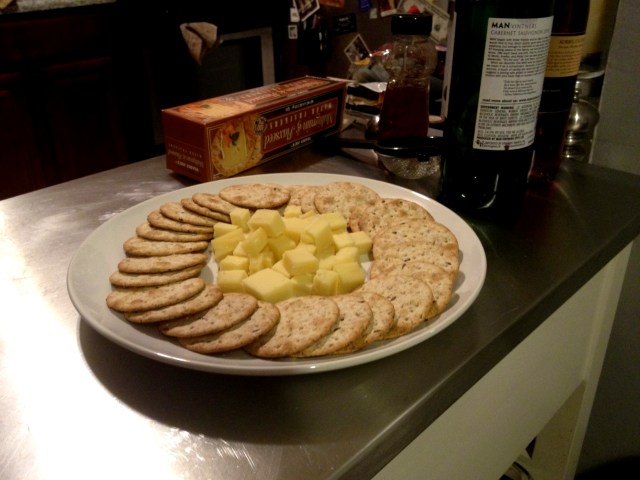 Also also, prepare your garnish. One of the points of garnishing a glass is to make it smell nice when you lift your drink to your lips. Grab a few cloves and your second orange. Cut the orange in half and then clove the orange in a straight line. Slice off your cloved portion and put a little notch in the meat of the orange. this is where you'll put it on the glass later. The notch makes garnishing the glass easier.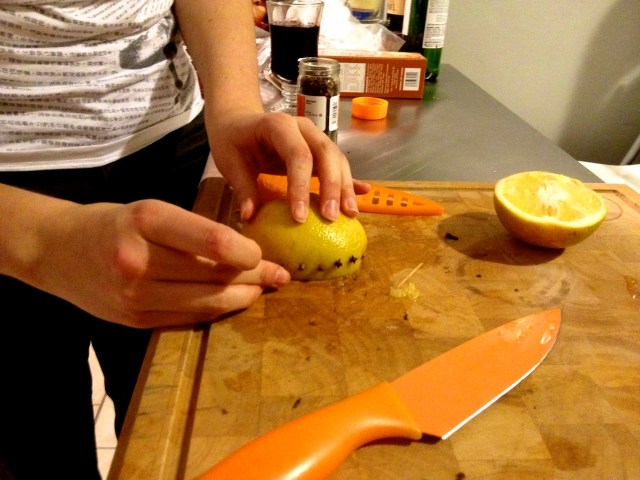 After 25 minutes, check to see if the wine is steaming. If it is, IT IS TIME. Put your strainer over the Irish Coffee glass and ladle the wine into the glass.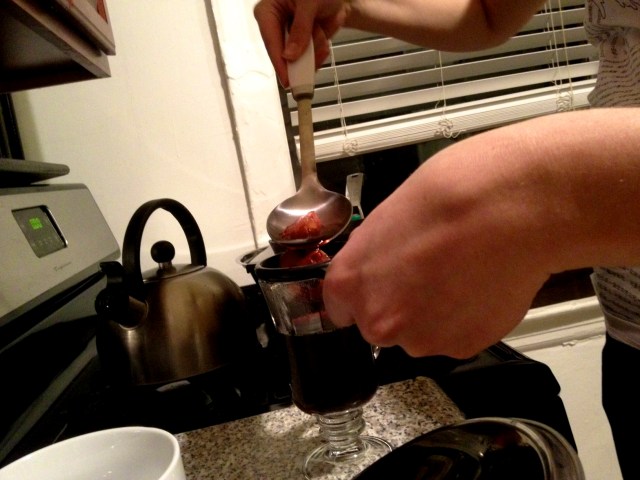 Garnish the glass and serve your four to six guests/roommates/harem of girls/family members. Happy Thanksgiving!