Happy almost Valentine's Day, queermos! I was tasked with making a "sexual cocktail," but I had some trouble figuring out how to make a cocktail sexual. There are sexual names for cocktails, but they aren't really sexual in nature. Plus I'm one of those people who hates Valentine's Day.
The good news is, when I developed this cocktail, I was fortunate enough to be hosting a fellow Valentine's Day hater, Autostraddle's Music Editor Stef Schwartz! So while our drinks were extra full of V-Day hate, yours can be extra full of romance or bro-mance or no-mance — either way, it'll still be delicious.
---
My Bloody Valentine
You will need:
1 1/2 oz. bourbon (I'm using New Holland's Beer Barrel Bourbon, but you can substitute your favorite mixing bourbon in here).
1 oz fresh blood orange juice (I juiced two blood oranges for three drinks and had some left over)
2 dashes Angostura bitters
a contextually appropriate glass (we used a whiskey tumbler, a martini glass and a jam jar trying to find what looked the best. All of them were pretty, so it's up to you!)
badass miniature cocktail swords that Stef found in her parents' house
a shaker of some kind (I miss my Boston Shaker, you guys! I broke it doing a Liquor in the _____ post and I haven't replaced it yet)
a hawthorne strainer
another sort of tea strainer
a jigger
2 blood orange segments to garnish
---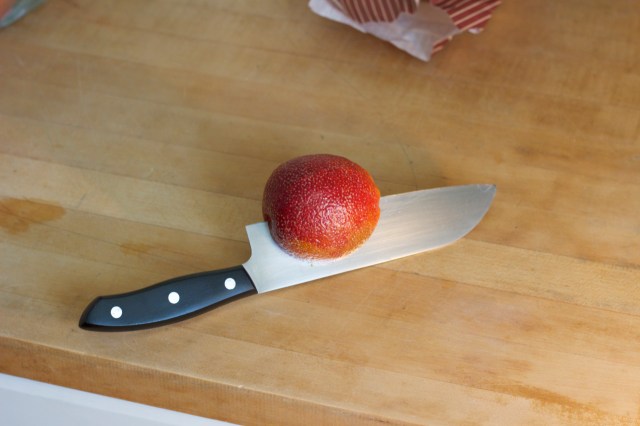 1. Juice Yr Blood Orange
Did you know that when you're juicing citrus, cutting it length-wise will give you more juice than if you cut it like everyone always cuts it?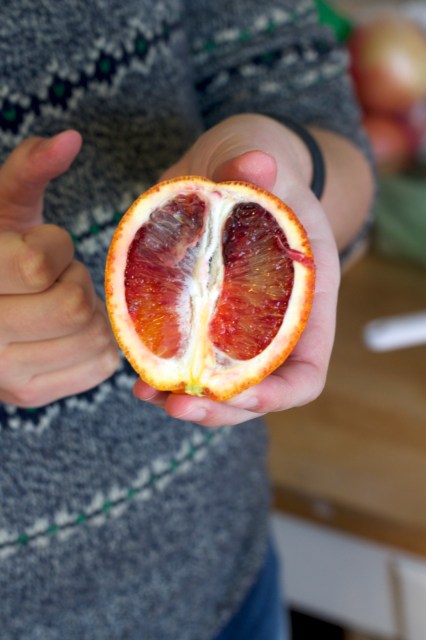 Also, always use fresh juices instead of juice you buy. It just tastes better, ya know?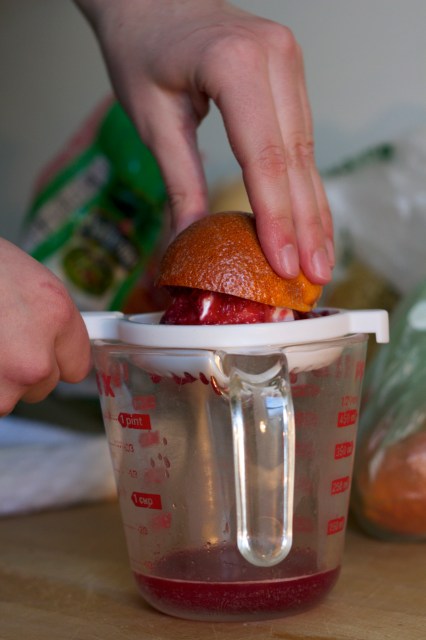 ---
 2. Prep With Ice
Fill your shaker halfway with ice. While you're at it, prep your glasses with ice. This will chill the glasses so your drink will stay cooler for longer.
---

3. Measure It Out
Pour the 1 1/2 oz. bourbon and the 1 oz. blood orange juice into the shaker. Add a dash of your dashing Angostura bitters.
---

4. Shake It Up
Always shake over your shoulder with nothing and no one behind you, just in case. You never know, okay?
---

5. Pour It Out
For this drink, we're gonna do what's called a fine strain. I normally skip this because I like pulp, but with the bourbon? I dunno, bourbon and pulp just don't seem to go together. This is also the step where you have to select your glass. Here's how it looked in our three options.
---

6. G-ARRRRRR-nish
That's how Stef says the word "garnish" when we're having fun with swords for miniature pirates. Take the two segments of blood orange and, like you're pinning something together to sew, stab them front to back so they look like a heart.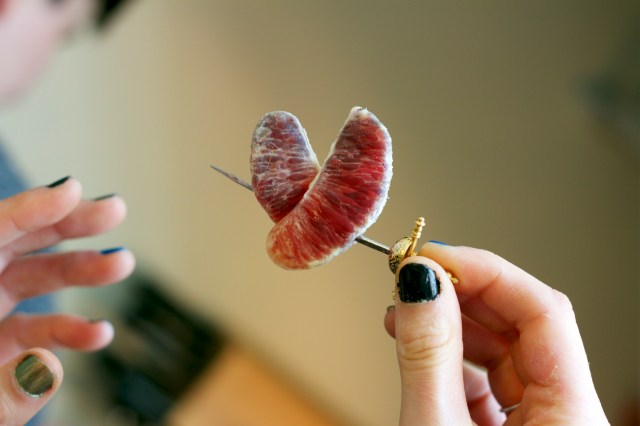 Arrange them nicely in a glass.
Even though cocktail queen Rachel Maddow has instructed us to never eat the garnish, I'm going to give you pre-emptive permission to eat the garnish. Because it's not garnish — it's G-ARRRRR-nish.
---
Enjoy your quick, easy, three-ingredient cocktail that looks good three different ways! Stef and I remind you to drink responsibly.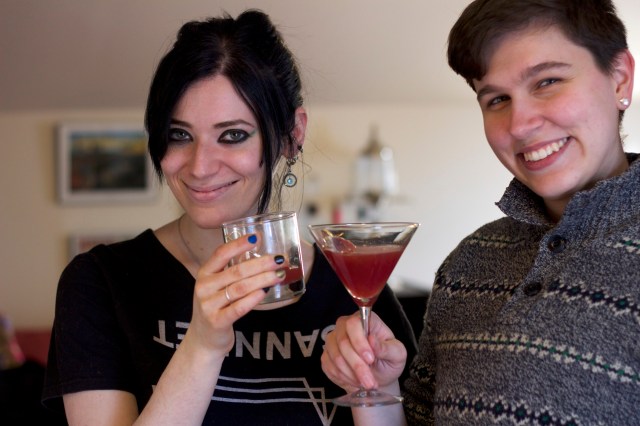 ---
In a semi-regular segment entitled Liquor In The ______, I'm going to write to you about all the different ways you can liquor. I recognize that it's weird, especially for those of you who have actually had a drink with me, because I am what the frat boys would call a "two-beer queerwp_posts(what I would call a "no-beer queer,wp_postsas I'm gay all the live long day). But I get drunk very easily, is the point. Still, I really really like beer, wine and liquor and want to share that love for the artistry of alcohol with you all, my favorite queers. Let's lift a pint to alcohol and our Autostraddle community – they go together like wine and soft cheese.
Header by Rory Midhani