I've always had a bit of a thing for bad girls, and I don't think I'm alone on this one. Who doesn't love gals with switchblades hidden in their beehives, girls with killer smirks who drink the tears of their enemies, and ladies that enact revenge without smearing their lipstick? And why do we love them? Is it the clothes, the hair, the make-up? Or is it more about attitude, manipulation, and that pesky sexual ambiguity? For slightly shy girls like me, bad girls let us live out our wildest fantasies. All those things we wish we could have done to that one girl in high school who made our lives a living hell. For these reasons, this column, "Rhymes with Witches" will be a weekly piece dissecting our love for the fictional mean girls that make it hurt so good. Every week, come take a walk with me on the wild side (switchblade not included) to explore the evil women we love on TV and in film and why we love them. Heroes and damsels in distress be damned.
---
Poor Rory Gilmore. It must be hard to own the face of an Audrey Hepburn porcelain doll, have a mom that is the human personification of Sassy magazine, and have a cushy trust fund that extends from the Revolutionary War to pay for the Ivy League college of her choice. Thank the goddess she had the pleasure to have Paris Geller in her life, to make things interesting and create the ultimate frenemy love story than in Amy Sherman Palladino's magnum opus, Gilmore Girls.
From the moment they met, Paris and Rory had this powerful underlying tension, be it sexual or otherwise (Rory/Paris erotic fanfiction, any one?). Sure, female rivals have been in mythology and folklore since antiquity, probably even older, but these relationships served (and sadly, still do) as evidence of misogynistic views of women as vain and "catty" creatures, too emotional and envious of each other (and don't even get me started on "penis envy") to serve as rulers, citizens or even autonomous entities.
While this archetype has changed little since the times of Athena cursing Medusa to Gorgon status for daring to state she was more beautiful than the goddess, Paris and Rory's frenemy relationship grew, not from jealousy of each other's looks or over a guy (even if in the first season Paris might have thought so) but for academic superiority. They feared each other because they shared the same fierce determination and resilience to excel in the intellectual field, instead of an aesthetic one. As the seasons progressed, it became clear how much they actually needed each other to grow and become the strong women they were suppose to be. Rory needed to grow a backbone and Paris needed to view the world as something other than a big test you either fail or ace. It's complicated and complex, just like their relationship.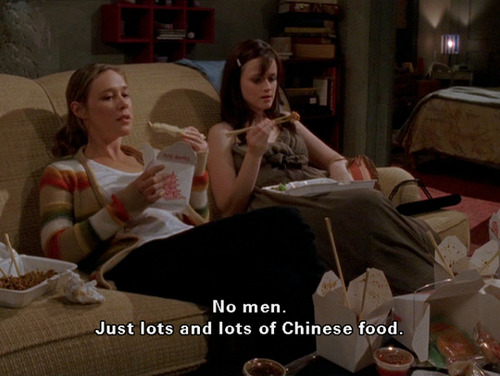 What I like about Paris' "meanness" is that it's not your usual run of the mill mean girl behavior. Sarah M. Coyne terms stereotypical female behavior as "relational aggression" in the article "Frenemies, Fraitors, and Mean-em-aitors" and examples include "manipulating others' social standing and reputation through communication behaviors such as spreading rumors, social exclusion, and threats of withdrawal of acceptance and love". This behavior between girls is theorized to come from an evolutionary practice of women gaining power (which in most other scientific papers usually means a mate) through their appearance. But Paris sees her power stemming from intelligence and academic achievements. Paris moves away from any kind of evolutionary mumbo jumbo and fights with wit and brains instead of gossip and backstabbing.
Teenage girlhood is a kind of torture I would only wish on my worst enemies. Sure Rory had her troubles (choosing between guys, choosing which Ivy League to attend) but Paris truly felt the grunt of a geek solely focused academics and so completely clueless about boyfriends, dances, fashion, aka "girly" stuff. The same stuff I was clueless about too. No matter how many books she read or how many speeches she researched, nothing could prepare her for being a teenage girl. Through her entire run in Gilmore Girls, she's seen as insecure and strong, smart and lost.
Though her name is not Gilmore, Paris Geller is the true break out character in this gem of a series, as one of the most heart wrenching and complex portraits of a teenage mean girl.