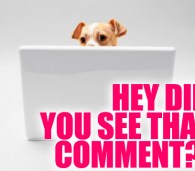 Helloooooo ladeez! Did you go to Rodeo Disco version 2.0? Did you see the photos? Did you check out the interview with our musical guest, DJ Saratonin? If you missed this party, it's alright, you can still win tickets to Lilith Fair in New Jersey, which is just about as gay as the Dyke March we went to.
Maybe you were stuck at home and decided to subject yourself to The Real L Word, which Riese (mostly) recapped. Or, if you couldn't bear it (like Riese eventually), maybe you just watched Nat on Autonatic 4: The Real L Word's Nat Skips Town, Leaves Dildos Behind. Crystal wrote you the music fix this week since Jess was busy getting home from the party, and Laneia watched and reviewed '8: The Mormon Proposition'.
---
On Hey Jackie, You're Not A Lesbian, Also We're Not Your Chemistry Experiment:
Brooke's Best Friend Award to Deb Rox: Jackie is all over the place. She says "I can honestly say that that, although I was 34, this had nothing to do with my biological clock." Then a few paragraphs later, "Within a year I found myself pregnant. Our daughter was born and 11 months later I was even more shocked when I discovered I was pregnant again – with triplets."
Jackie sure has lots of shocking surprises in her life. Too bad she doesn't say "gee, I haven't a bloody clue about who the hell I am, maybe I'm not needed as a lifestyle or sexuality expert?"
Wonder why she hasn't changed her name, at least to Jacqui?
On Jersey Shore Boys Cover Village Voice's Queer Issue: 'Guidos' Got PUNKED:
The Too Late Award to jenn: the NYT Prop 8 article says a ballot measure could overturn prop 8 "as soon as 2012." in what universe is that considered soon? the world is going to end before "soon."
The Token Award to Brianna: Hip dents are weird. I agree. And I'm equally as perplexed when I see straight people on the cover of gay magazines. I guess they are just concerned with, um, straight visibility or something.
On NSFW Sexy Sunday: Lesbian Bed Death Says Whatever:
The Just Hold Me Award to Sasha Farce: I like to reinterpret "lesbian bed death" as "so the honeymoon ended and we decided that we like to look at each other's faces as much as we do each other's labia."
On Autonatic #4: Real L Word's Nat Skips Town, Leaves Dildos Behind:
The Googolplex Award to Sally: I don't know how many times realer and better Nat's video is than actual real l word because I can't count that high.
On New York, San Francisco, & Autostraddle Do Pride, Ride Mechanical Bulls:
The Promises, Promises Award to Freddie (aka Nathalie): Ah! Call answered! — It was so great meeting all you guys on Sunday
I'm putting a call out to the fact that when we met in the bathroom you said you would give me a comment award. That doesn't sound weird at all…
On The Real L Word Recap 102: Making Something Out of Nothing:
The Bubble Burst Award to Bren: I don't understand why someone would be excited to get into the Chamber of Commerce. Isn't that like something anybody can get into as long as they are willing to pay the membership fees, like at Sam's Club?
The Sadist Award to audrey: what group of people is the real l word supposed to be marketed towards? i don't understand what mama chaiken is aiming for, b/c really, who would enjoy this shit? people who enjoy manipulation, misrepresentation of all lesbians, unjustified generalizations via labels, asinine behavior w/r/t socializing…
is "asshole" a demographic?
who gave the a-okay to kill off dana and produce this self-indulgent show?
On Twilight Eclipse Totally Eclipsed Team Bella's Hearts: Movie Review:
The College Award to dypole: This is why the only way to truly see these movies is to go to Dallas BBQ (yes, that awful diner-esque restaurant), get supremely trashed on cheap fishbowl margaritas with surprisingly high concentrations of tequila, and then watch it on opening weekend in a sold-out theater with screaming girls who want to kill you because you just can't stop loudly making snide, drunken comments.
Clearly, I live on the edge.
On Wisconsin Upholds Gay Marriage Ban, Despite All Those Hippies in Madison:
The Anarchy in the UK Award to stace, and millbot: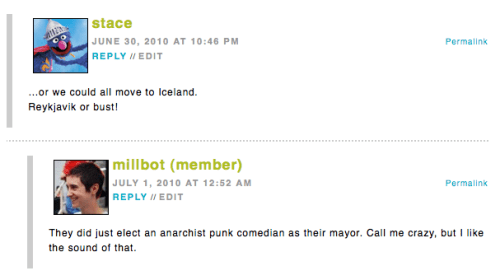 On Photo Gallery: Autostraddle NYC Rodeo Disco 2 Pride Party Photos:
The Party Pooper Award to e: this is like that one time in high school where everyone took off to the beach and i stayed home like a dumbassloserface and then afterwards they had all these photos and they even saw a beached jellyfish and i told them how i watched mythbusters. this is just like that but worse.