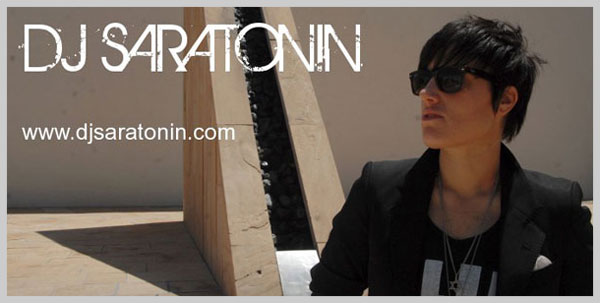 DJ Saratonin is a resident DJ for "Club Skirts" Dinah Shore weekend and was previously at the very famous girl-party in West Hollywood "Truck Stop." Her newest venture is an all-female production company, PYT Productions, whose unique weekly theme parties in Hollywood are highly sought-after for LA's A-list lesbians.
We check out any and all Saratonin gigs when we make our one or two trips a year to Los Angeles and are happy to have her on the east coast to make you dance at the Rodeo Disco this weekend.
---
+
Crystal: Tell us a little about how you got your start as a DJ.
Saratonin: Well my first gig was actually at a club I began throwing back in 2001 called Brownies For My Bitches, which officially ended this past year. I am very fortunate that it had such a long run. It was at Harvey's bar in the heart of the Castro in San Francisco. I started throwing this party specifically so I could DJ. Starting out at such a young age, I was, in my opinion, absolutely horrible. However, instead of feeling out the waters beforehand, I threw caution to the wind and dove in head first. I had an amazing group of friends that came out to support me then and continue to support me and my love of DJing, as well as my new promotional endeavors. Thanks to all the support I've received, I've been able to grow as an artist and move past only playing my own parties.
Crystal: Tell us a little about your style?
Saratonin: I don't think DJs choose their style. I believe it is something inherent. Like, if you are right-handed or left-handed. You play what you love and try to play it in a way that others understand and enjoy. I think most DJs have eclectic taste and they show you that in the story that they tell through the set they are playing. Some art forms are limited to certain countries or social groups but the music, lifestyle and art of a DJ is truly limitless.
I love almost all music and honestly what I prefer to play changes so often, it really depends on my favorite new tracks. For example, lets say I find some great new electro remixes that spur my creativity, they will in turn entice me to want to go out and play those tracks for people so they can experience them like I do. Same goes for all genres. It's whatever gets me up and dancing in the morning.
Crystal: You've become a well-known artist in the community, playing a lot of popular parties and of course those residencies at Truck Stop and Club Skirts. As far as your DJ career is concerned, are you living the dream?
Saratonin: I have so much more to accomplish! I have left Truck Stop to create my own production company — People You Trust Productions, or PYT for short. We have the hottest Friday night party in Los Angeles. I am living my dream each and every day. I am a successful DJ, and now I own my own production company.
PYT started late one Friday evening after watching The Hangover. A group of old friends who were all involved in the community in one way or another were sitting around deciding what the night had in store for them. After running down the list of options, they were left feeling lackluster about where they might end up. Instead of heading to the clubs they took that evening to develop the idea People You Trust.
People You Trust is a group of 6 women: Saratonin, international DJ; Romi, makeup artist to the stars; Dawnita, CEO of Girl Charged Productions; Charlene, star of Gimme Sugar & National MC; Wendy, major marketer for lesbian travel companies; Raynee, CEO of Luxx LA Promotions; and managing company.
Currently PYT holds a newly themed event every Friday night at Hwood, currently a hot 100 club on the Conde Naste list. Also, every Sunday night PYT screens the Real L Word at Capitol City. This is where you will find the full cast and crew along with all the LA locals.
Crystal: Did you feel the need to start PYT because of a particular gap in the current scene?
Saratonin: Our scene seemed to be run by the same two people for all events. The monopoly they held created a lack of heart and lack of community. People You Trust was started to give that back to the party scene. In the four months since our inception, we have thrown multiple fundraisers and have been incredibly involved in our community. We intend to always give back!
Crystal: What are some of the tracks you're spinning right now?
Saratonin:
Let's Make Nasty (Afrojack Remix) by Larry Tee
Crookers by Royal T ft. Roisin Murphy
XXX0 by M.I.A.
Bass Down Low by The Cataracs
ADD SUV ft. Pharrel Williams (Armand Van Helden Club Remix) by Pharrel & Uffie
Crystal: Do you walk into the DJ booth with a playlist in mind, or do you make it up as you go and play to the crowd's vibe?
Saratonin: I think most DJs including myself come to a gig prepared with some sort of set. I also think the best DJs are able to switch that set up if the crowd isn't into the vibe they are setting. I try to come to the decks as prepared as possible but I also know that I can change it up to get the crowd jumping!
Crystal: Do you have a secret weapon? One particular track that's guaranteed to get an unenergetic dancefloor moving again?
Saratonin: I call the song "Be Faithful," it's the cheater's song. Only because if you know you are losing energy or losing the crowd, you throw that song on and they are right back in it! I've heard it used by many DJs to do that exact thing. It never fails!
Crystal: What's your favorite city to DJ in?
Saratonin: Honestly, I love New York! In New York you can play the smallest of spots, little hidden gems, huge club venues, all kinds of places. You play gigs with the most inspiring artists like you are playing in your bedroom. It's just a different vibe than I have ever experienced, it's true and honest and about the music! New York is always inspiring. New York always renews my love for DJing.
Crystal: You've opened for some impressive artists. What one has been the most memorable?
Saratonin: Opening for Lady Gaga, Katy Perry, Peaches, Salt N Pepa, Ke$ha and all the amazing talent I have had the fortune of working with over the years has been a true blessing. Lady Gaga & Salt n Pepa were both absolutely insane to watch from a behind the scenes stand point. To watch the crowd of thousands of women with their hands in the air singing along to every word gave me goosebumps. That is why I am in this industry, for those few moments of pure adrenaline that the crowd gives you.
The next exciting gig I have coming up is on June 26 in San Francisco. I am going to be playing with Larry Tee, the creator of Electroclash! The scene he created out of Williamsburg was the reason I started DJing. It really opened my eyes to dance music and started me down the path I am on today. I wanted to be that club kid from New York, and next week I am playing with the creator of the club kids!
Crystal: Some people may be led to believe that being a DJ is a glamorous lifestyle. Would you agree?
Saratonin: I think it can be. I think more importantly its living a dream! I am able to support myself and my lifestyle by doing the one thing I love the most, playing music.
Crystal: You versus Samantha Ronson — who'd win?
Saratonin: Is the crowd blind folded? I can tell you when I played with her a few months ago, the crowd thought I was her at first and just started screaming. I think she has an unfair advantage.
What sets me apart from her is the way I personally translate music — how I influence dance floors. The music I select crosses so many boundaries throughout the evening, you never know where I'm headed next. Loving so many different types of music, I don't like to stay in one genre, mixing in tracks I think will keep the crowd enthralled no matter what you may classify its type as.
I also think studying is a huge part of my growth and pushes me to be distinct in my style. Studying births of different music styles and studying other DJs while I'm out at the club. All of this helps to create my own distinct sound.
Crystal: DJs are so hot. When you play an LGBT, event does your girlfriend have to stand guard at the DJ booth?
Saratonin: I honestly don't notice. I am pretty involved in playing music and trying to focus on the crowd as a whole. I think my girlfriend notices more of the attention I'm receiving than I do.
Crystal: Tell us about what you'd like to accomplish next?
Saratonin: Next on the list is making PYT a huge name in the lesbian community! Not only as the hottest Friday night party in LA but for bigger and better reasons. I really want to give the girls of Los Angeles a better party experience. I want lesbians to be able to party in the most exclusive night clubs and to the hottest musicians and DJs around. I love the message, what we stand for and the girls involved. We are here to change the LA party scene!
Crystal: Lastly, tell us where people can find out where your next show or PYT party is.
Saratonin: You can find out where I'm playing next by following me on facebook or visiting my website. Also follow PYT on facebook or visit the website to find out where the next party is.
---
+
Don't miss Saratonin when she DJ's the headlining set at our RODEO DISCO Pride Party this Sunday.
Get your tickets now in advance (they're much cheaper) and we'll see you there!
+
+
+