The Wisconsin Supreme Court ruled today in a case challenging a constitutional amendment banning gay marriage in the state. The court upheld the ban 7-0. The amendment was approved by 59% voters in 2006:
"The court rejected a lawsuit that claimed the amendment violated a rule that limits referendum questions to a single subject. The lawsuit, filed by a voter opposed to the amendment, argued that gay marriage and civil unions were two different subjects."
So this could possibly mean that this just wasn't the best way to oppose the ban, right? Like someone should maybe file another lawsuit more like Prop 8's about how it's fundamentally fucking unconstitutional, etc.?
The amendment defined marriage as between one man and one woman, and it also limited the amount of benefits that could be given to unmarried couples. So even though Wisconsin allows domestic partnerships, couples with those only get "about one-fifth of the benefits that married couples now receive."
Also last week, a Wisconsin court ruled that "gay parents who separate from their partners don't have the right to be their children's guardian." Wisconsin law says you can't be recognized as a parent of an adopted child unless you're married. But you know, you also can't get married if you're gay in Wisconsin. So, that's convenient! Gay adoption is effectively illegal there, and it looks like that won't change for a while.
Wisconsin State Representative Tammy Baldwin is a lesbian and also isn't happy about this:
"Like many Wisconsinites, I am disappointed in the substantive effect of today's Wisconsin Supreme Court decision in the case of McConkey v. J.B. Van Hollen, et al. The ballot initiative that spurred this case was more a matter of politics than principle.

Regrettably, Wisconsinites, including many LGBT families, must live with a state constitution that enshrines discrimination.

While the effect of this ruling is a setback in our effort to repeal the discriminatory constitutional amendment banning marriage equality and civil unions, we will continue our quest for equality."
Some groups say this is not the end, though. From the president of the People for the American Way:
"The Wisconsin Supreme Court's delivers a setback to the Wisconsin citizens who have been denied the right to marry, but it's far from the final word on the subject. The Court rejected a challenge to the state's marriage ban based on a narrow technicality, not a substantive challenge to its harmful content. I look forward to seeing further legal challenges to this ban, and hope that very soon all Wisconsin citizens will be free to enjoy the protections and responsibilities of marriage."
Fun fact: Wisconsin is the birthplace of the Republican party! But actually Republicans weren't always synonymous with "Christian Conservatives" so that's not a bad thing don't worry.
Fun fact #2: Wisconsin's Governor, Lieutenant Governor and Secretary of State are all Democrats. Wisconsin has voted for the Democratic presidential nominee in the last six elections and voted for Obama. Howevs, Wisconsin is a major swing state, narrowly going Dem in 2000 and 2004.
Also, have you ever been to University of Wisconsin-Madison for Halloween? That shit gets wild! (Also they have a really gay-friendly campus and an LGBT Studies program).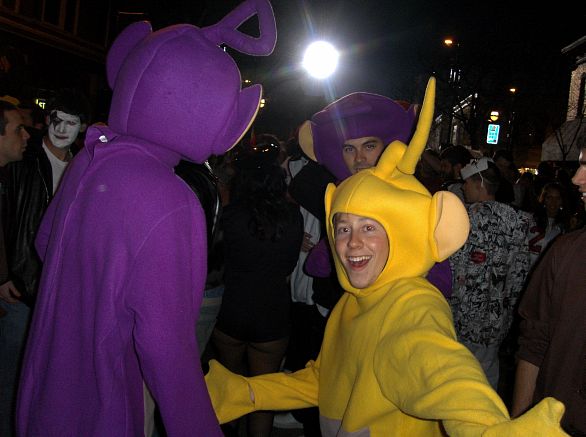 This is quite a shame because Wisconsin is really pretty and it makes such excellent cheese. But you know who else makes excellent cheese? Vermont. Yeah.