PRIDE:
Hey you guys, this weekend was pride! We've mentioned this a lot of times, but now we have photos to go with our words! A bunch of the interns walked in the parade with the New York gay bloggers group; look how ridiculously adorable they are!
Also Rodeo Disco 2 went down last night, and it was SO MUCH FUN. We'll have more photos later, but here's something to tide you over…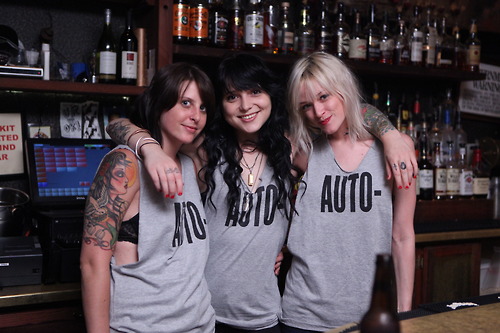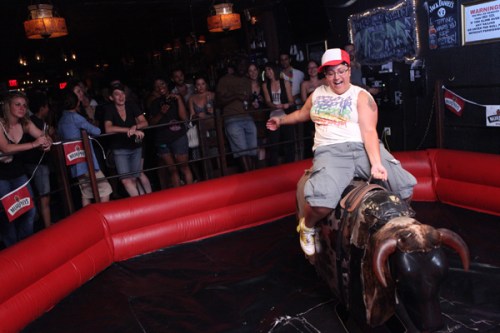 Lots of people made connections at the party, but someone missed theirs! Maybe help them out.
Across the country at San Francisco pride, someone organized a flash mob to perform "We Go Together" from Grease. (@huffingtonpost)
Chicago also held its pride celebrations this week, and it looks like it was a great time. Nat Garcia of Autonatic was there! (@spreadit)
Speaking of pride, "That's Gay" did an episode about pride celebrations. "Let's drunk and forget all these problems." That's every day! (@current tv)
+
EXTRACURRICULARS:
The Supreme Court decided today in a case against the Hastings College of Law that schools are not required to support groups that discriminate. In a 5-to-4 decision written by Justice Ruth Bader Ginsburg, the court upheld Hastings's right to refuse to recognize the Christian society, which meant that it could not receive any school funds or use the school's computer system to communicate. The reason, according to the majority: Hastings had a policy requiring all recognized student groups to accept anyone who wants to join. Democratic groups had to accept Republicans; Islamic groups had to accept Jews; so, the court reasoned, the policy was appropriately neutral. (@nytimes)
MEN MEN MEN:
Blogger Soccerboy in LA talks about "PRIDE":
I have lived in New York, Los Angeles and even kind of lived in San Francisco for a minute… in case you don't know, haven't heard about it or seen it for yourself, people at Pride celebrations go ca-razy. Sex, drugs, rock 'n roll. And then they do it all over again. And then they do it again, for real. I mean, c'mon – the first one was just a rehearsal, right? People always mention that the way gay people act during Pride is exactly the way heterosexual America thinks gay people act every day of the year. C'mon son, now we know that's not true!
But it does make me wonder, why should gay people have to be on their "Best Behaviour" during Pride? For some reason, I'm reminded of black people telling other black people not to eat watermelon in public. No one tells people to behave themselves at Mardi Gras, or Carnivale, right?! Why not? Because everyone accepts that those are isolated events where people act that way, they don't assume those people are like that all year long. I'm all for telling everyone to be safe, and that is important. But telling people to "watch themselves" just seems to be the opposite of what it means to be "proud." (@lasoccerboy)
MYTHS:
On a related not, there is now a call on ABC's "The View" to retract hosts' damaging myths about African American gay & bisexual men.
On the June 22 broadcast of ABC's daytime talk show "The View," host Sherri Shepherd and guest host D.L. Hughley perpetuated dangerous myths about African American gay and bisexual men.
While discussing the FDA's ban that prevents gay and bisexual men from donating blood, Shepherd and Hughley communicated misinformation about the causes of increased HIV rates among African American women and used the phrase "down low" to describe men who have sex with men but publicly identify as heterosexual. (@glaad)