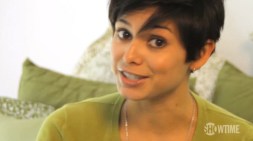 On this week's brand new episode of Autonatic, Nat Garcia gets her shit from her ex-girlfriend's place in Denver and visits her amazing single artist Mom in Albuquerque and discusses topics including coming out, condoms, seatbelts and the age difference in her former and present relationships.
What happens when Nat leaves some dildos behind in her childhood home? You'll never guess REALLY you'll never guess!!
Again big up to Showtime for their assistance in budgeting, filming, editing, storyboarding, producing, hosting, and releasing this episode of Autonatic, otherwise known as "More to L With Natalie."
+
This show is clearly the superior program to the one on the teevee and so we are even ten thousand times more glad that Nat decided to do this one instead of the other one, because that recap is gonna take us forever-ever and this one is good just on its own. Srsly, just wait 'til Tess is in it!
Also speaking of the real show — we can't watch it yet lest it tarnish our recapping experience, but here's Nat's Real L Word chat last night with Jill & Nikki:
+
You can check it out (if it doesn't work) along with her interview with Whitney from last week, on the ustream are of Showtime's Real L Word Facebook Page.