LESBIAN BED DEATH:
The Village Voice's Queer Issue devotes its lesbian content to the potential myth of lesbian bed death, which was invented apparently "by sociologist Pepper Schwartz, who, in her 1983 book American Couples, asserted that lesbians have less sex and intimacy than other couples."
The story includes quotes from Rachel Kramer Bussel, Kate Clinton, Suzanne Westenhoefer, Jenny Shimizu and Tristan Taormino:
Even sex educator and author Tristan Taormino — as sex-positive as anyone—concedes that sex gets old regardless of a couple's sexual orientation. Besides, lesbians are different  — just not in the way Schwartz believes. Married women go for younger guys, while their husbands turn to pros. Just turn to the politics, sports, or entertainment pages of any newspaper: Gay men have a whole cornucopia of choices, from sex parties to leather clubs to outdoor cruising spots. And lesbians? We rarely stray outside of long-term relationships to find sexual satisfaction.
Bussel is big on going as a pair to burlesque shows, strip clubs, or even sex parties. "Even if you are not opening up your relationship, you are adding a visual voyeurism element to it," she says. Here in New York, lesbians have a citywide playroom of choices to ramp up their sex lives, including classes and events at sex emporia like Toys in Babeland, Lesbian Sex Mafia play parties, or sharing online porn at home at JuicyPinkBox.com.
REPUBLICAN FUCKING:
It's The Stranger's annual Queer Issue, and this year they're running "Republicans I Have Fucked," which is a brilliant idea, which includes Kate Preusser's The Catholic Schoolgirl: I Know I Was Supposed to Be Worshipping Jesus, but I Could Never Take My Eyes Off Mary and Gina Young's The Trophy Wife – To Say Nothing of the Woman in a Fur Coat at Bush's Inauguration, the Smirking NYU Student, and the Sexiest Girl in Third Grade:
Here's a stab: Hypocrisy is sexy. Conservative girls call other girls sluts and act shocked about everything and expound on their "morals" and get involved in church like it's their job and win awards for Christian Service and Model Behavior and whatnot, but they are secretly very, very, very, very, very, very sexually active. It's possible that all conservative women are bossy tops. (Sarah Palin, Ann Coulter—I'm looking at you. Very, very submissively.)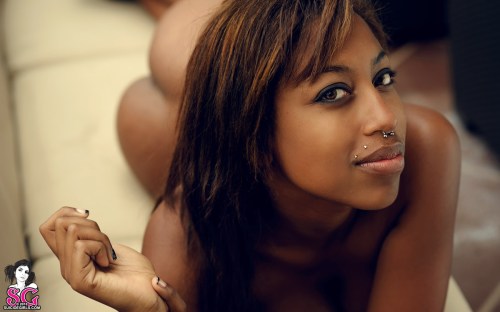 BED-INS!
"Why don't people have bed-ins? It's such a sensible way to address the public, and you don't have to get dressed. John and Yoko had the right ideas: naked album covers, lazy press conferences, etc." (@fleshbot)
25 THINGS ABOUT MY SEXUALITY
There's this website called "25 Things About My Sexuality", and sometimes they have queers on it!
8. Since my divorce, my idea of what is sexy has changed so much. I used to like skinny girly girls with long hair. Now I secretly think I would be happiest with a FTM transsexual.
9. I am really attracted to genderqueers, and the more masculine a female is the sexier it is to me. I love vaginas, but I also love masculine appearances. I like dick, but only if it is plastic.
SEXY TUMBLR ALERT:
Lesbian Lust says 'feelings get in the way of everything' and they're super chock-full of girls kissing who also seem, you know, to have a lot of feelings for each other, and that's super cute: