VILLAGE VOICE:
Hi, so the Village Voice just put out its Queer Issue for Pride, and it has pictures of those guys from Jersey Shore on it?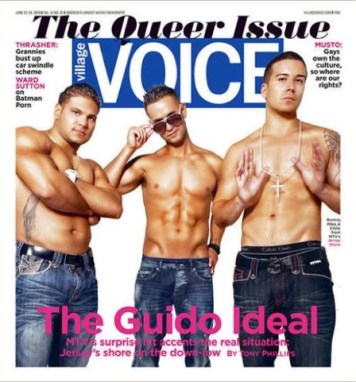 We have a lot of questions about this, which we will now share with you.
1. What is this? Is this a joke? Is it funny?
2. Apparently they had no idea that the photo was going to be on the "Queer Issue," is that why this is funny to me?
3. Also the headline is "The Guido Ideal". Is that something that's okay to say? I'm going to vote that that's not okay to say.
4. Does this remind anyone else of when OUT Magazine had, like, Katy Perry on their cover? I mean, I'm just trying to say, there are a lot of, like, actual queer people. Who are probably okay with having you take pictures of them oily and shirtless.
5. Did anyone else forget that Vinny was a person? I had forgotten Vinny was a person.
6. Also, this is a quote from their photographer. "These guys are 100 percent straight men. They walk outside and women materialize.wp_postsThat's like a weird thing to say, right?
7. Okay now that I've read this more closely apparently the cover story is about "Jersey Shore homosexuals on the downlow." Really? That was the top story during Pride week? Yesterday at the Dyke March we saw many topless ladies, that could have been a good top story.
8. Isn't it weird how the guy in the middle (the Situation?) has those bizarre indented areas above his hips that guys get who work out too much? I've always thought those were really weird.
9. Wasn't there another dude on Jersey Shore? I don't know, I've only seen one episode. Where is that guy? Does he hate gay people?
10. Do the people on Jersey Shore know what Pride is? Like do they fully understand what they are even associated with in this magazine? I am not sure that they do.
ANYWAYS clearly insight into this situation would be appreciated, maybe by someone who has actually seen Jersey Shore. Happy Pride everyone. (@coverawards)
CHICAGO:
Chicago Now has discovered the one bright spot (besides sunset vaginas) in The Real L Word: Nat Garcia of Showtime's post-Real L Word webisodes and Autonatic. We agree completely with their assessment that she is perfect for these! We can get an interesting lesbian story without actually having to watch the show! (@chicagonow)
PROP 8:
Judge Vaughn Walker has concluded the testimony and arguments portions of the Proposition 8 trial and is now thinking about how to rule. Which means the lawyers are basically done with this one! But not really, because they all agree that there is a long LONG way to go before this legal battle is over. This case will definitely be appealed to the Ninth Circuit, and it could make it all the way to the Supreme Court.
GAGA:
Lady Gaga walked through Heathrow Airport with an outfit composed largely of underwear, which seems to be maybe kind of her thing now, if her recent Mets and Yankees games are any indication. We support this.
Also, Lady Gaga premiered a new song (which may actually be an old song not performed before, we're not actually sure) at a party for Elton John. It's called "You and I" and we're not reposting the videos here because there are like three of them, but you can watch them at ONTD, I bet that will be really fun for you! (@ontd)
STRAIGHT PRIDE:
Gawker has a straight person's guide to this weekend's NY pride, which we mostly don't need but is kind of funny sometimes. (@gawker)
SEVENTEEN:
Hey, did you hear about this girl who spent a month doing everything Seventeen magazine told her to do, and then blogging about it? Because she did that, and it was pretty great, and she has a lot of things to say to magazines marketed to teenage girls. "She says that if a lifestyle publication really wanted to reach teens, "I'd love to see them really do it right, like instead of just being hair and makeup, and saying that's what a teenage lifestyle entails, I'd love to see them be an actual lifestyle with books and movies and current events and crafts and sex advice and things that teenagers actually think about in life beyond looking pretty and getting boys to like them." (@jezebel)
MARRIED WHILE BISEXUAL:
Sometimes you marry someone of the opposite sex and then realize later that you're queer! That is a thing that happens sometimes. For this writer, she and her husband decided to integrate her bisexuality into their marriage. I don't know, what do you think? Is this annoying in terms of how it conflates bisexuality with polyamory, or just the way one couple made things work? (@creativeloafing)