by carolyn & riese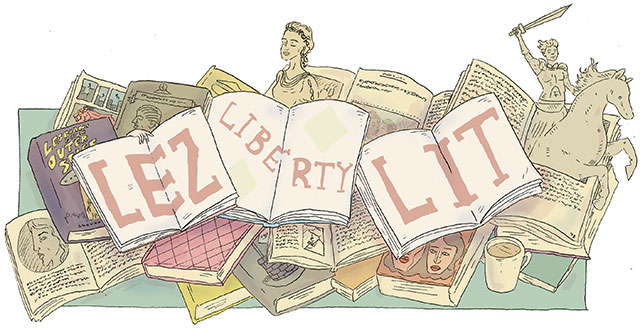 Lit Links
According to a new and frankly unsurprising study, women feel a lot less comfortable in literary communities.
At the Toast, Zan Romanoff writes about Nicola Griffith's Hild its comparisons to Game of Thrones, and why those comparisons are wrong (because it is so much better):
"If [George R.R. Martin] had ever been left out of a story—and not just one, but a hundred, a thousand, most of the stories he'd read in this life—he would know that stories are often full of shit, and the best historical record barely scratches the surface of what really happened, and that other people are far more fathomless and complex than imaginary battle choreography or whose ancestors descended from which tribes of legend. He would know that making stuff up is one thing but understanding what might have happened is really, entirely, another.

Nicola Griffith, on the other hand: she's a queer woman with an interest in science fiction. Nicola Griffith knows that she, herself, exists, and yet she isn't all that often on the record of culture, so she looks back at the past and knows that there must have been women like her, who existed, whose stories didn't merit telling but who had full and important lives just the same. And so, in Hild, she applies herself to imagining them, and then to telling them. The book is long but quiet, focused on a handful of years, really, the unimportant beginnings of a minor saint. From that subject Griffith extracts easily as much fear and violence as Martin gets in his ever-expanding series—but she gets joy, too, and desire, and love, and the ways that love's fierceness is, all too often, indistinguishable from cruelty."
Also at the Toast, Katharine Beutner also wrote about Hild, because yes it is that good.
At the Millions, Janet Potter refutes the trend toward definitive lists of books you have to read by making a list of 28 books you should read if you want to, including "You should read the book that you find left behind in the airplane seat pocket, on a park bench, on the bus, at a restaurant, or in a hotel room" and "You should read the book that you loved in high school. Read it again."
The semi-colon has legitimate value.
Scientific concepts can play a role in understanding literature and answering questions like why we read and write and the things we read and write about.
South Carolina is trying to revoke funding from the College of Charleston and the University of South Carolina Upstate because both schools assigned "books on homosexuality," specifically Fun Home and Out Loud: The Best of Rainbow Radio. One Republican said, "This might make us feel better, but it's kind of stupid."
After J.K. Rowling announced that Ron and Hermione shouldn't have ended up together, Elizabeth Minkel wrote about how she seems to continue to undercut her own authorial intent.
Deadlines are basically the only reason anyone gets anything done ever.
And writers are the worst procrastinators.
Jacqui Morton discuses writing and mental health and life at The Rejectionist.
Classic scenes from literature are better when reenacted with Lego.
At n+1, the editors critique the current state of world literature.
Shakespeare is queerer than you think it is.
Nobody is really sure about the place of libraries in the digital era yet, but arguably "we need librarians more than ever to help sort through it all. Libraries of the future shouldn't be bookless because, like endangered species, the nondigitized physical texts of the past, and the ones that are still being printed, need a protected space."
At the Rumpus, Julie Marie Wade reviewed Sisterhood by Julie Enszer, writing that "I have mused over the range and diversity of what constitutes a contemporary 'lesbian poem.' And I have been consistently surprised, not to mention frequently delighted, by the way the moniker 'lesbian poetry' continues to challenge my expectations as a reader and teacher of poetry—and also as a lesbian poet."
Google relaunched its new archive with a ton of old newspapers.
Do you know how many fried eggs the BFG ate at breakfast?
What happens when you tell novels in one sentence.
Publishers are trying to get you to binge read by releasing sequels faster because no one can get enough of the phrase "Netflix of books."
Canadian short story writer Mavis Gallant is dead at 91.
At the Rumpus, Kaya Genc reviewed Jeanette Winterson's The Daylight Gate, calling it "a tastefully gothic tale and a page-turner at heart."
Women are destroying science fiction, as long as by "destroying" you mean "awesome-izing."
At the Lesbrary, Tag reviewed Honor Among Thieves by Amy Gaertner. Radclyffe also wrote about the longevity of lesbian sex.
At Lambda Literary, Rita Salner reviewed Love Burns Bright: A Lifetime of Lesbian Romance edited by Radclyffe. John Bavoso reviewed Inside a Pearl: My Years in Paris by Edmund White. Victoria Brownsworth discussed poet Maxine Kumin. Steven Cordova reviewed Bitter Eden by Tatamkhulu Afrika. Imogen Binnie shared a week in her life. July Westhale reviewed Blood, Marriage, Wine and Glitter by S. Bear Bergman. Evelyn White, Alice Walker's biographer, reflects on Alice Walker and the form of the biography. Rachel Wexelbaum reviewed Sex Workers Unite: A History of the Movement from Stonewall to SlutWalk by Melinda Chateauvert.
Recently, on Autostraddle: Riese wrote about things she read that she loved. Maggie wrote about dating girls who journal and journalling while left-handed. F. Sanger wrote more intense lesbian fanfic. Monica wrote about I Love You Queerly. F. Sanger gave the world the final instalment of intense lesbian fanfiction. Mey wrote about Lauren Monger's Terrible Terrible Terrible.
And finally, what better way to celebrate Black History Month than to read one of the ten novels and memoirs by and about Black lesbian, gay, bisexual and queer authors from our list? (Hint: there is no better way.)
Events To Watch Out For:
23 February, New York: The editors of Selling Sex: Experience, Advocacy, and Research on Sex Work in Canada will be reading at Bluestockings (172 Allen St.), 7 p.m.
25 February, New York: The Women's/Trans' Poetry Jam & Open Mic, hosted by Vittoria Repetto, is on at Bluestockings (172 Allen St.), 7 p.m.
25 February, New York: McNally Jackson is hosting a Harriet the Spy 50th anniversary celebration with Rebecca Stead, Elizabeth Winthrop, Lizzie Skurnick and Anna Holmes (52 Prince St.), 7 p.m.
27 February, New York: Alok Vaid-Menon and Janani Balasubramanian are hosting "Rainbows are Just Refracted White Light! DarkMatter Poetry Show," a queer South Asian spoken word "artvention," at Bluestockins (172 Allen St.), 7 p.m.
29 March, New York: The sixth annual New York Rainbow Book Fair will feature more than 100 publishers, writers, poets, editors, booksellers and a crapload of readers (Holiday Inn Midtown, 440 W. 57th St.), noon to 6 p.m.
Know of a queer event with literary merit? Send it to us!
What We've Been Reading:
Carolyn: Last week I read Meaty, a book of essays by Samantha Irby. It was maybe not entirely as queer as I hoped it would be (though really, nothing is ever as queer as I hope it will be) but it was also amazing. I also read Love Cake, a book of poetry by Leah Lakshmi Piepzna-Samarasinha, and Sex and Punishment: Four Thousand Years of Judging Desire, by Eric Berkowitz.
---
Feature image of the Book Map of London by Dorothy.