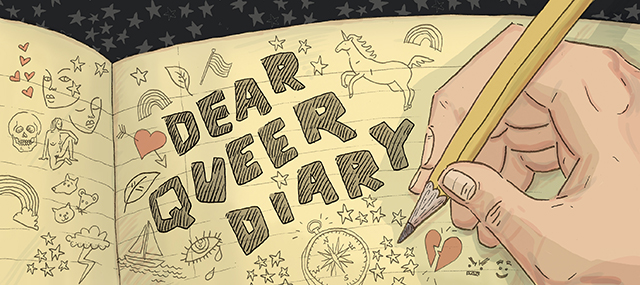 It's less than twenty-four hours until Valentine's Day, and by now, the ladies are lining up around the block hoping for a favorable glance from Autostraddle's most desirable reader (That's you!). There's one toting a guitar, ready to serenade you with 90's girl band favorites. Another offers a plate of delicious-looking Raspberry Coconut Girl Bait. A third has a slim Moleskine tucked under her arm.
All of these women want to be your Valentine. But how will you decide which to choose?
Here's my advice. As you browse through the weighty stack of applications submitted by the many humans hoping to romance you, remember: journaling is hot.
Why, you may ask?
1. There is nothing more attractive than an aura of mystery.
I will admit that it's possible that my childhood involved a greater than average number of mystery novels (The Boxcar Children was my gateway drug). But even those of you who are a little less interested in detectives, red herrings, and femmes fatales must appreciate the appeal of intrigue! What is she writing in that notebook? Has she ever mentioned me? How does she feel about long walks through the aisles of Trader Joe's? Journals are chock full of secrets, and if you don't appreciate the allure of a secret…well, you probably aren't reading this column.
2. People who journal know what they want.
The process of recording your thoughts and feelings using a pencil and paper (or for that matter, a stylus and tablet) invites us to take the time to consider our desires. When we are interacting with other people, we are constantly thinking of their needs: How can I impress her? What does he expect me to say? With our journals, we are beholden to ourselves alone— and in that safe space, we can own our desires.
It's a cliché to say that people who know what they want are better sexual partners…but that doesn't mean the cliché can't be true. If you tell your journal what you want, you'll be better able to tell your partner what you want—whether that's what you want in bed or what you want for dinner. Better communication leads to a better relationship, which in turn, leads to another Valentine's Day date for next February 14th.
3. She looks cute when she's concentrating.
Remember those angsty high school days, when you used to sneak peeks at your crush as she dutifully completed her math test or copied down notes on the Articles of Confederation? In AP English, you composed a sonnet to the furrow in her brow, and if I remember correctly, you used to lie awake at night swooning over the way her bangs fell over her forehead when she was bent over her notebook.
Sure, we all look great in our Saturday night best, but I am firmly of the opinion that the "hard at work writing in my journal lookwp_postsis just as hot as that new leather jacket.
4. You'll love perusing her childhood diaries.
Those pictures of her and her sister finger-painting that she posted on the 'gram last Throwback Thursday are pretty darn cute—but just wait and see how much more endearing it is when she breaks out her journal from the 1998 school year.
5. She's got a brain.
A lovely lady who chooses to write in her free time is obviously someone who values words, words, and more words. She's introspective, and uses her brain to think deep thoughts, all of which means that, in my book (pun intended), she is pretty freaking wonderful.
All that practice describing her feelings also means she's probably great at writing love letters. And who couldn't do with a few more of those in their mid-February existence?
Date a girl who journals, my dear queer diarists. You won't regret it.
---
Dear Queer Diary is a column about the joys (and occasionally, the pains) of journaling. We crack open our tiny notebooks and break out the rainbow-colored pens on the regular, so get ready to limber up your writing hands and document all your beautiful feelings!
Header by Rory Midhani
Feature image via Flea Market Studio.