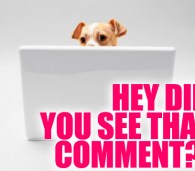 JK! Comment awards are free every week! It's possible that I was drunk and/or extremely tired when I did these, which might explain why I think "hairy umbrella" is ridiculously funny, or maybe I'm just weird, hey, want to see some stuff lesbian kittens like? Yeah, you do.
En tout cas (anyways), have you seen Miss October yet? She's pretty, just saying.
Other things: Jess interviewed Craig Ramsay, we justified why gay sex is awesome, Taylor and Kelsey were in New Orleans where you can get your beer to-go, announcement: we are reading Inferno for the book club, buy it now, and also if you live in LA go to Butch Voices which starts today, gogogo.
---
On If Perez Hilton Wants to Save Gay Teens from Gay Bullies, He Should Quit Being a Misogynistic Gay Bully:
The Certain Conditions Apply Award to Bri:
I would pay good money* to see Riese say this to Perez Hilton's face**.
*restrictions apply, by money we really mean anything that can be substituted for currency like hugs.
**conditions and terms state that said individual's face requires a 3″ wide piece of duct tape applied over the mouth region. Or whichever orifice does the talking (including, but not limited to, his ass).
On MINI-ROUNDTABLE + OPEN THREAD: Let's Discuss That Straight Girl You Want to Cuddle:
I Am The Walrus Coo Coo Cachoo Award to kd15:
Thank god my boss is old fat guy that looks like a walrus, there's not a chance in hell I would ever be attracted to him, though sometimes (when I'm bored) I wonder what he would look like if he had tusks.
The Only In Dreams Award to Jamie:
I always end up falling for a "straight" girl. I become her friend and then one day- BAM! we start making out…
Then i wake up and remember that she's REALLY straight, that my art professor with the eccentric haircut will never learn my name, and that JBeals will never join the dark side…
sigh
The Convert Award to Hannah, kate., maria, Cassandra: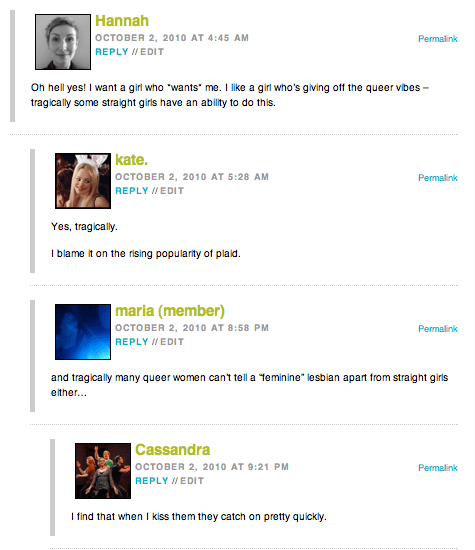 On California Decriminalizes Marijuana, Glee's Got Lady-Queer Icons, Happiness Still Exists:
There Was a Reason You Kept That Stuff Award to Jewdar:
DID I HEAR WONDER WOMAN IS GETTING HER OWN SHOW…
THIS MAKES ABOT 95% OF MY TEE SHIRTS, BELTS (AND BUCKLES) AND ALL THE OTHER STUFF IN MY CLOSET AND COMIC BOOK COLLECTION RELEVANT AGAIN!!!!!
IM SO EXCITED
On NSFW Lesbosexy Sunday Open Thread: Sex Toy Box! Best Vibrators Ever!:
The Tegan and Sara Are Always Relevant Award to Kate: I like my FunFactory Ocean. A lot. Most of the time, I don't even need the buzzingness. But it's rechargable and waterproof and it's called The Ocean, so you can be like I WANT THE OCEAN RIGHT NOW for jokes.
On Neil Patrick Harris, Lance Bass, Sarah Silverman & More Speak Out Against Gay Bullying:
The Time Travel Award to Emily Forrester of the Future:
To make a long story short: I just used a time machine to return here and try to express the depth of my embarrassment, shame, and regret at the first comment I made (for me it was years ago, but for you only a day).
My regret is inexpressible. This was an article about a series of suicides. These were people's lives, and I perpetuated a very real and destructive form of hate with my petty, ignorant comment on what I at the time (somehow) believed to be true. All I can say is that I was extremely arrogant and uneducated, and that I have had to live with a knowledge of my actions since then. No matter what I believed, posting that here was incredibly uncivil, immature, and hateful.
I'm not asking you to forgive me, but I want to say to you:
I'm sorry.
I'm sorry.
I'm sorry.
It gets better. I was just some stupid fool.
over and out,
-Emily of the Future
On Gay Sex is More Evolved Than Everything Else, Ever:
The Award For Satan's Unicorn Baby or something to Barbara, Cassandra, e: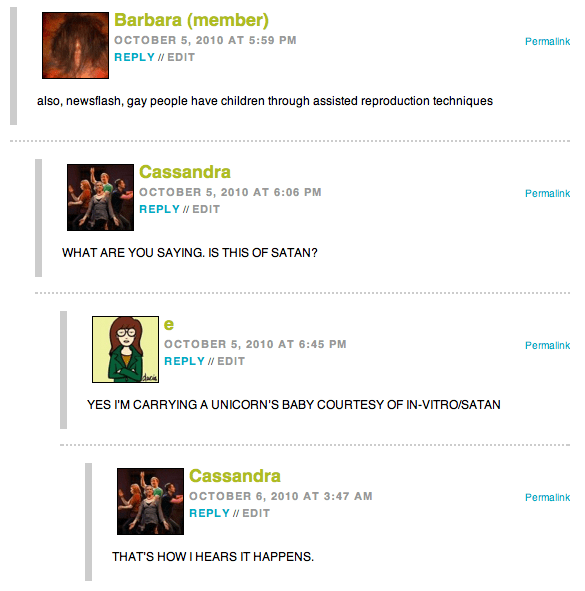 It's Possible That I Think "Hairy Umbrella" Is the Funniest Thing Of All Time Award to anna:
My brain chose not the read the "sea urchin" label and I just thought it was a hairy umbrella.
On Gay-Friendly Universities That Are Actually Friendly to Lesbians:
The Justification Award to JC:
I can now totally validate the list of extremely expensive colleges that I'm applying to (4 of these 10) by saying to my mother that if she'll just pay up for one of these schools, I'm not likely to get harrassed into killing myself, so really, it's a win win for everyone.
On World of Warcraft: Cataclysm, 5 Reasons to Freak Out Until December 7th:
The I Don't Get WoW But This is a Comment I Understand Award to Stiney:
I am afraid because I quit this and I miss it so if I start up again would it be considered a relapse
On Real L Word Picked Up For Season Two, Ilene Chaiken Hates Us:
The Award For The Best First Four Comments That Sum Up All Our Feelings About TRLW to laura, stef, e, seventeen:

On Autostraddle Book Club Reads Inferno: It's All Happening on November 19th:
The Award for Mentioning Harry Potter And A Special Award for Mentioning NEOPETS to Brianna:
Do you think it would be a bad idea to read Rachel's review of Inferno without having actually read the book. I'd hate to be "spoiled" in any way but I must read all the things on Autostraddle.
The word spoiler conjures up dark memories of my pre-teen self logging onto the Neopets forum and seeing 15 threads named SIRIUS BLACK IS DEAD MUHAHAHA before having reached that part. So okay, I'll read the book to avoid this even though a) it's not going to be available at the library and b) no one has made me a cucumber sandwich yet.