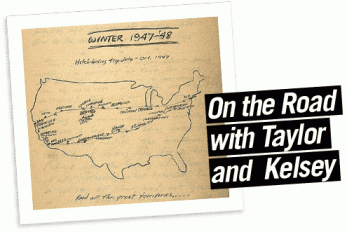 I've long posited to no one in particular that New Orleans is the most interesting city in America. Well, maybe I declared that somewhere deep in the trenches of South Carolina to my only witness who may have been unconscious at the time, but nonetheless I became quite certain this was a fact. I lived in Houston during most of my grade school years, and had I been the wiser, I would've escaped my suburban purgatory many years back and fled to the Mississippi river delta to take up residence with some unlikely earthmother/sugar mama/voodoo practitioner.
We arrived in New Orleans some time decidedly past our bedtimes on the second day of our trip. After a 13 hour drive which entailed visiting the house I grew up in north of Atlanta, modeling through the state of Alabama, drinking it off in a Waffle House parking lot and then napping it off into Mississippi as Kelsey steered us through the dark toward alligators unknown, we were ready to be met with the humid, mystical embrace of Louisiana.
On Zombies:
Upon crossing into the city limits, our main observations were that a) we were lost and b) the streets were cobbly and our car would probably explode. And since the vast, sensational news network machine convinces on the regular that New Orleans is basically exactly like Left for Dead or another franchised zombie apocalypse of your choosing, we were a little freaked out. Because when it's nighttime you can't see where the zombies are, which means they are everywhere.
When we finally made it through the throngs of unseen horrors, we were greeted by Megan, our handsome bungalow curator (who knows The Scene, has her finger on The Pulse and whatnot). Immediately it became eerily, twincestily evident that the three of us were nearly identical, but unfortunately Tegan and Sara cornered the market on that long ago. Defeated, we broke the ice with some Kentucky bourbon poured straight into diet coke cans, naturally. Megan let us stay at her place under a few conditions like that we wouldn't steal her things and that we wouldn't make her Stay Up Late. She had this shirt I really liked, but I didn't steal it so I think we met exactly one half of the agreed-upon terms.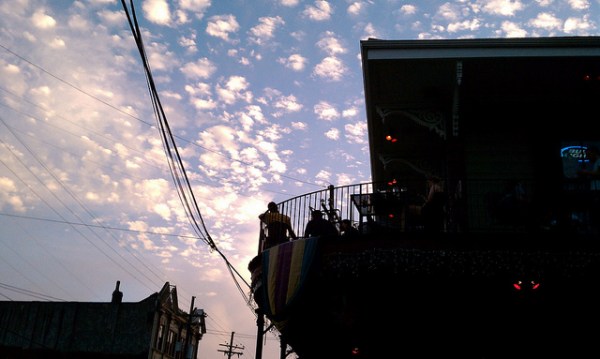 Dykeadence:
According to our intrepid guide, we'd serendipitously arrived in New Orleans on the eve of "Decadence," which the throngs of Hurricane-wielding gay men and hipsterqueer ladies suggested was The Big Gay Weekend. And so it was. New Orleans was so very gay that we didn't know where to begin. But Megan did, so we hit up the sort of cringeworthily named bar, "Rubyfruit," to be among our own. The dykes of New Orleans were remarkably good-looking, and mostly seemed to straddle the delicate hipster/lesbian line with aplomb, minus the pretense of how ladies do the same thing somewhere like Brooklyn, wherever that is. Also, did I mention everyone is super hot? And that it's a paradise?
The Crown Jewel of New Orleans:
The crown jewel of New Orleans is not the French Quarter. Nor is it the crawfish. But sans oil spill, I imagine local-caught crawfish would place in a close second. No, the crown jewel of New Orleans is the go-cup. The go-cup is a thing you ask for when you aren't finished with your drink. So you're at a bar and the fine looking lady with the Dia des los Muertos tattoo you've been heatedly discussing hegemony with does that saucy little head tilt gesture thing at the door and is all like, let's get out of here. You can be out of the door in 5 seconds flat, amber-courage in tow; just ask the barkeep for a "go-cup," pour that pint like a pro and you're golden. Finish that shit on your walk home (not while driving or operating machinery, asshole).
While I was still hesitant to accept this as a legal practice, Kelsey became the go-to go-cup orderer-er. It was kind of like speaking in code or something, except no one else felt like a secret agent because they got to do this shit every day of their lives. In New Orleans you apparently have to royally fuck things up to violate the law, which takes some getting used to.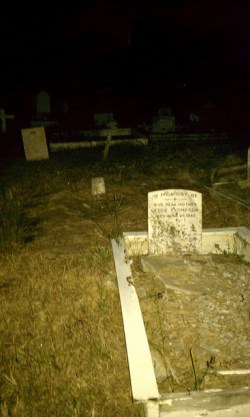 On Burying Your Dead:
Even when it comes to burying the dead, the normal rules do not apply in this crazy bayou land. On our second night there, we visited a public cemetery on the way out to a bar, naturally. Megan explained that anyone could bring a body here and bury them, just like that. We walked through rows of shallow plots, each piled high with uneven stones and tried to think if we had anyone who needed burying (we didn't). It sounds morbid, but there was something incredibly authentic and beautiful about seeing the dead put simply into the ground. But the cemetery also served as a reminder of the hardship that's always on the periphery in a town that's seen some real shit go down. One recent plot was just a tarp-covered silhouette, weighed down by four rocks around the edges. Wow.
Hypothesis Confirmed:
In sum, New Orleans is probably the most interesting city in America. Maybe it's just our go-cups talking, but everything was teeming with some kind of otherworldly energy that I'd like to have longer to tap into and perhaps bottle for profit. New Orleanians seemed authentic and tough, but in a resilient way that wasn't closed off to outsiders like us, as we wandered around wide-eyed in the city they had hand-stitched back together. Maybe I'm just exoticizing the city as a result of an intense dalliance with southern voodoo/hoodoo culture that started and ended with some Zora Neale Hurston a few summers ago, but my whole point is that yeah, we absolutely loved it there.
New Orleans was a deeply charming, proverbially and literally intoxicating place. Roaming around the area felt like exploring; everywhere you turned there were little pockets of history or intrigue or just great-sounding jazz, wafting out of an open doorway. Perhaps some time soon the gulf winds will carry us back that way.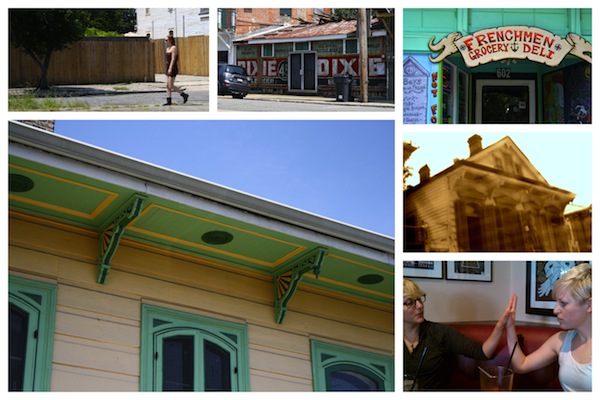 In the next installment of storytime with Kelsey and Taylor, the brave travelers make it to the Lone Star State where they Do All The Things, including but not limited to cleansing their auras at a nude beach and wrangling wild horses (except not that last part).