Hey LA lesbians/queers/transfolk/awesome people, we've found the perfect cure for whatever boring plans you had this weekend. The Butch Voices Conference happens four times a year in different locations and Butch Voices Los Angeles starts tomorrow, October 8, and you should be there! We would be there if we lived in LA, and we aren't just saying that because we want to maybe get super close to Heather Cassils and maybe touch her arm for a second at this freakin' awesome party!
The conference declares: "We are woman-identified Butches. We are trans-masculine Studs. We are faggot-identified Aggressives. We are noun Butches, adjective Studs and pronoun-shunning Aggressives. We are she, he, hy, ze, zie and hir. We are you, and we are me. The point is, we don't decide who is Butch, Stud or Aggressive. You get to decide for yourself."
The weekend features queers with a healthy love of gender f*ckery sharing their thoughts about the modern concept of "butch." You may have read about it last year in Jezebel in It's Possible To Be A Butch Intellectual, And Other Lessons From "Butch Voices".
Did you cry when you read Stone Butch Blues (like Sarah did)? Are you wondering how those themes translate to 2010 and really wondering about like ten thousand variant gender/sexuality topics all attended and populated by progressive, intellectually curious and socially active human beings who are changing the queer world as we know it? Then Butch Voices is for you. The organizers describe the event as as a chance for people of all sorts to meet, bond, organize, and learn about butch issues.
"Crossing race and class barriers, the Conference sees "butch" as a unifying umbrella identity that will bring together all those "who identify as butch, boi, genderqueer, tomboy, stud, aggressive, butcha, macha, drag king, jock, dyke, two-spirit, androgynous-with-a-butch twist, and transmasculine." Femmes, divas, MtFs, FtMs, and other allies who partner with any of the above, are also welcome."
The conference has a bunch of workshops, including "1950s Bar Life as Church," "Let it Hang" (about Strap-Ons) and "Boi Hair" and events with such imaginative titles as "INVINCIBLE: A Night of Sartorial Radicality for Daggers, Dandies & Dapper Dudes" and "SWAGGER: One Night of Butch Bravado & Stud Service by Those That Live It and Those That Love It." (Sidenote, if you ever want me to attend an event, put "sartorial radicality" in the title, and I'll be there.)
Basically, ButchVoices encompasses a huge number of things that Autostraddle loves: genderqueerness, inclusion, mashup discussions of pop culture & politics, dapper queers, menswear, and inspiring activists. ButchVoices is basically perfect, but for a lack of kittens. We hope they keep that in mind next year. We also hope that you attend this event so there will actually be one next year. Go here and register! You can pre-register for $50, and it's $60 at the door.
And if you need any more enticement, check out ten of our a small sampling of our favorite persons who will be appearing at this lovely event.
---
1. Kimberly Peirce, Filmmaker
Panelist, "Butch at the Movies"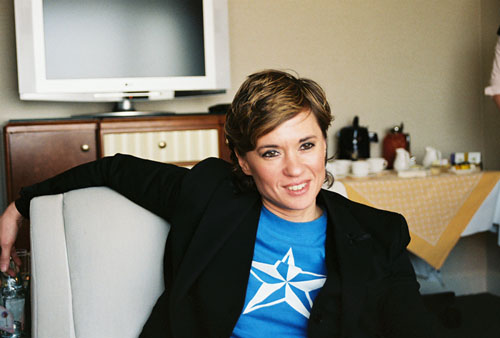 According to ~2-3 interviews with Kimberly Peirce, Kimberly Peirce looks interviewers in the eye when she talks to them, which I imagine has a somewhat unintentional erotic effect on said interviewers or at least it would if it ever happened to me. Peirce directed Boys Don't Cry, which you've seen, and also Stop-Loss, which you've maybe seen. In her Butch Voices bio, we are told "Kimberly is a storyteller who focuses on identity related stories and is navigates the business and media world as a butch."

2. Angie Evans, Musician
BVLA Artistic Director, Producer of Butch Revival Sunday
Panelist, "Keeping Out Feminisms While Exploring Our Masculinities"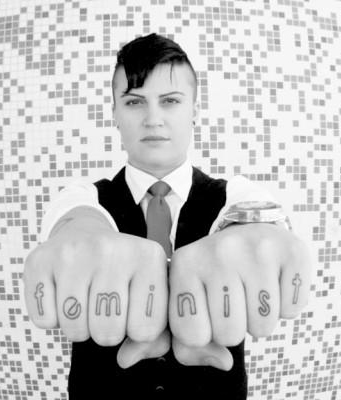 How hard do you love that photo. A lot probs. The person in that photo is Angie Evans, and she's a butch feminist musician from Southern California who loves "ice cream, trees, orgasms, Angie Evans, hugs, & feminism." Don't we all. Listen to her music at Angie Evans Dot Com

3. J. 'Jack' Halberstam, Author/Scholar/Activist/Teacher/Genius
Keynote Speaker, "Pregnant Men, Heteroflexible Women and The End of Gender As We Knew It"

Jack Halberstam wrote Female Masculinity, which is an important book that you should read or at least scan highlighted passages from and then pretend to have read. As we mentioned in our "Ten Gay-Friendly Colleges That Are Also Friendly to Lesbians," he is the professor of English and director of The Center for Feminist Research at USC. He's basically a rockstar of gender theory. See: Judith Jack Halberstam Dot Com.

4. Cheryl Dunye, Filmmaker
Panelist, "Butch at the Movies"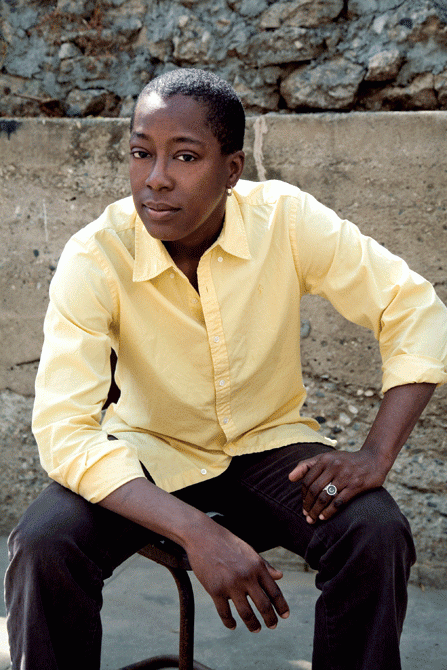 True story, I was at the Detroit YMCA the other day reading Curve magazine, and there was an article about Cheryl Dunye in it, and I Blackberry-Gmail-chatted Exec Editor Laneia and said "Cheryl Dunye: write this down" and she said "ok." That's how we do things. How Cheryl Dunye does things is like so: making award-winning films like The Watermelon Woman and The Stranger Inside and winning awards like Community Vision Award from the National Center for Lesbian Rights, the Creative Excellence Award from Women in Film & Television and Outfest's Fusion Award.

5. Cathy Opie, Photographer
Panelist, "The Many Faces of Butch"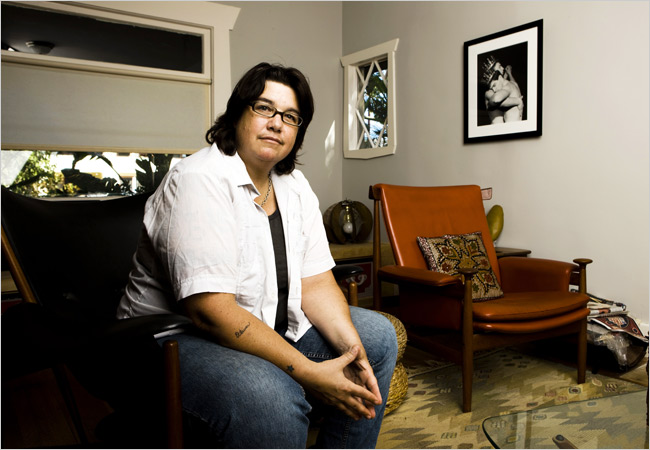 Catherine Opie once described her style as a "kind of twisted social documentary" to the Los Angeles Times. She's one of the most captivating and innovative and straight-up talented queer photographers working today, and if you haven't seen her work yet (the opening credits of The L Word don't count) you should start now. In addition to her 2009 Guggenheim retrospective she recently published the book 'Girlfriends', which included photos from her "friends and lovers" archives, "iconic butch lesbians" and new portraits including JD Samson, Jenny Shimizu and Katherine Moennig.


6. Krys Freeman, Web 2.0 Evangelist
Panelist, "Local to Global Butch Organizing"
Freeman is the Butch Voices Conference's "logistics coordinator," a "web 2.0 evangelist" and also a "phenomenon" with a "a timeless, elaborate comprehension of power relations and multiple systems of domination." S/he founded The Definition, a social network and website for masculine of center women, trans men and their allies. Much like all of us here s/he seeks to "employ web technology to bring about social change." So far so good.

7. Raquel Gutierrez, Performance Artist & Cultural Activist & Writer/Journalist
BVLA Artistic Director
Panelist, "Keeping Our Feminisms While Exploring Our Masculinities"
Performer in Saturday Night Swagger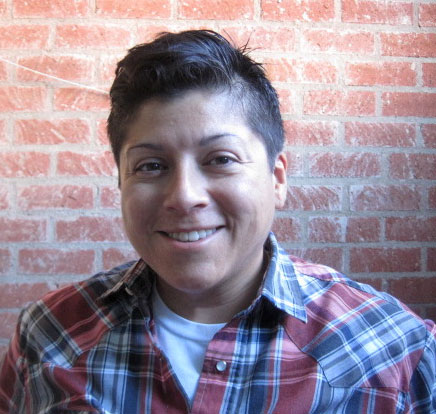 Raquel is a founding member of performance ensemble Butchlalis de Panochtitlan (BdP), "a community-based and activist-minded group aimed at creating a visual vernacular around queer Latinidad in Los Angeles." Also she writes things for LA Weekly, Make/shift, AfterEllen.com and the Journal of Chicana/Latina Studies.

8. D'Lo
Performer, Saturday Night Swagger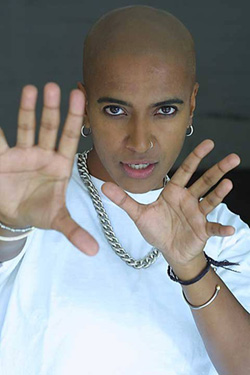 This "queer Tamil Sri L.A.nkan-American, political theater artist/writer, director, comedian and music producer" has done performance/writing workshops all over the universe, publishes stuff, tours universities/colleges, gets grants, acts in plays and overall is just really something and WILL BE THERE.

9. Heather Cassils, Performance Artist
Performer, Saturday Night Swagger, "A Nite of Butch Bravado & Stud Service for Those Who Live It and Those Who Love It"
Do you remember what life was like before Lady Gaga and Heather Cassils played tonsil hockey in the prisonyard in "Telephone"? I do not. However Heather Cassils probably does, because she had this whole 'life' before becoming the apple of our collective eyes. This artist/stunt person/body builder/guerrilla theater instigator/founding L.A. based performance group Toxic Titties thing… and oh lord I don't know. We just keep staring at her picture.


10. Anna Margarita Albelo
Host, Invincible Fashion Show
Not a necessarily a "butch voice," but once upon a time you may remember a special vagina hanging out in the background of a Real L Word creamed corn wrestling party. She's a stellar performance artist and filmmaker. We wanted to interview her and sort of become gradually a part of her life in an inexorable yet vital way, and we're 97% sure that our interview is gonna happen super-soon because we have BEEN IN TOUCH.
Yes, Anna Margarita Albelo will be hosting the big Invincible Fashion Show, and we can only hope & pray that her fashions will dare to compare with the fashions she rocked at the aforementioned Creamed Corn Party.