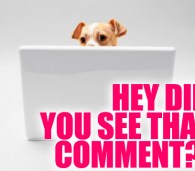 Hello minions! Have you been commenting? I hope so because we are still giving out awards.
This week, Taylor talked her usual genius nonsense about cellular telephones we counted down the top 20 (mostly gay) TV couples. Riese recapped the season finale of the l word and then told Ilene where she went wrong. Mitrice Richardson's body was found and followup ensued, Fit for a Femme went to Femmecon 2010, and we talked literature in Read a F*cking Book. Crystal reviewed American Idiot and Emily accidentally linked to an old set of comment awards that was named "Fisting, Comment Awards," despite being neither American nor an idiot. Katrina and Lauren wrote about being in an open relationship, The Clicks and Hunter Valentine interviewed each other and we unrolled a new Girl on Gallery.That was a mouthful, now time for the fun.
---
On Some Conservatives Hate Gays Less Than Others, Possibly Have Been Influenced by "Facts":
The Homosexual Agenda Award to Leerie, Rachel K, Cassandra:

On 20 'Greatest' TV Couples of 'All Time', Gay & Lesbian Style:
BABIES BABIES BABIES BABIES Award to Katie, Cassandra: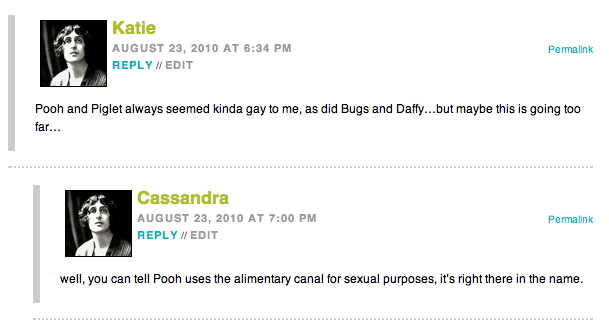 On NSFW Lesbosexy Sunday Gets F*cking Wet:
The Sparknotes Award to Incognito: Um, short version: over time you will probably get much more relaxed being sexual around other people, and then you'll be squirting all over the place.
On American Idiot: Green Day Gets Emo on Broadway and I Like It:
The Kids These Days Award to Shikei:
That's awesome, I never knew they were making it a musical. Now I wanna dig out that album… which, you know, actually means 'open iTunes and scroll to G' >>
On Real L Word Episode 109 Recap: Dinah or Bust Me in the Face Already:
The This Is Why Everyone Needs an Avatar Award to EpicCrayon : "Whoa, you capitalized your "e", thought it was a different commenter for a sec."
The Spam Award to karen and wepa: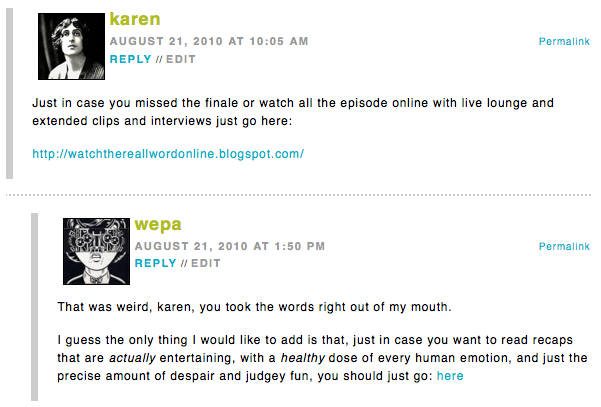 The Award for Excellence in Food Analogies to fuzzy : "TRLW was like rainbow ice cream: initially exciting cause of how gay it looks but then you take a bite and it's just vanilla, the world's most borring flavour with a little artificial rainbow added in."
On Samsung Galaxy S Series: Four Phones to Captivate, Fascinate and So Forth:
The Freudian Slit Award to Tina-cious.com, TSwizzle, and Cait: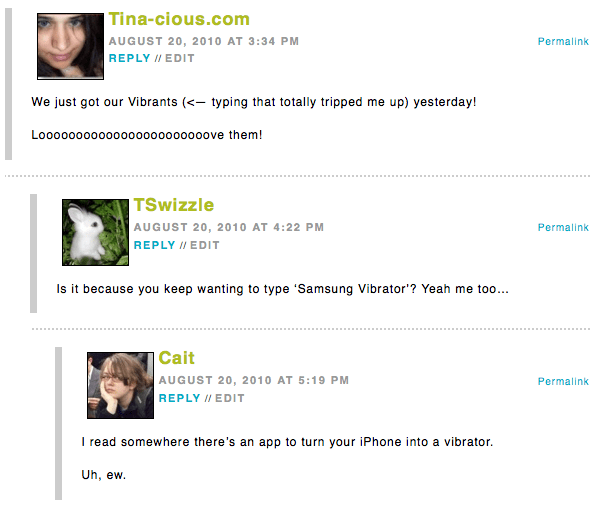 On Meet Lady Gaga's Male Alter Ego, Jo Calderone:
The Shave My Head and Lie In Bed Award to Jewdar : "i think im gonna write a song about Sara's new haircut
heres 2 lines from it (to the tune of back in your head)
i just want the hair back on your head
im not hatin i just care
im learnin to love your brand new hair
im not hatin i just care"
On On Loving 'F**k You' By Cee-Lo:
The Censorship is Dangerous Award to Carmen :
On This Week In Bisexuality: We Are All Made of Mega-Slut:
The Award for Hilarious Insensitivity to Reality Check: "Bisexual is a trendy, hipster term. You're gay once you engage in sex with someone of the same sex. Quit trying to blur the line even more.
I also forgot the unwritten rule that if I say something ridiculous and derogatory on a website, the editors of the website have access to my comment and can edit it as they please, therefore making me look like an asshole. It would be nice for said editors to just let me speak for myself, it would be funnier if said editors were to add a poem to the end of my comment because they feel my point was not made properly in the actual comment itself. So here is a poem about trendy hipster sex that I just wrote:
I LOVE PUDDING
I LOVE PUDDING
I LOVE PUDDING
HEY-HEY-HEY-HEY
WHO'S ON DECK?
REALITY CHECK!
WHO LIKES TROLLS?
I EAT PUDDING IN BOWLS!"
The Mensa Monogamy Award to Kanika Ameerah: "On a serious note though…I'm way too picky to be a slut. I even require IQ test results before contemplating such acts of intimacy. Anything lower than 125 can't get none of this."
The Frankly My Dear, I Do Give a Damn Award to RachelwasHere : "I really want to share in everyone's righteous "Bisexuals are unfairly shamed!wp_postsanger, but I'm too busy building a time machine now that I know I am only about 7 decades away from the opportunity to bang Vivien Leigh."