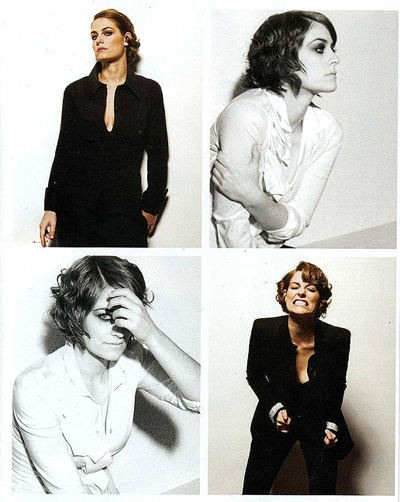 Last summer when Autostraddle had just launched, we often put our intern army to work constructing thematic image galleries — hot girls get wet! Hot girls in menswear! Hot girls in hoodies! And, one of our most popular posts of all time (perhaps the only Search Engine Optimized post we ever pulled off?) hot girls in short shorts for the hot hot summer.
Now that we've run out of topics, they don't come as often, but when they do, they're pretty awesome — girls in glasses! Alternative Lifestyle Haircuts! Trans/Genderqueer gallery! Sexy Curvy Girls!
But it's been over a year since we made our "Actual Lesbians & Bisexual Women" Girl Gallery (Part One and Part Two) and g-damn if we don't know a lot more homos now than we did at that time.
So we thought it was time for an update! We've added about 80 more women to the pictures we'd collected from last year. Here's how we described that girl gallery:
Disclaimer: In the case of this photo gallery; the term "actual" is used to differentiate between "the women we lust after who we wish/hope were gay but are unfortunately exclusively endeared to members of the opposite sex" and "the women we lust after who have been known to lust after other women as well."
The word is not intended to differentiate between "fake" lesbians/bisexuals and "actual" lesbians/bisexuals. We apologize for any confusion. The focus of all our galleries is on the photos — and sometimes it's nice to look at photos of women who theorhetically might also want to look back. (-eds.)
IMPORTANT: This is not a comprehensive or representative list. IT IS NOT A LIST AT ALL! It's just pictures! Just for funsies to look at! It's meaningless!
By and large,  this is mostly just women who are famous or semi-famous (or a friend of ours that we're putting in the context of other famous people to encourage their own rise to fame) and also in the business of being looked at — e.g., actors, comedians, musicians, models, sometimes writers and athletes — people for whom being photographed is part of what they do, rather than a side effect (e.g., politicians).