As we've mentioned last week, two of Autostraddle's favorite bands – The Cliks and Hunter Valentine – are currently traveling around the USA on their 'Guts 'N Glory' tour, and we're really excited about it!
Typically when we get this amped up about a tour, our first instinct is to interview the bands. However in this instance we've already been there and done that. So we thought the only thing left to do was ask the bands to interview each other.
Lucas (The Cliks) and Kiyomi (Hunter Valentine) took some time out of their hectic tour schedule to ask each other hard hitting questions about topics ranging from life on the road, to sushi parties, sanity and Linda Perry's bad-assery.
This interview also exists in video form, which we'll hopefully get our hands on once these bands return from tour. 'Til then, have a listen to the mp3 recording below. It's probably going to be the best thing you hear this week.
Highlights:
Here are just a few of excerpts – listen to the recording to hear the full context and find out who said what.
On life on the road:
"Your bag is like your home, right? It's your anchor. You've got all your compartments, like the net part of your bag is like your living room."
On favorite cities:
This time around, oddly, I would have to say San Francisco. When I say oddly, it's because I have such a weird history with San Francisco, of coming in and out of there with death on my back … I was like, "What is up with this city? I am always depressed here!"
On rock 'n roll:
We had a sushi party. We had too much sake and not enough sushi.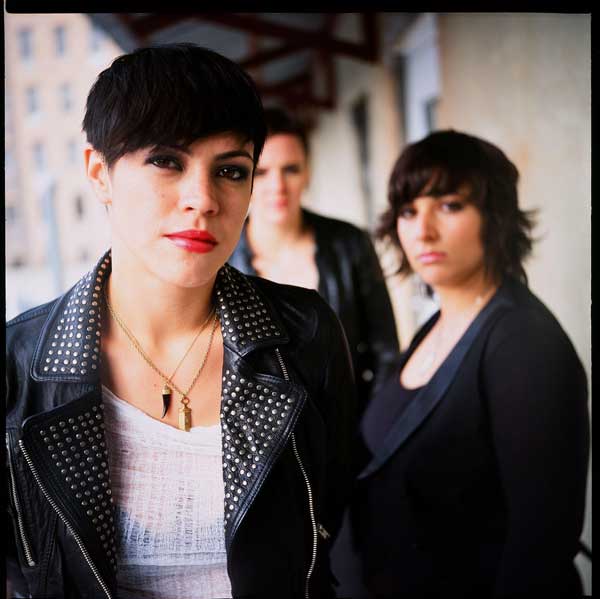 On staying sane:
I try to escape to my own little place because I'm very much a person who likes to spend a lot of time alone.
Me too, I get that. I think it's very important to place that as a priority … just so you don't completely lose your mind.
On favorite tour moments:
"Kiyomi and Laura proceeded to take my shirt off."
On missing home:
[I miss] Sleeping alone in my bed.
Or not sleeping alone.
Yeah, I kind of miss sex.
Tour dates
If you haven't caught these bands on tour yet, it's not too late! The Cliks and Hunter Valentine might still be coming to your city with The Dollyrots:
Aug 25: Bender's Tavern, Denver, CO
Aug 26: The Riot Room, Kansas City, MO
Aug 27: The Firebird, St Louis, MO
Aug 28: Phoenix Hill Tavern, Louisville, KY
Aug 29: Radio, Indianapolis, IN
Aug 30: Skully's Music Diner, Columbus, OH
Aug 31: Frankie's ,Toledo, OH
Sept 3: The Studio @ Webster Hall , New York, NY