LADY GAGA/JO CALDERONE:
On July 1st photos of "Jo Calderone" began circulating the internet. Everyone noticed right away that this man looks a lot like Lady Gaga. By that we mean, it IS Lady Gaga. Jo Calderone is the male alter-ego of Lady Gaga. New pictures: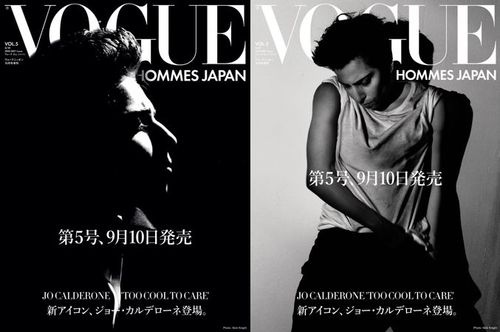 Joanne is Gaga's middle name and the name of her beloved aunt who passed away after battling lupus. Gaga dedicates each show to her.  Jo even has a twitter feed, though its unclear who runs it, clearly somebody with a high tolerance for Perez Hilton.
Photographer Nicola Formichetti snapped these pics for Vogue Hommes Japan 5 and has published an excerpt from that interview (due on newsstands September 10th) on his blog:
JO CALDERONE – INTERVIEW
WHERE ARE YOU FROM?
Palermo, Sicily
HOW WOULD YOU DESCRIBE WHAT YOU DO / YOUR OCCUPATION?
Mechanic for my dad's business. This is the first time I've had my picture taken.
WHEN DID YOU DISCOVER YOU WANTED TO TO THIS?
Well, I always helped my dad at work, since I was a kid. I thought it would be fun to have my picture taken.
WHAT ARE YOUR AMBITIONS?
I'd love to own my own car shop, I have a bunch of my own 'muscle' cars. Maybe if I take some more pictures I can afford it.
WHAT IS YOUR RELATIONSHIP TO LADY GAGA?
I met her at a shoot Nick Knight was doing. She's fuckin beautiful, and funny, and interesting. I was a little nervous for Nick to start shooting. She said, "Don't be baby, you were "born this way." I took her out after. The rest is private ;)
INTERVIEW BY JO-ANN FURNISS
Soooo… clearly WE LOVE THIS. For starters, it's trademark Gaga — most notably, the Warholian meta-comment on the commerce of fame — "if I let you take my picture, then I can afford to fund my true life passions."
For seconders, we're always big fans of gender-bending, cross-dressing and drag, as evidenced by our obsessive cataloging evident in our galleries of girls in menswear, androgyny, genderqueer & transmen and alternative lifestyle haircuts.
For thirds, there is a lot of JO/es happening here. We've got the intentionally related Jo/es of Gaga's middle name, her aunt and her male alter-ego, obviously, and ON TOP OF THAT the interviewer just so happens to be named Jo-Ann Furniss! What are the chances. In fact, there are so many JO/es going on here that it made us think of two other Jos:
Joan of Arc, who's pretty much the most famous cross-dresser of all time: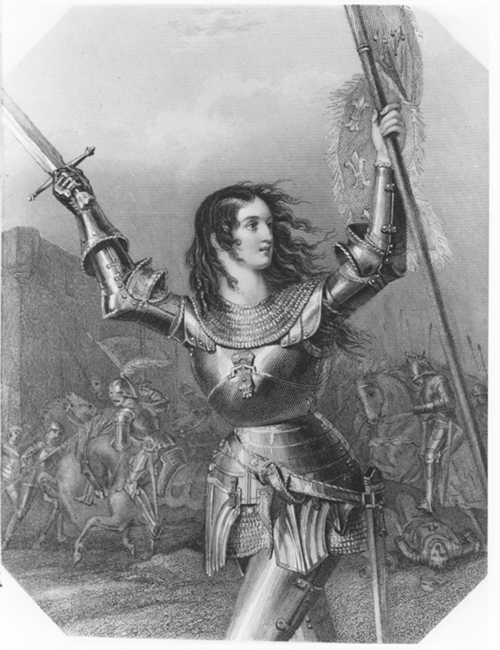 ….and Jo March, the lead character of Louisa May Alcott's Little Women. An inspiration to many young literary tomboys, Jo lamented: "It's bad enough to be a girl anyway, when I like boy's games and work and manners! I can't get over my disappointment in not being a boy. And it's worse than ever now, for I'm dying to go and fight with Papa. And I can only stay home and knit, like a poky old woman!"
WINONA RYDER AS JO MARCH IN "LITTLE WOMEN"
+
Nick Knight, the photographer noted as being present for the 'meeting' of Gaga and Jo, is responsible for much of the Monster Ball's video imagery and recently shot Lady Gaga for the cover of Vanity Fair magazine. Two more shots from that issue have surfaced:
TEGAN & SARA:
Tegan & Sara recently interviewed Hayley Williams of Paramore for Spinner.com, and it's super cute obviously.
Part One:
Part Two:
+
Hayley Williams doesn't use air conditioning just FYI.
LINDSAY LOHAN:
Lindsay Lohan is home-free and spent her first night back in the real world at home, where Samantha Ronson came by for a visit before heading off to a club gig. Her post-rehab world will include psychotherapy five times a week, speaking with a "chemical dependency mentor" at least seven times a week (I wonder if it counts if she talks to the monitor like seven times in one day? Because why isn't it just "daily"? You know?), attending 12-step meetings five times a week and behavioral therapy twice weekly. She's not allowed to leave the state and will be subject to drug & alcohol testing at least twice a week.  That's a really serious schedule, right?