GAGA:
These pics of Gaga dressed as a man are for an upcoming issue of Japanese Vogue Hommes. According to Gaga's stylist, Nicola Formichetti, the model's name is Jo Calderone. Joanne is Gaga's middle name and the name of her beloved aunt who passed away after battling lupus. Gaga dedicates each show to her. Doesn't she totally remind you of Ivan? (@mtv)
LINDSAY LOHAN:
Lindsay Lohan appears in Double Exposure this week, doing things she did or did not actually do, and maybe flirting with the lady photographer everyone says she's affairing with, but maybe not.
LiLo is apparently doing a reality show with her Mom, in which we hope she will be making out with lots of girls:
The entire Lohan family (minus Michael of course) is working on a new, currently unnamed reality TV show. Dina's old show, Living Lohan, featured daughter Ali and youngest brother Cody. (Middle child Michael Jr. keeps a low profile. Does this new show mean he's ready to go public as a Lohan? There should be some kind of 12-step program for that.) In Living Lohan, Lindsay existed as a specter, someone everyone talked about constantly even as she avoided them. This time around LiLo apparently has no choice but to "appear in some episodes."
(@gawker)
Also, a list of 20 things Lindsay Lohan says she didn't do.(@jezebel)
GLEE / MODERN FAMILY:
Wow, I had to wait like 5 years for Friends to go into syndication, but we're living in an age where half seasons get released on DVD and there are serious dollars to be made so Glee and Modern Family will go into syndication in 2013 on USA and Oxygen. (@nymag)
REAL L WORD:
An op-ed piece in the Christian Post, the writer initially discards the show as your typical reality trashfest, but then zones in on his religious ideals and starts attacking Tracy (TRACY?! That's like stepping on a kitten!) of all people for her relationship with Stamie and the 3 kids.
One of the three children of Tracy's new partner is a special needs child, afflicted with Williams syndrome.  In addition to "break[ing] stereotypes," Tracy wants to use the show, in part, to raise awareness of Williams syndrome–a decent purpose with which few would take issue.  However, Tracy advocates in a pool of her own irony, while she promotes the physical needs of one child, and ignores the emotional and psychological needs of them all. When children are denied both a mother and a father, we know the statistics — they're twice as likely to use drugs, 54 percent more likely to use alcohol, 62 percent more likely to have premature sexual activity, twice as likely to commit crimes, 50 percent higher depression and suicide rates, and have higher school drop-out rates, just to name a few things. Try as you might, Tracy, your new family is not "just like everyone else." You and your partner are intentionally excluding half of humanity from the equation, and the statistics say that your partner's children will pay the price.
He should look at the recent studies that show children raised by two gay parents turn out super awesome. I think the point of the research he's referring to has more to say about single-parent households in general, not gay households with two people around. But of course, he won't see it that way. And somehow I don't think he'll find Whitney's musings on The Power of the Clam entertaining. (@christianpost)
PRETTY LITTLE LIARS:
Check out AfterEllen's recap of our new favorite guilty pleasure Pretty Little Liars. (@afterellen)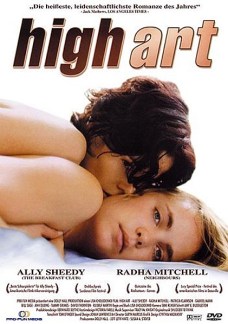 ALLY SHEEDY:
Best known for The Breakfast Club, Ally Sheedy mentioned to a reporter at the LGBT fundraiser, The Trevor Project, that her teenage daughter, Rebecca, has just come out. Interestingly, Ally's mother is also gay: ""I never thought to myself, I'm going to grow up and fall in love with a man or I'm going to fall in love with a woman because my mother is a lesbian." Do you think it was awkward when her daughter finally hit upon High Art in her gay movie Netflix queue? (@advocate)
ANGELINA JOLIE:
Angelina Jolie on Shiloh's killer style: "We dress Shiloh like a little dude. Shiloh, we feel, has Montenegro style. It's how people dress there. She likes tracksuits, she likes [regular] suits. She likes to dress like a boy. She wants to be a boy. So we had to cut her hair. She likes to wear boys' everything. She thinks she's one of the brothers… Shiloh's hysterically funny, one of the goofiest, most playful people you'll ever meet ….Goofy and verbal, the early signs of a performer. I used to get dressed up in costumes and jump around." (usmagazine)+

WONDER WOMAN:
DC Comics has hired a new writer to give Wonder Woman a queer eye makeover and sex her up a bit: ""She's been locked into pretty much the exact same outfit since her debut in 1941. What woman only wears only one outfit for 60-plus years? I wanted to toughen her up and give her a modern sensibility."  (@bbcuk)
KRISTEN STEWART:
Kristen Stewart debuted new hair on Letterman promoting Twilight: Eclipse. Let's rate her awkwardness in this appearance on a scale of 1 to 10 and decide she's adorable anyhow.
Also, Rotten Tomatoes has a list of Kristen Stewart's ten best films, which doesn't include lesbian-directed Safety of Objects because the world is a cruel unfair place.
TEGAN & SARA:
The Most Cake interviews Sara Quin on Springsteen, emo and pie. (@tmc)
ERIN FOLEY:
Auto-friend Erin Foley made this hee-larious audition tape for The Bachelorette.
ROSEANNE:
Young Creature on "The Gay '90s: Roseanne" "So, I've moved into a new apartment and for the first time since 2006, I have cable TV. I've reached a new level of laziness, and I love it. AND my new favorite thing to do is making a pot of coffee and watching the mini-Roseanne marathon that comes on every morning on Oxygen Network. If you don't like Roseanne, I probably will not like you. I totally forgot how crazy gay that show was."
Have a tip for the next fix? Twitter @jessxnyc!