In the good old days, one could successfully divide the nation between Real Americans and Pinko Commie Homosexuals with little difficulty. However, as time marches on, things change and become complicated and weird, and now there's a little more gray area than that. Based on a survey of Google News taken around 1 am this morning, there are now roughly three camps:
1) Raging homosexuals.
2) Those who tolerate their existence.
3) Those who exist in a state of perpetual horror and disgust at the former two groups.
Two prominent conservative personalities, Glenn Beck and Ann Coulter, have recently migrated towards the tolerant group, with Beck finally dropping his opposition to same-sex marriage and Coulter headlining GOProud's Homocon 2010 As we mentioned on Thursday, Coulter is maintaining the speaking engagement despite criticism from other conservative groups and exclusion from some of their events. Add to this Elisabeth Hasselbeck's mention in an interview last week that she supports marriage equality, even though she apparently still thinks that adult women become lesbians as a result of not finding a nice boyfriend. It's almost like we woke up in a whole new world, where your hair looks nice and your mom wants to meet your girlfriend.
Of course, that doesn't mean haters are gone – the American Family Association has responded with: "Let's be clear: endorsing homosexual behavior is not a conservative position. Period. Supporting special rights based on aberrant sexual behavior is not conservative, period. Supporting either civil unions or marriages based entirely on using the alimentary canal for sexual purposes is not conservative, period" as well as language that reads like a call for a political hit on both Beck and Coulter. And there's still Focus on the Family, which brought this mindbending nine minutes and twenty-four seconds into the world:
What's the secret sauce ingredient that keeps the AFA and Focus on the Family talking crazy while other hardcore conservatives are beginning to concede that this just isn't an issue that affects them? It could be anything – it could be the fact that growing social familiarity with the issue makes opposing same-sex marriage less popular; it could be an unexpected positive effect of the liberal backlash against Prop 8; it could just be America growing up a little and changing with the times.
I would argue, however, that in this case it seems like this could just be about the facts. Everything that the AFA and Focus on the Family has released is wildly incorrect; a commenter on the above video asked "why they bothered to remove their tin foil hats before taping this report," and the AFA response to Beck and Coulter implies that they have access to some secret copy of the reviled Homosexual Agenda – "You will be received with a standing ovation for pandering to a group that wants to put open homosexuals in the same showers and barracks with sexually normal soldiers (priority #4) and is fiercely opposed to any attempt to elevate protection for natural marriage to the Constitution (priority #7)." – which honestly makes them sound insane.
Last week, a US District judge has rejected counseling student Jennifer Keeton's claim that having to tolerate or learn about gay people in the course of her studies violates her religious beliefs. Keeton's school had originally provided her with a "remediation plan" to educate and familiarize her with gay issues, so that she would no longer tell gay clients that "their behavior is morally wrong and then help the client change that behavior." The judge has ruled that this requirement was "academically legitimate," and not an attempt to change Keeton's religious beliefs, as she had claimed. This is important, because it establishes (again, for people who were apparently confused) that being able to treat all clients to the best of your ability regardless of their identity or your opinions of them is necessary for anyone who provides physical or psychological care, and that it's not an issue for serious debate whether homosexuality is something that needs to be "fixed."
Would this case have gone our way a decade ago? It's hard to say, but it wasn't that long ago that known homosexuals weren't even ALLOWED to be teachers in the first place!
Also we should mention that many of the comments on this article are hilarious and feature scare quotes prominently.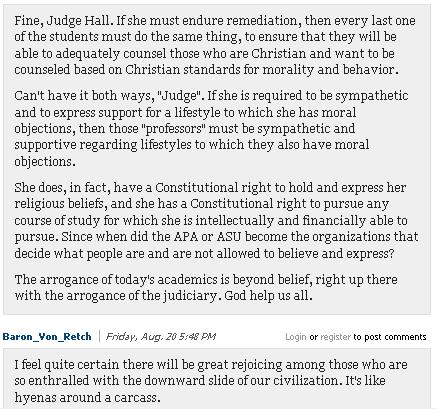 Over the past 50 years or so, our community has put forth a concerted effort to educate our families, our communities and our country. From coming out to one person at a time and letting them know that we're not as scary as they'd heard we were to the PSAs created to correct the misinformation spread by Yes on Prop 8, there's more information on gay people and their lives available to the public than ever before. Maybe it's being too optimistic, but is it possible that some people have actually taken it in, and decided that this isn't really something worth fighting over? My impression is the the current divide in conservative circles is between people willing to look at the facts seriously and people who aren't interested in reality at all. If that's the case, it might not be too much to hope for that the former group increases in the coming years, and the latter is reduced largely to a reliable source of funny YouTube videos.
Let's cross our fingers, at least until we accomplish Priority #7 on the Sexual Deviant To-Do List.