It's that time again! Time for me to remind you of the baddest bitches who made waves this year. Here's 16 women or groups of women who gave me and you and everyone we know some life in this, the darkest of years.
Author's Note: 16 is not a lot of people. PLEASE DON'T GET MAD AT ME! It's important to note that I try not to include people from the years before, although I'm (spoiler alert) including Hillary Clinton because fuck if I won't. Also, if I egregiously overlooked your fave, leave a comment and let me know! 
---
America Ferrera
America Ferrera was one of many young women who came out in full force for Hillary Clinton during this campaign, and she brought with her the perspective of a feminist Latina. Ferrera was also honored at the Feminist Majority Foundation's Global Women's Rights Awards this year (I was there! I met Retta!) for her activism in the Latinx community this year. Honestly, I was upset when they made Sisterhood of the Traveling Pants because nobody had ever stolen my name in a contemporary film before. But if I have to share it with anyone, I'm damn proud it's her.
Brittani Nichols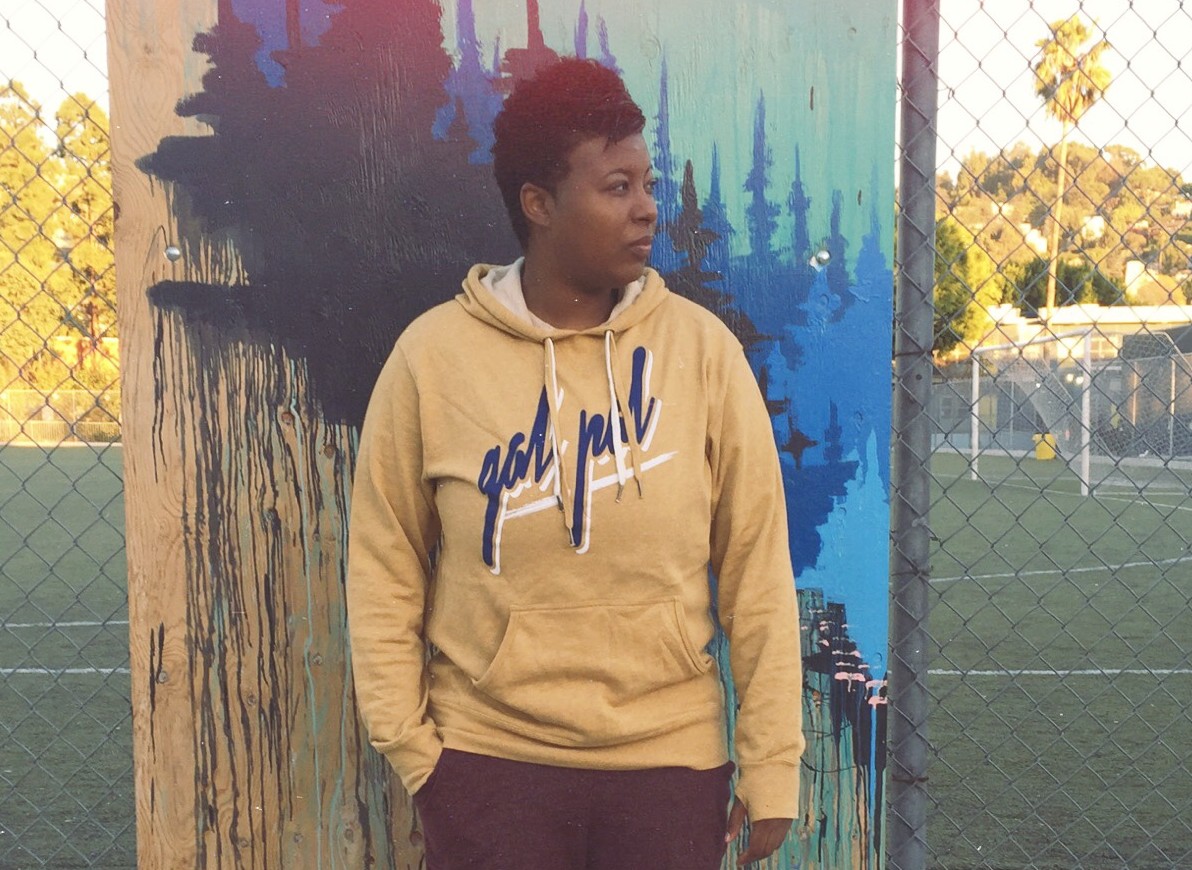 Can you believe Suicide Kale came out this year? THIS YEAR! And it's been screening around the world because that's how Brittani does things: right, and brilliantly, and in a way which overshadows everything you've ever done. Also, Brittani released an EP this year and it was dope. Also, Brittani really is hilarious. Also, Brittani Nichols makes every single year of my life and probably yours better, let's be real.
Chelsea Manning
Chelsea Manning hasn't stopped fighting, even while serving time for leaking classified documents to WikiLeaks. This year, Manning fought against her mistreatment by military officials by going on a hunger strike. She appeared on a podcast with Amnesty International and talked about her life as a trans woman and the solitary confinement she was being unfairly subjected to as a military prisoner. In response to a year in which she attempted suicide, activists rallied around her and petitioned the White House to commute her sentence. As Trump gets closer to snagging the White House keys, activists are once again urging President Obama to end her sentence — as both a statement on her human rights and a precedent for how America treats its patriotic whistleblowers moving forward. Manning has elevated the discourse, through pain and personal tumult. For that alone, she is a hero.
Constance Wu
Constance Wu of Fresh Off the Boat spent the year confronting racism and sexism in the industry. I know she doesn't wanna be an "it" girl, but she's definitely a Rebel Girl of the Year and she can't do anything about it. (Unless she reaches out and asks me to remove her from this list. I would oblige, I'm kind.)
Elizabeth Warren
Elizabeth Warren rose to prominence during the 2016 Presidential Election as a pillar of progressive leadership in the Democratic Party, and when Hillary Clinton became the first-ever woman nominee from a major party she turned out in full force without pause or hesitation and became a Nasty Woman for the herstory books. Now, in the wake of the election, she is someone we can rely on to fight as hard and scream as loud as possible about Trump's fuckery.
Lady Gaga
She wore a pantsuit to the American Music Awards. She wore a suffragette outfit on election day. She cried in her car on election night. She rallied and hit the trail for Hillary Clinton. She spoke at the LA vigil for Orlando. She led an anti-Trump protest in New York. She spent time over Thanksgiving with queer homeless youth. She did the work. Look, I held a grudge against Lady Gaga for a long time. Now I'm ready to forgive her. In a year when we needed feminism and we needed it more than ever, she brought it back in full force.
Leslie Jones
When the Ghostbusters reboot came out, men quite literally lost their damn minds. Having women recast as the ghost-fighting protagonist goofs basically ate up the entire media cycle during the earlier months of the year. But for Leslie Jones, the political got really personal when she started being trolled by racist, sexist pieces of human garbage on Twitter. In response, she spoke up and out. And then she dipped. In the process, she got one of the far right's biggest human shitbags kicked off of the social network and sparked another round of discussion about how we can keep marginalized folks safe from hate speech online.Thankfully, in advance of this shitstorm, she live-tweeted the Rio Olympics and gave me life.
Ellen DeGeneres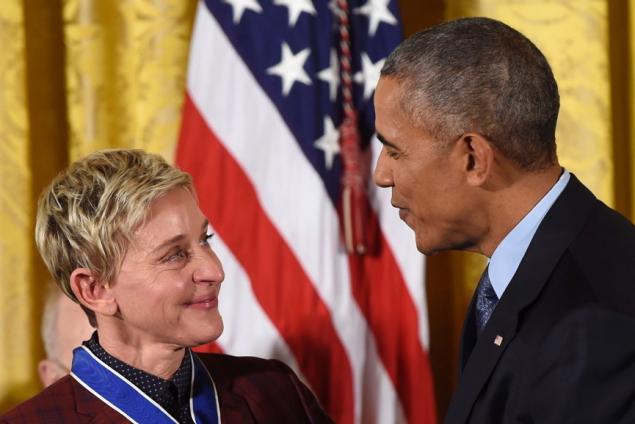 Ellen DeGeneres, perfect human and America's lesbian sweetheart, was awarded the Presidential Medal of Freedom this year and we all wept. You wept, right. Weep with me right now, please.
Hillary Clinton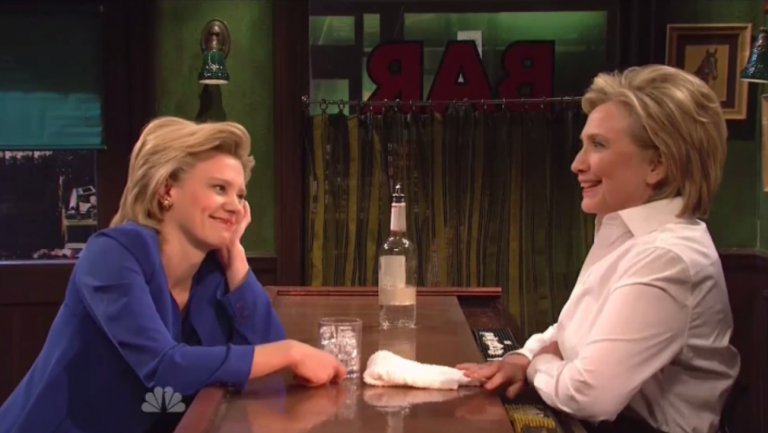 Hillary Clinton this year became the first woman to be a major party nominee for president, the first woman to win a state in a general election, the first woman to win an electoral vote, and the first woman to win the popular vote in a presidential election. The fact that she is not the first woman president will never not shake me to my core. I don't care if you like her. I love her. She meant something to me and to millions of women. She ran an unabashedly feminist campaign as an openly female candidate. She stood tall even when she shared space with the toxic abusive dirtbag who went on to steal her dream. I'm never going to get over this. I miss her presence in the news and on Twitter and in office banter every single day. I will fight to build the country she knew was possible until my body is lowered into the ground inside of a life-size animal fries container by my enemies. And I will never fucking stop hanging pictures of her in my office.
Hillary Clinton was the Rebel Girl of 2016. And as much as I want to write off this year as fucking painful bullshit, as dark as it has been since election night, as much as I wish I could stop crying on the way home from work, I don't actually want to forget one fucking second of it. I don't want to forget the moments before election night when it felt possible, imminent even, that a woman would finally be president. But not even "a woman." Her. Hillary Fucking Rodham Fucking Clinton. I'm pouring out a drink for her as you read this, probably. Or maybe I'm watching her speeches on YouTube and weeping. Or maybe I'm fighting like hell to remember her, to remember the hope and the certainty that progress lay ahead.
If I could have written a version of this post naming only Hillary Clinton 16 times, I would. Instead, I wrote some end-of-year lists and a few eulogies for her campaign and cried in my car! I think both plans were strong.
Jen Richards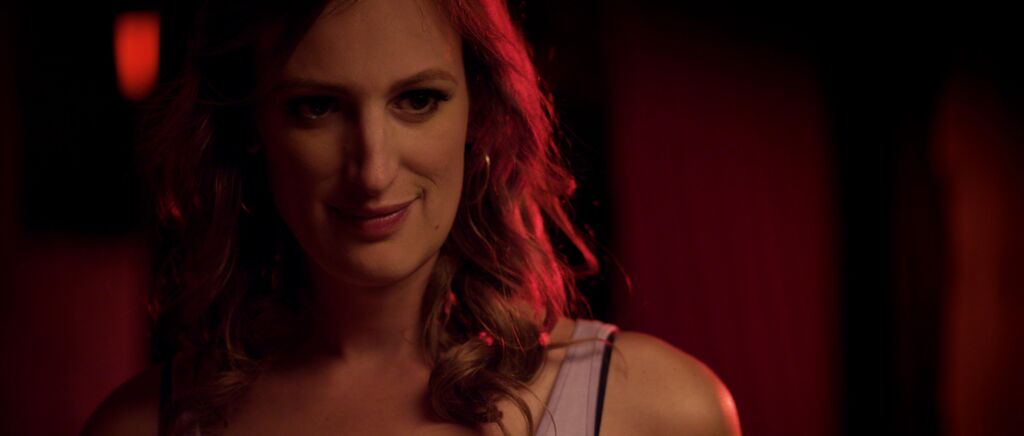 When Jen Richards launched Her Story, a web series about trans women in Los Angeles, she changed the media landscape. The show, which this year became the first indie web series nominated for an Emmy, became evidence of the powerful impact media can have when it tells trans stories right — as well as a rallying call for an end to hiring cis men to play trans women. In addition to making media history with the series, Richards has spent the year rabble-rousing, on- and off-line, for trans rights and representation. She's a badass, in short. And in the years to come, I am confident we'll only hear more and more about the good work she's doing and the real community impact it has.
Martha Raddatz
If you didn't watch the presidential debate moderated by Martha Raddatz and come away from it unsure whether you wanted to date Martha, Hillary, your partner, or all of them simultaneously in a polyamorous arrangement that makes everyone happy and fulfilled, I don't know you anymore.
The San Antonio Four
After waging a 20-year battle for their freedom and innocence, four Latina lesbians from San Antonio wrongfully accused of sexual assault in 1997 were exonerated this year by the Texas Court of Criminal Appeals. By fighting for justice, Elizabeth Ramirez, Cassandra Rivera, Kristie Mayhugh, and Anna Vasquez shined a light on institutional racism and homophobia and affirmed their right to exist.
Sarah McBride
Sarah McBride this year became the first trans person ever to speak at a major party convention. It was incredible. She's amazing. Also, we bumped into each other at the DNC for the first time in years and it was cute.
Standing Rock's Water Protectors
Native American women built the movement shaking the nation to its core at Standing Rock, which shouldn't surprise anyone since women have been at the helm of pretty much every important fight in this nation's history and the world's history but nobody ever remembers them. Let's remember them and follow their lead in organizing peacefully as we move forward.
The Women of the 2016 Rio Olympics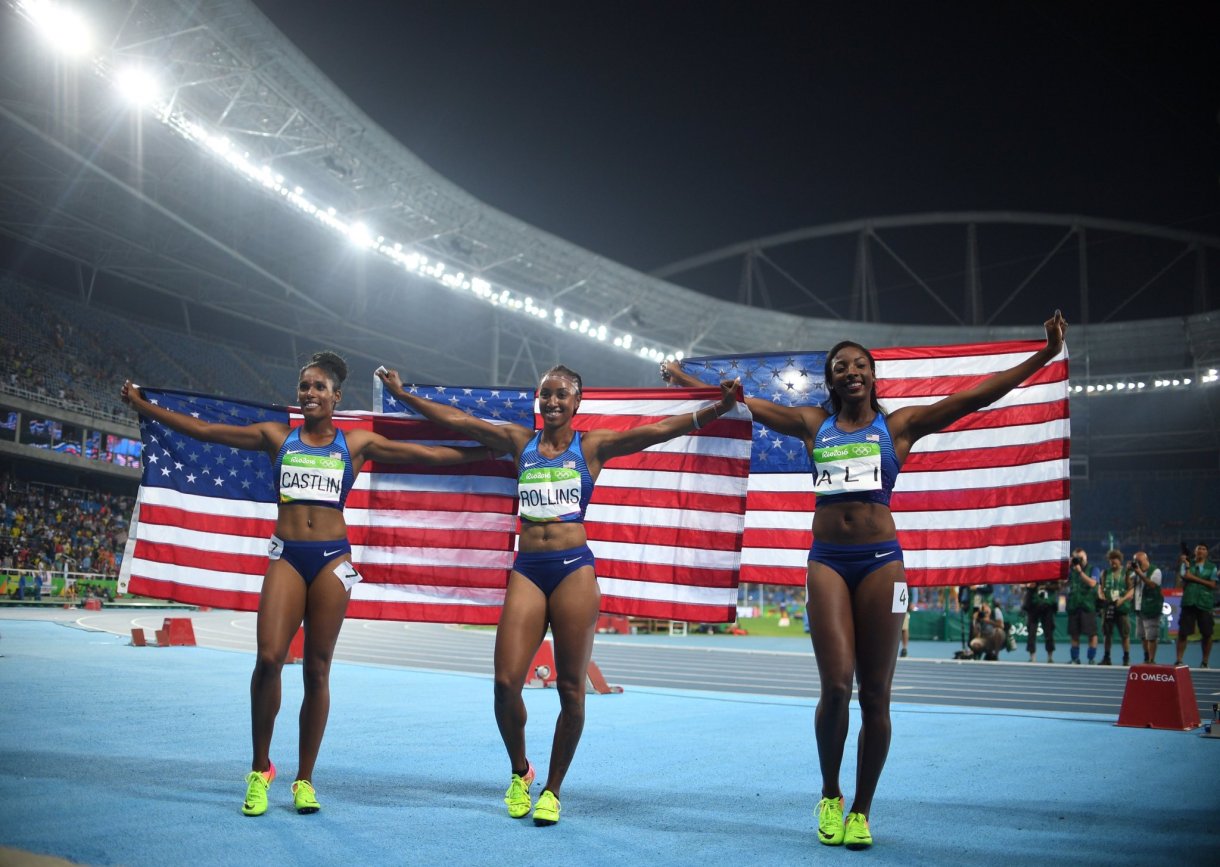 The 2016 Olympics in Rio featured an abundance of badass female athletes, and they showed the fuck up. Women set records in Rio left and right, and they excelled across events. Katie Ledecky beat her own record. Simone Biles took home a gold and become the most decorated American gymnast and the record-holder for the most gold medals won by an American in women's gymnastics at any Olympic games, ever. Allyson Felix won two gold medals, becoming the woman with the most golds in track of any nation. Simone Manuel was the first African-American to win gold in the 100-meter freestyle.
Overall, the U.S. teams came back from Rio with 121 medals — and women won 61 of them. (Five of them, it should be noted, were in mixed events, so women technically won more medals than men. That's feminism!) The Rio Olympics, though, were unique in their feminism not just because of the women who won, but because of the women who competed and who were part of the ceremonies. A trans woman performed at the opening. Ibtihaj Muhammad became the first athlete to compete at the games in a hijab. Feminists carried the Olympic torch. It was a time, y'all. A simpler time. Were we ever so young, hot, and impressive? Real question. I've blacked out all of my joy.
The Firsts
It's looking like we're not gonna get to watch Hillary Clinton make her acceptance speech. Or an inaugural address. Or a State of the Union. It breaks my heart into pieces (see above), and it will never be okay, but we did make a lot of history this year regardless. On what I'll likely remember as the darkest election night in history and perhaps the darkest moment in my life, there was light. There was hope.
On November 8, six women made history. Kamala Harris became the first Indian-American to be elected to the Senate. Catherine Cortez Masto will join her there as the first Latina in the body. Tammy Duckworth will soon be the first woman with a disability to serve in the House. Kate Brown became the first elected LGBTQ Governor. Women like Pramila Jayapal and Ilhan Omar made history at the state level, and others like Misty Snow and Misty Plowright may not have been victorious but made history just by being in the running.
Since the election, record numbers of women have expressed interest in running for office. They say you have to be asked, what, three times? So here you go: Run for office. Run for office. Run for office. Be the first. Be the second. Be the third. Be the fucking new world order. Give me someone to celebrate in 2017 when I'm covering the Trump impeachment trials.
---
Rebel Girls is a column about women's studies, the feminist movement, and the historical intersections of both of them. It's kind of like taking a class, but better – because you don't have to wear pants. To contact your professor privately, email carmen at autostraddle dot com. Ask questions about the lesson in the comments!