This Thursday, March 31, is Trans Day of Visibility, a day that was created to celebrate the trans people who populate our families, our communities, our lives and our world. Autostraddle is a website for and about queer women, and that will always, always, include queer trans women. In order to highlight just a few of the trans women we love, respect and admire here at Autostraddle, we asked several to take pictures of a day or two in their lives and answer a few questions and we'll also be featuring several essays related to trans visibility by trans women this week.
---
When I think about trans women who are creating positive change across the board for trans people, Jen Richards is one of the first people I think of. She's great at writing and tweeting about trans issues; the webseries that she co-created, co-wrote and co-stared in, Her Story, is easily one of the best pieces of trans media I've ever seen; she was one of the creators of the Trans 100, which did wonders to bring awareness to good work that trans people are doing across the country; and those are just a few of the things she's done. She's really a miracle worker and a truly great leader.
The first time I met Jen in person in Los Angeles we went out for brunch, and I accidentally ordered some sunny side up eggs. I hate sunny side up eggs. But Jen is such a cool person that I wanted her to think I was cool too, so I ate all my eggs with a fake smile on my face. I wanted so desperately to make a good impression, so I was willing to eat one of my least favorite foods in the world. I hope it worked.
I've been in awe of her for a long time, but now that I've been able to talk to her in person and get to know her better, and now that I've seen her amazing work on Her Story, I'm simply blown away by how talented and impactful she is. When she writes and talks and creates media, she knows just how to get to the inner truth of things. When trans people's lives are better in twenty years, we'll look back and recognize Jen Richards as one of the reasons why. I've interviewed Jen before, and so I know that she gives great answers, so when she agreed to do this, I was overjoyed.
I had originally sent Jen some questions and asked her to do a similar thing to what Devan, Luna and I did over the past three days, but then, she sent me this yesterday and said "I hope this is alright." Once you read it and realize that this is the kind of thing Jen does and hopes it's just alright, you'll realize why I'm so amazed by her.
---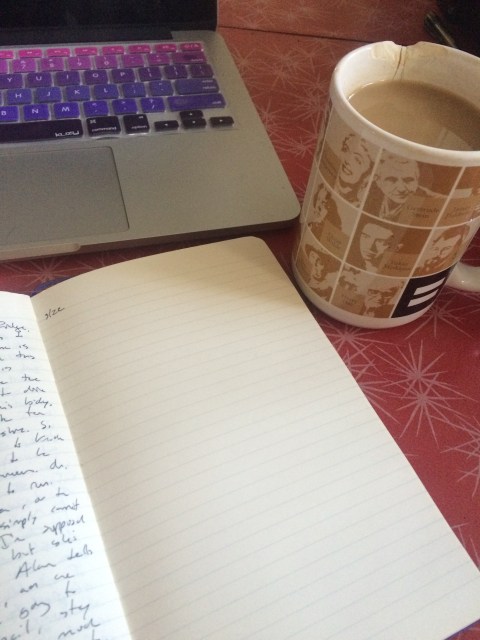 TUESDAY, MARCH 22 – WEDNESDAY, MARCH 23
I've never been good at filtering information, anything new, a bit of news, an overheard conversation, can be like a pebble starting an avalanche in my brain, so my ability to function depends heavily on routine. Ideally, every morning would start like this particular Tuesday. I wake up, let my dog outside while I eat an orange. I come in and do my morning ritual, a combination of meditation and a little bit of occult magic, then a quick combination of squats, sit-ups and push-ups. I drink a cup of English Breakfast Tea as I write my Morning Pages, then turn on Take Two, my local NPR morning program, as I make an everything bagel, freshly chop green onions to mix into whipped cream cheese, and grind beans for a single pour-over cup of coffee, all of which I consume while watching last night's Daily Show and checking Twitter.
That's when I see the news that North Carolina has called for a special session to overrule an anti-discrimination ordinance passed in Charlotte, making it illegal for any city in the state to have such protections. The primary concern is the specter of men invading women's restrooms. These come up all frequently, and they usually fail. It's a scare tactic used by the right to provoke voter engagement, but there's zero evidence of an issue to justify them, and they're nearly impossible to enforce. Nonetheless, this one hits me in the gut. My family lives in North Carolina. I'm there several times a year, and had recently spent a month in Greensboro and Raleigh-Durham. Since my Mississippi birth certificate says "male," the new bill would make it illegal for me to use public facilities designated for women. The bill hasn't made national news yet, but I'm about as angry as I've ever been. It feels personal. I fire off a series of tweets to Governor Pat McCrory, as well as the North Carolina Values Coalition and some public supporters of the bill. The few replies I get make it clear that my arguments have zero impact. This issue will consume my consciousness for the following few days.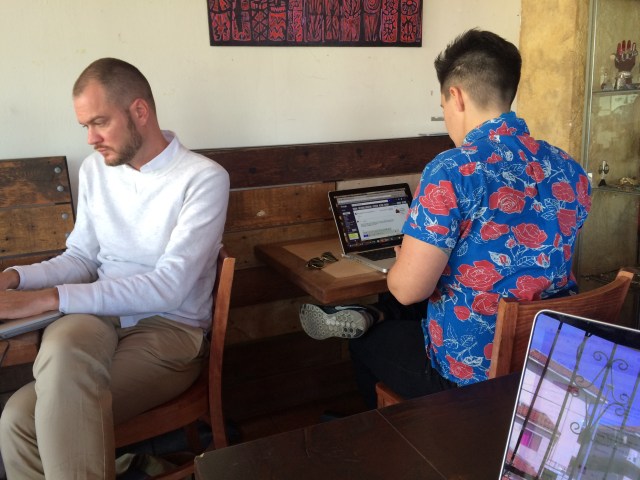 I'm supposed to meet my new writing agent in Beverly Hills, but she has to reschedule. Instead I go to one of the two cafes that I regularly work at, a small locally owned spot in Cypress Park. I'm meeting Devon, a filmmaker, close friend, and ex-boo. We often work together here. I also run into Jerrid, the boyfriend of my sister Zackary. He's working on an essay about his relationship to her, which makes me smile. We all catch up briefly and then I try to work.
I'm supposed to be finishing a feature script, a love story about three trans women and the relationships they're in. I'd submitted a synopsis and 10 pages of it to Outfest's Screenwriting Lab competition and it made it through the first round. A complete script is due Thursday and I'm less than halfway through. Instead of writing, I end up back on Twitter, posting more about the North Carolina bill.
That evening I'm feeling weak and frayed and realize I forgot to eat lunch. A new ramen shop has just opened down the street from where I stay. I came to LA a year ago, without a car or job, and have been living out of suitcases, and largely off the charity of friends, ever since. No one has been more generous than a couple who let's me stay in their guest room. He's a trans guy and the one largely responsible, behind the scenes, for the best aspects of I Am Cait. She's a lawyer who focuses on LGBT family law. They've been together for nine years, and I'm in awe that they still seem to genuinely enjoy each other. He's out of the country on a new project, so she and I spend most evenings together. We go to the ramen shop. It's delicious.
I feel a little better after food, but am still on edge. My mind keeps returning to North Carolina. On an unconscious level, as with the logic of dreams, I've associated supporters of the bill with my family. Though my mom and I are now closer than ever, it's been a long road to get here. There was a time when she said she'd never call me Jen because, "Jen murdered my son." In public I battle these kinds of responses to my existence with education, reason, rhetoric, advocacy, and art. In private, I'm wracked with shame, self-doubt and self-destruction. My mom proudly introduces me as her daughter now, but I still carry that guilt with me, and have internalized a lifetime of media declaring trans people jokes or monsters.
I call Bailey on FaceTime and break down into tears. I'm the kind of person who goes weeks without talking to the people I consider my closest friends, and spend far more time alone than with anyone, but for some reason Bailey and I text or talk several times a day. She may be the only person I have ever believed loves me unconditionally. She quickly has me laughing and Googling pictures of a rapper she's currently crushing on. Suddenly I realize I'm supposed to leave in an hour for a red eye flight and haven't packed yet.
Luckily, I haven't really unpacked from last week's trips to Boston and Buffalo, so I'm out the door on time. My housemate kindly offers to drive me to LAX and we pick up Laura on the way. Laura is the co-writer and co-star of Her Story and in a very real way, its inspiration. She once had a trans waitress at a restaurant in Chicago and wrote the moment into her web series Hashtag, which I was then cast in. Our very first meeting was caught on camera.
https://vine.co/v/iJ6UnIiQpKF
I instantly developed a crush on Laura, so when her producer asked me to write a web series about a trans lesbian, I asked Laura if she'd work on it with me. We opted to reserve any personal chemistry for the screen and discovered we're particularly well suited for collaboration. Perhaps it's because we're both hyper-Aquarian and classically educated, but our brains often seem like halves of a whole.
We get to the airport and I begin getting anxious. As I and many other have discussed and detailed before, the TSA's body scanning procedures cannot accommodate trans people. Half of the times I go through one, I'm flagged. Because I'm most often read as a cis woman, the screeners often apologetically show me the screen, a yellow box on my crotch indicating the "anomaly" and I am subject to a pat down. Since I travel a lot, my patience for being touched in public by a stranger has been steadily waning. While traveling back to LA last week I had a particularly invasive pat down. After the agent fully touched my genitals a third time I recoiled. She let me go, but I couldn't shake the feeling of being violated. I decided I would opt-out of the body scan next time, in hopes that a general pat down would be less traumatizing than one focused on the area I don't have the luxury of calling my "private parts."
I keep rehearsing in my head what I'll say if the agent asks why I don't want to go through the body scan and settle on a casual "I just don't like them" to avoid further scrutiny. When my turn comes up, I opt-out and am directed to stand in place until a female agent is available. After 10 minutes I'm taken aside and patted down. My best guess is that this is about the 25th time in the last three years. While I stand there enduring the process, I silently wonder what the cumulative cost of such additional "security" costs us. I'm cleared and try not to focus on the resentment I feel for having to choose between a short highly invasive violation of my body, or a longer, slightly less invasive one.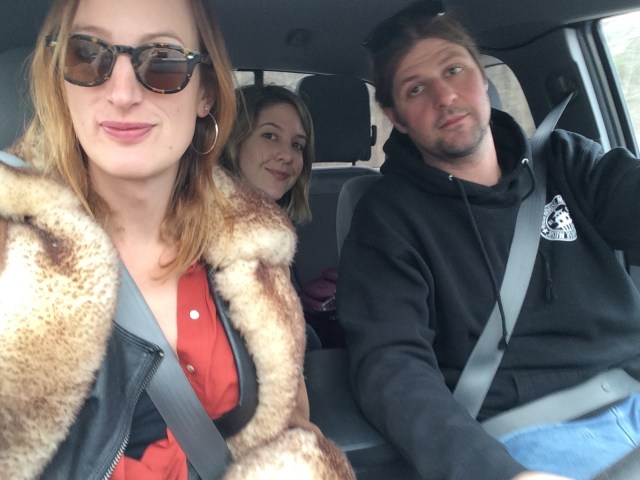 I can't sleep on planes, so I read and watch a movie during the flight to the east coast. Laura's brother picks us up at the airport. We're doing a screening of Her Story at Keene State College that night, in central New Hampshire, and to save money we're staying at Laura's parent's house.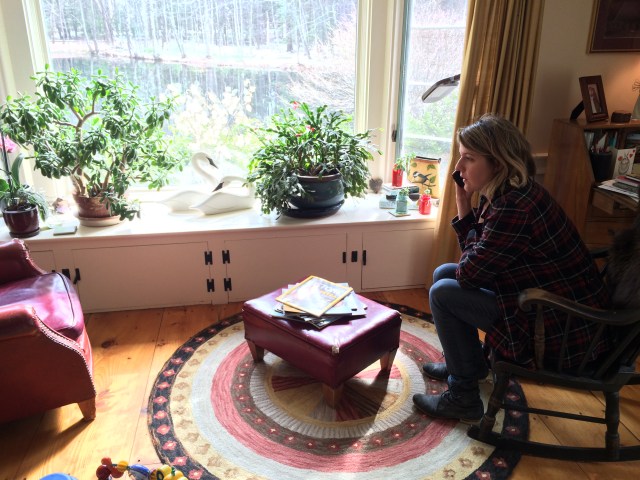 I try to work on the script during the few hours we have at home, but I again get wrapped up in North Carolina. A few of my tweets have gone viral as the story becomes national news, so I'm getting a fair number of people in my mentions telling me I'm a man, how ugly and disgusting I am, etc. Given the sources, it's about as hurtful as white noise. Laura pushes me to rest for a bit. I lay down, but my acting agent calls with information for an audition and then my brother begins texting me from the special session in Raleigh. He's horrified by what he witnesses.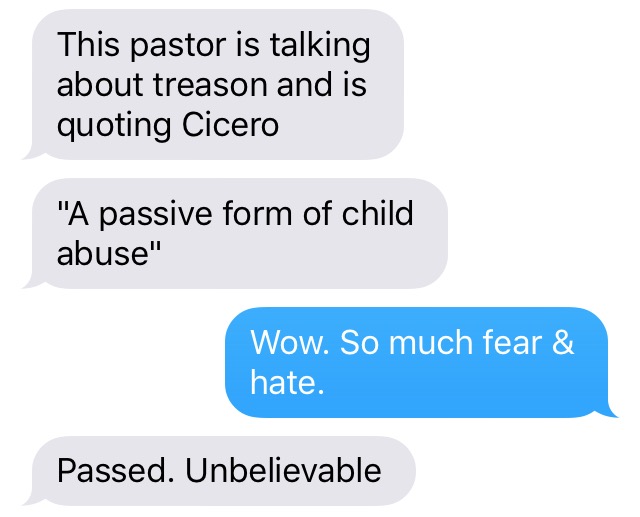 We make the two hour drive to Keene and meet up with Kate, the Executive Producer of Her Story, and one of the most made "bad-ass boss bitches" I've ever met. We have dinner with a group of students and staff and one trans girl from a local high school who is just beginning to come out. She knows some trans guys, but I'm the first trans woman she's met in person. I take her aside, listen, and answer her questions. So much has changed in the short time since I came out. Young trans people today will have always seen people like them on the covers of magazines, get to see a few positive depictions on television. But they also have to see places like North Carolina paint us as predators who deserve neither safety nor dignity. Visibility has its benefits, but so did invisibility. She's so excited to transition though, and it makes me remember my own enthusiasm. Being laughed at, chased, spit on, none of it gave me pause in my early days. The joy of finally being myself outshone all else.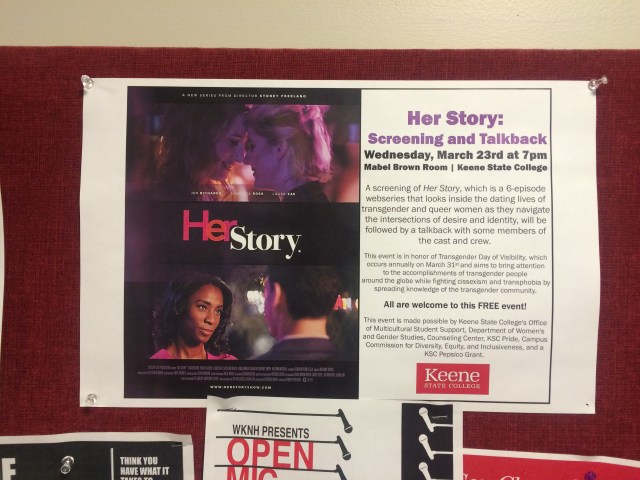 There's a good turnout for the screening. After having been up for over 30 hours, the stress of travel and my obsession with North Carolina, I'm verging on delirium. I've had Angelica with me at the last few events and I miss her presence. Next to Bailey, no one is a bigger part of my life. Angelica is the star of any room she's in, bringing a degree of charisma and humor to conversations that never fails to awe me. I'm most at ease when she's near. Nonetheless, I come alive during the Q&A. I always do, since it gives me an opportunity to talk about some of the issues that matter to me: racism, sex work, addiction, divisions within LGBT communities, domestic violence, depictions of trans people in the media and the importance of telling your own story. I use the bathroom several times during our night on campus. As a state university, I realize that if we were in North Carolina, this would be illegal. Going into a bathroom and peeing behind a closed door would be considered a threat to public safety. I can't stop thinking about this.
We make the two hour drive back home. While the others stay up and enjoy a bottle of wine, I finally crash. Alone in my bed I realize that this was both the day I agreed to chronicle for Autostraddle and the four year anniversary of my own coming out. I think back on the events since I woke and wonder if they'll make a good story.